'We Are Running Out of Patience': Adam Schiff Threatens to Subpoena FBI for Russia Probe Information
A top Democrat on Wednesday threatened to subpoena the FBI over a counterintelligence investigation into the Trump campaign and possible ties to Russia—from which Robert Mueller's probe evolved—and to discover whether that investigation was still ongoing.
Representative Adam Schiff, Democratic chairman of the House Intelligence Committee, said the FBI has not cooperated for months in providing answers, leaving him to threaten a subpoena for the bureau's director, Christopher Wray. As a member of the Intelligence Committee and the so-called "gang of eight"—a small group of top congressional leaders—Schiff is supposed to be updated with certain counterintelligence information on a routine basis.
"We are determined to get answers, and we are running out of patience," Schiff told reporters, failing to provide a definitive timeline of when he would issue a subpoena. "If necessary, we'll subpoena the [FBI] director and require him to come in and provide those answers under oath."
Thus far, Schiff said the FBI has only provided him a "generic statement of process."
"That's not going to cut it," he continued. "If there are ongoing counterintelligence investigations involving people around the president, they must inform us. We're going to use whatever compulsion is necessary to get those answers."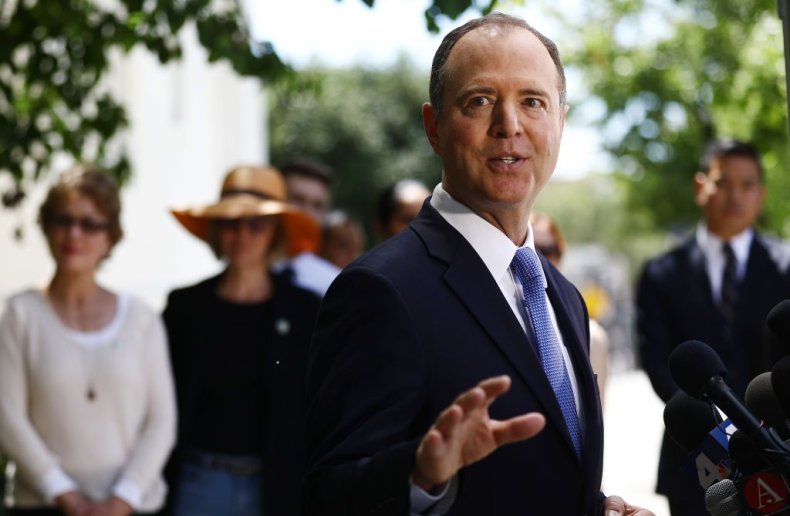 Schiff's remarks came after the first in a series of hearings on Russia's attempts to subvert the 2016 presidential election, which is documented in the Mueller report. Wednesday's hearing witnesses included two former FBI officials involved in counterintelligence matters and a former prosecutor.
Mueller's 448-page report concluded that the Russians tried to interfere in a "sweeping and systematic fashion," and that their goal was to aid then-candidate Donald Trump to defeat Hillary Clinton.
"[T]here were multiple, systematic efforts to interfere in our election," said former special counsel Robert Mueller last month during his only public statement since he became head of the investigation. "And that allegation deserves the attention of every American."
Mueller said they determined "there was insufficient evidence to charge a broader conspiracy," but did note in their report that the Trump campaign "expected it would benefit electorally from information stolen and released through Russian efforts."
In his opening remarks, Schiff questioned how the FBI's counterintelligence investigation of Trump differed from Mueller's criminal probe.
"Mueller's Report provides no evaluation of the counterintelligence concerns raised... he left many critical questions unanswered," Schiff said. "What happened to the counterintelligence investigation? Were there other forms of compromise, like money laundering, left out, uninvestigated or referred to other offices? Were individuals granted security clearances that shouldn't have them? And are there individuals still operating in the Administration that leave America vulnerable?"
The California Democrat added: "We are determined to find out."