'Unethical and Unpatriotic Conduct': Democrats to Hold Hearing on Russian Election Meddling in Mueller Report
As part of House Democrats' efforts to shift focus away from talks of impeachment and more toward the revelations from the Mueller report of potential obstruction by the president and Russian election interference, a panel will begin to hold hearings next week on the "counterintelligence implications" of the former special counsel's investigation.
The House Intelligence Committee hearing, that is slated for Wednesday, will feature testimony from two former FBI executive assistant directors: Stephanie Douglas and Robert Anderson.
"Our Committee's goal will be to explain to the American people the serious counterintelligence concerns raised by the Mueller Report, examine the depth and breadth of the unethical and unpatriotic conduct it describes, and produce prescriptive remedies to ensure that this never happens again," the committee's Democratic chairman, Adam Schiff, said in a statement.
He further stated that revelations made in former special counsel Robert Mueller's 448-page report were "both criminal and non-criminal," and that it "implicated deep counterintelligence concerns over the potential compromise of U.S. persons."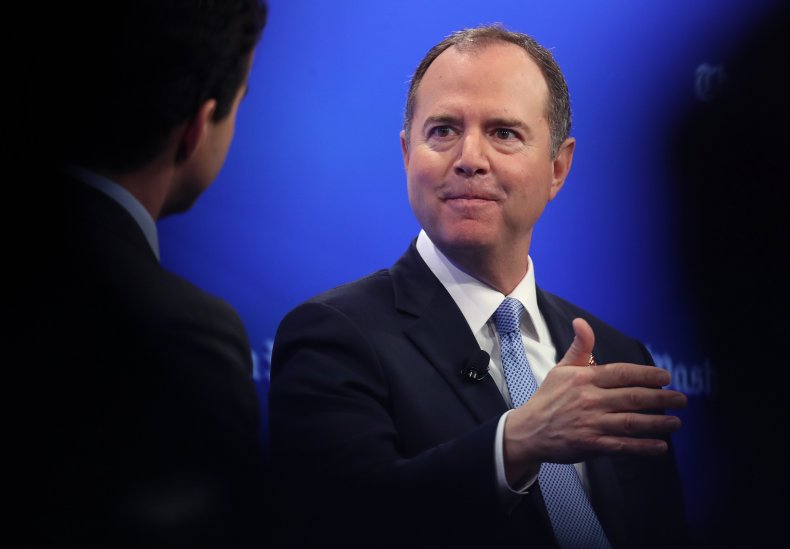 Mueller did not make a final determination on whether Trump may have committed obstruction of justice and has said that while he could not charge a sitting president with a crime due to longstanding Justice Department guidelines, he also could not exonerate him.
"[I]f we had had confidence that the President clearly did not commit a crime, we would have said so," he said during a brief on-camera statement last month.
The hearing comes as House Democrats are trying to highlight key portions of the report to the public. The House Judiciary Committee will also hold a series of hearings on evidence in the report that some Democrats say amount to obstruction of justice and abuse of power, potentially emboldening many of their members' cases for opening an impeachment inquiry into Trump.
Democrats, and some Republicans, would ideally prefer that Mueller testify himself—so much so, in fact, that they would be content with him simply reading portions of his final report so that the public could hear the information come from the former special counsel himself. Despite the Judiciary Committee chairman, Jerrold Nadler, repeatedly threatening to issue a subpoena, Mueller has stated, "the report is my testimony."
The Intelligence Committee's focus will revolve around the Russian efforts to subvert the 2016 U.S. election and help then-candidate Trump's campaign.
Mueller, in his public remarks, said there was "insufficient evidence to charge a broader conspiracy" regarding the Trump campaign and Russia. His report, the end product of a 22-month-long probe, concluded the Russian government "interfered in the 2016 presidential election in sweeping and systematic fashion."
"Although the investigation established that the Russian government perceived it would benefit from a Trump presidency and worked to secure that outcome, and that the Campaign expected it would benefit electorally from information stolen and released through Russian efforts," Mueller stated, "the investigation did not establish that members of the Trump Campaign conspired or coordinated with the Russian government in its election interference activities."
Schiff said earlier in the week at a Council on Foreign Relations event in Washington, D.C., that he is still seeking answers from the FBI regarding the status of the original counterintelligence probe that existed prior to Mueller's investigation.
"It is troubling that we have not been able to get an answer to that question," the California Democrat said.
Schiff added that, as a response to his subpoena to the Justice Department for the unredacted Mueller report and its underlying evidence, he's begun to receive "some of the materials" they requested on "a rolling basis."