Playwright Recalls How Adele Attended His Play But Left Before It Started
With Adele mania rising to the fore once again, playwright Jeremy O. Harris is remembering an almost-encounter with the star.
London native Adele recently released the single "Easy on Me," from her upcoming album 30, prompting Harris to recall a time when the star had booked to see one of his plays back in 2019—only to walk out before it started.
Ahead of her visit, Adele had been seen partying up a storm with actress Jennifer Lawrence in New York City when, recounted Tony nominee Harris, the singer booked to see his acclaimed off-Broadway play, Daddy.
Recounting the rollercoaster of a day in a 14-part Twitter thread over the weekend, Harris wrote: "I need y'all to know as we continue to stream #EasyOnMe that the week of Adele and JLaw's infamous gay clurb Hen weekend I got a call from my agent to tell me that Adele needed 6 tickets THAT NIGHT to see a performance of my play 'Daddy': a melodrama.
"As an avowed Adele Stan I knew a lot about her...her time at Brit School, her love of silly British comedies, etc. WHAT I DID NOT KNOW WAS THAT SHE WAS A FAN OF OFF-BROADWAY QUEER THEATRE!!! I told my agent to OBVI and TO CALL the theatre to ask how many free seats we had.
"That's when we got news that would've been amazing on any other night. WE WERE SOLD OUT!!!! Which is weird bc I just said ADELE NEEDED SIX SEATS TONIGHT SOOOOOO...CONFUSED WHAT SOLD OUT MEANS IN THAT RESPECT. I tell them they need to figure something out bc what???"
"Ten minutes later they call back," Harris continued. "Everyone who has worked on a play in nyc knows is that no play is actually ever "sold out" till curtain. And just like i thought they had been holding house seats for a friend of someone who wasn't even going to come. We got her the tix."
Harris went on to explain that, given his status as a relative newcomer at the time, he struggled to contain his excitement that the Grammy winner had booked to see his play, whose cast included Alan Cumming, Tommy Dorfman and Hari Nef.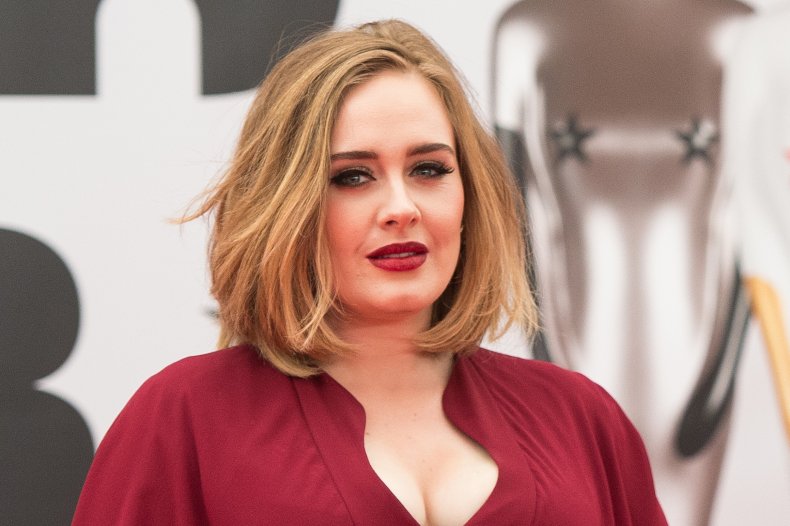 After Adele's security checked venue the Signature Theatre for the best entrances and exits for the musician, the cast and crew counted down for their big moment before a musical superstar.
Harris recalled: "30 minutes before the show begins everyone starts freaking out bc word comes up via a walkie that Adele had landed at the theatre !!!"
The playwright then went on to recount how he and the play's director, Danya Taymor, received snippets of information from an usher, with updates ranging from Adele "sitting in the middle" to her security getting her bottle of water.
They then received an update that they didn't expect before the curtains went up: "Wait...she's...she's leaving!"
"That's right... She left. 10 minutes before the show started!!!" Harris wrote, whose play included a swimming pool as part of its stage design. "Danya and I ran out to see what had happened.
"The usher was apoplectic: 'she she asked what that smell was...and I said the pool it's real...and she said I'm not feeling well but k. Then she asked how long it was...
"So I should say that when I wrote 'Daddy' i wanted to be true to 19t[h] century melodramas as much as possible...including the run time. It was 2h45 w 2 intermissions. I could see why someone hungover and interested to see a play might not be down but ...she missed all the fun."
Revealing he attempts to rectify the issue, Harris added: "I emailed her ppl to see if she wanted to come the next day but she was leaving for Europe! We were all shook.
"I sat down in one of her 6 seats and watched the show and laughed then cried as always. I also vowed I would get ADELE to a play of mine. And become her friend."
He then called on his more than 50,000 Twitter followers to help make his dream of a friendship with the "Hello" singer come true, as well as have her see his plays.
"So this is where YALL COME IN," he said. "I need to get @Adele to notice this and remember this so I can give her an invite to @SlavePlayBway and also 'Daddy' at the Almeida. So RT, like and comment. Tag Adele and tell her she owes me!!! Adele you wanna see a play or don't you???"
Adele has yet to publicly respond to Harris' Twitter thread.