Adorable 2-Pound Rescue Kittens Visit Aquarium in Heartwarming Video
After social media fawned over a group of puppies who got to visit an aquarium, these adorable 2-pound kittens decided to join in on the fish finding fun.
The SEA LIFE Aquarium at the Mall of America in Minnesota once again hosted a group of sweet animals for a special field trip at the facilities in an effort to promote adoption.
According to the aquarium, they hosted the Bitty Kitty Brigade, a foster-based rescue that specifically works with orphaned kittens aged zero to six weeks, before opening hours on Thursday. As June is National Adopt-a-Cat month according to American Humane, SEA LIFE and Bitty Kitty Brigade teamed up to both socialize the cats as well as raise awareness for the organization.
Diana Hein, the marketing manager for the SEA LIFE Aquarium, shared with Newsweek that it was clear that given the success of the Fur Ball Gala fundraiser with the Safe Hands Animal Rescue, the choice to raise awareness for another animal activist group was obvious.
"We had so much fun during the puppy field trip to SEA LIFE that we had to have kittens visit to see how they would respond to giant sharks swimming by!" Hein told Newsweek. "Bitty Kitty Brigade is filling a huge need in the community helping the smallest kittens so we were thrilled that they accepted our invite out to help celebrate Adopt-a-Cat month at the aquarium."
The Bitty Kitty Brigade's media contact Mandy Dwyer confirmed with Newsweek that the organization arranged the event with the aquarium through a mutual connection. As an organization that works specifically with orphaned infants, they were grateful for the opportunity to raise awareness for Adopt-a-Cat month.
"The Bitty Kitty Brigade is an orphan neonatal kitten rescue so our primary focus is on kittens 0 days - 6 weeks old who need bottle feeding. All of our kittens are cared for in foster homes, where they're fed as frequently as every 2-3 hours, pottied, loved on, weaned, socialized, etc.," Dwyer explained.
"Even though we focus on orphans, our goal is to keep moms and kittens together whenever possible since that's what is best for them. We also have a soft spot for the 'broken' ones so we've had several paralyzed kittens and cats in diapers, deaf ones, blind ones, really medically difficult ones."
One of their latest initiatives is The Birth Control Brigade, a trap, neuter and return program "to prevent the cycle of unwanted kittens." Aside from the cats they have voluntarily spayed and neutered, they have taken in more than 1,600 cats and homed over 1,150 since its founding in 2018.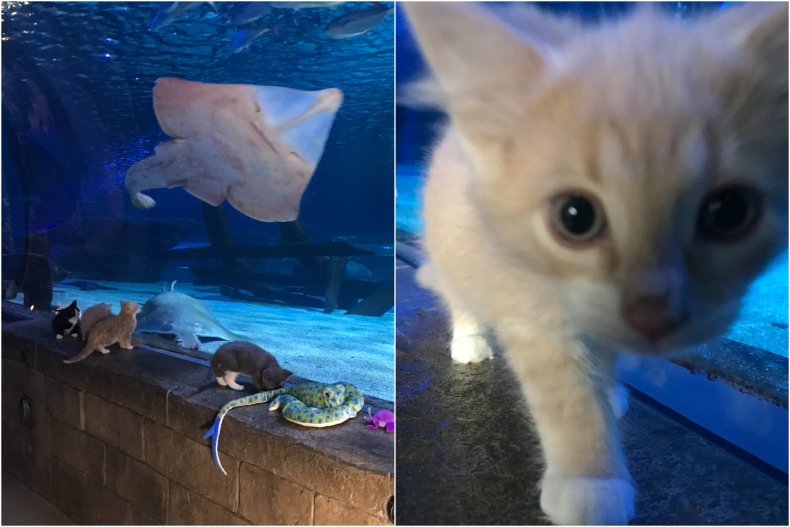 As seen in the adorable video taken by the aquarium that was shared with Newsweek, a group of curious cats was taken around the shark and stingray exhibits. The litters of kittens, all weighing in at about two pounds each, got to walk on the ledge next to the large glass tanks and watch as the massive predators swam around.
Though some seemed unsure at first of their new aquatic surroundings, they soon got "fur to fin" with the sharks, as the aquarium noted in their press release. One black cat got up close and personal with a school of clownfish, as it was held by a volunteer in a domed area of the enclosure that allows visits to seemingly stick their head into the exhibit.
Dwyer emphasized that the kittens had a great time exploring. "The kittens loved the aquarium. They were mesmerized by all the sights and new things to climb on and check out and not at all intimidated by the giant sharks swimming past," she told Newsweek. "Our [Bitty Kitty Brigade] fosters and the [SEA LIFE] staff all enjoyed watching them explore.
"We always love events where we can bring kittens because everyone gets so excited and it just lifts spirits but it's been a while since we've been able to do that, of course, because of COVID, so this was a pretty fun and unique way to get back into that," she added.
Another animal shelter recently threw a birthday party for 19-year-old Sammy the cat, who is up for adoption in Ohio.