'Nobody's Trespassing': Adorable Clip Shows Passerby Petting 'Guard Dog'
A video showing a dog that may have been sidetracked from its guard dog responsibilities has gone viral since it began circulating on Reddit.
When it was first shared on Reddit, the video was posted by u/_Xyreo on the "I Did the Job Boss" forum, but it was soon re-shared by u/verIshortname and posted to the Reddit forum "Aww," where it received more than 73,000 votes.
"This guard dog doing his job..." the title of the post read.
According to The Spruce Pets, certain dog breeds are more prone to having a protective instinct.
Among the breeds that the outlet recommended that could prove to be reliable guard dogs included the German shepherd, the bullmastiff and the Belgian malinois.
However, there are some traits found in some breeds that rule them out as strong candidates for serving as a guard dog.
"Dogs that do not make great guard dogs are those that are usually calm or low-energy breeds that will likely ignore strangers or welcome them into your home," the piece stated.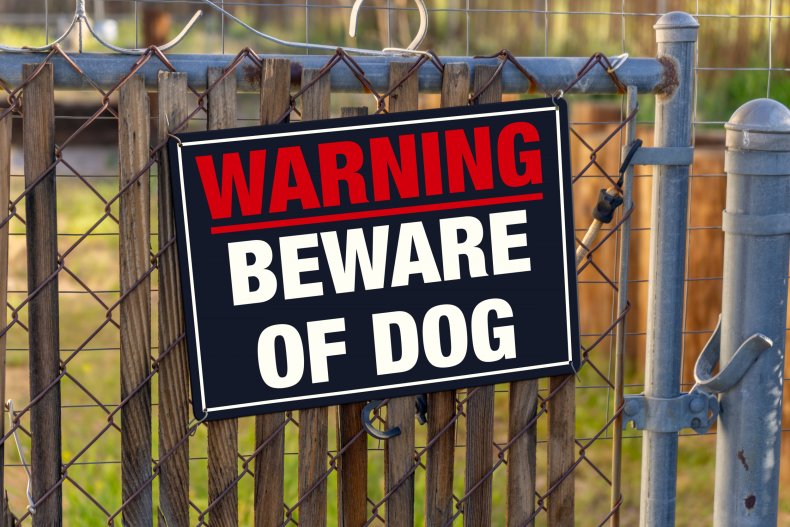 The video opened with a shot of a sign that stated, "Warning this area is guarded. No trespassing," which had an image of a dog on it. The camera then panned over to a person leaning over the chest-high chainlink fence to pet the dog. The mostly-white dog licked its lips and seemingly enjoyed his visitor scratching its ears, under its chin, ruffling the mane around its neck. The dog at one point seemed to give its petter a little kiss on the forearm.
Though some commenters offered theories as to what breed of dog stood behind the fence, Newsweek was unable to independently verify the breed.
"Nobody's trespassing," one of the top comments read. "Job done."
A commenter wrote, "Scritches welcome but no trespass plz."
Some joked that the dog acts friendly to those while they are on the opposite side of the fence, but its demeanor may change if someone tried to trespass.
"Steps over fence...ARREROOO!!!" a commenter wrote. "Immediately bites."
"His other side is waiting for that encounter," another Reddit user replied.
One Redditor quipped that there are in fact two dogs guarding the property.
"It's a different dog that bites," they wrote. "That one just calls the other one."
Another Redditor suggested that the dog was "de-escalating" the situation.
Though many were delighted by the clip, some viewers cautioned against petting unknown dogs.
"Don't just go and pet any dog because you think they're cute and friendly," a viewer warned.
Reddit is a popular space for Internet users to share sweet photos and videos of dogs. Newsweek previously reported that a dog went viral for her role as a company's "Barketing Manager."
The dog's owner told Newsweek she got to know the employees and was known for being calm and relaxed.
Another dog's viral photo shows it lounging in what was dubbed the "pawfect snooze spot."