Dog With Office Job Leaves Internet in Stitches: 'Barketing Manager'
In a booming jobs market where job postings have reached record highs, one unusual worker has landed a new job and delighted the internet.
Kira the dog has gained viral attention on Reddit after becoming the "Barketing Manager" at a company in Lithuania. In a post shared on Wednesday by Jonas—who uses the handle mad_jon on the site—the picture of the qualified canine has delighted the internet, gaining over 23,000 upvotes and hundreds of comments.
Jonas lives in Kaunas, Lithuania with his rescue dog Kira, who is around 4 years old.
"After joining the company, Kira got to know the employees," Jonas told Newsweek: "After some time she got recognized as a calm and even relaxing dog. The day Kira received her role our company's administrator made the card and informed me (jokingly) that Kira had passed the trial period."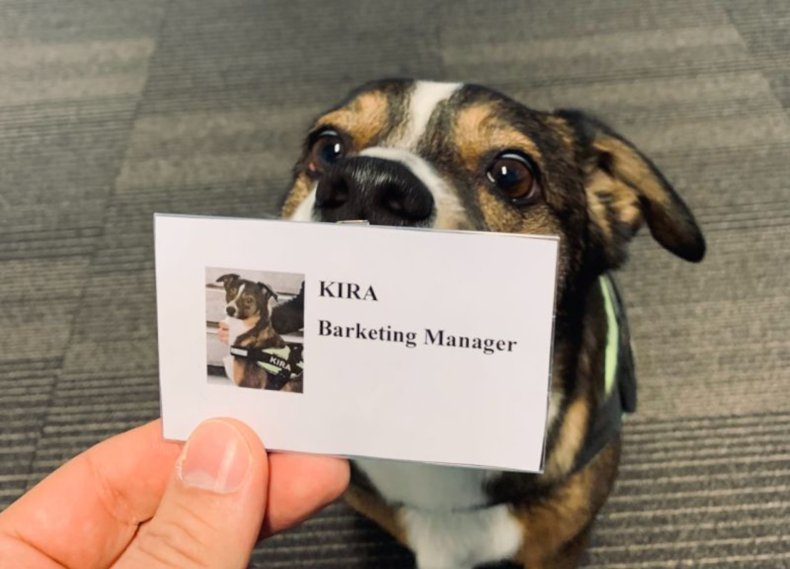 In stitches at the viral image, Redditors commented on Kira's role at the company. One said: "Employee of the month right there," and another wrote: "I want this dog to be my manager."
"People smile when they see her," said Jonas: "Even when she brings her toy to show, and of course, to play."
"Every morning, Kira walks around the office and greets her co-workers," explained Jonas: "She receives a nice amount of pets, back scratches and belly rubs."
Kira isn't the only canine employee at the company, with her active co-worker Vetra the German Shepard also being a big part of the office: "She enjoys a good run outside with Kira," said Jonas.
One commenter was inspired by Kira and said: "Officially started a petition to hire a barketing manager in our office." Another Redditor said: "Good Kira. Go do payroll and then roll over."
"It makes me feel happy and warm inside that people are sharing the picture," said Jonas: "People commenting on the post and enjoying themselves is the greatest."
While a dog with an office job might be a little unusual, there is nothing out of the ordinary about dogs with jobs. The American Kennel Club records 31 breeds of dog as purposefully bred for working—including the Akita, Great Dane, Newfoundland and Siberian husky. Dogs have been performing working roles for centuries, in fact, some even hypothesize that canines have been supporting human companions since the days of ancient Egypt, where hieroglyphs and cave paintings have been uncovered showing depictions of warriors and hunting dogs.
Some common modern-day roles include service and assistance, such as hearing dogs, guide dogs and seizure alert dogs, search and rescue dogs, herding dogs and racing dogs.
More unusually, a company attracted attention after offering a job for a dog as Chief Canine Counselor last year.