Adorable Young Girl's Reaction to Olympic Women's Weightlifting Goes Viral
A video of one young girl's enthusiastic reaction to the Olympic women's weightlifting has highlighted the inspiring power of the Games.
In a video posted to TikTok by her mother Tina under the username coffeencrusts, the adorable youngster, who is called Emily, can be seen watching along with her dad as the athletes are put through their paces.
It proves to be a thrilling experience for the young child, who is in awe of the female competitors at the Tokyo Olympics, telling her father "these women are so strong."
"Look at that pole!" Emily shouts as one of the weightlifters begins her set. And strong hands...I wish I had strong hands," she adds.
Soon enough Emily is aspiring to one day follow in the footsteps of the women, telling her parents "I wished I had to be the strongest."
"They are so strong!" she says a moment later. "They can lift heavy...things. Cuz they are so strong."
Momentarily transfixed by what she is seeing on the screen, minutes later Emily is up on her feet and cheering on a weightlifter representing the U.S. "You can do it!" she chants, waving her hands in the air.
Later, she is filmed marching around the room chanting "she is the winner" having thoroughly enjoyed the efforts of the female Olympians in the weightlifting or, as she has christened it, the "dropping."
First posted to TikTok on Saturday, the video has been watched over 2.2 million times, amassing more than 540,000 likes and over 4,500 comments.
You can watch the video of Emily here.
Commenting on the video, TikTok user Kumikoseph declared: "And a future Olympic champion was born."
Thevondyfam wrote: "Oh my gosh she is SO SWEET."
Katerosehutch commented: "Parenting done right. Utterly amazing."
Shelrye said: "Please save this and play it back to us when she's in the Olympics."
Chloedempseyyy added: "Would much prefer to watch the Olympics with her commentary."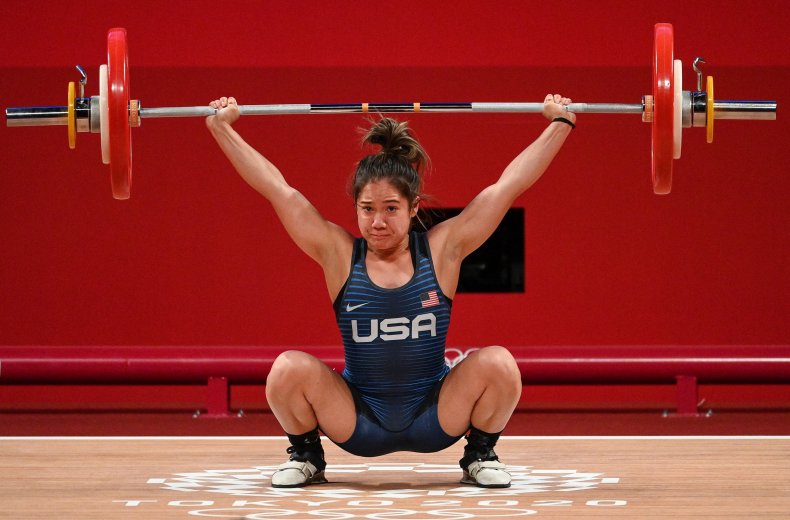 Cpnsa wrote "This is why representation matters, my heart melted!"
That comment chimed with the words of singer songwriter Antje Schomaker who described the video as "a good example of how important representation is."
"Girls need role models so they can imagine being strong or doing a job 'untypical' for women."
Chloegalla agreed: "How amazing that she gets to grow up and watch these strong women and be inspired by them. Can't wait to see her in the Olympics."
Emily's exploits did not go unnoticed elsewhere, with footage of her enthusiastic reaction picked up by NBC to be broadcast as part of its Olympics coverage.
Elisabeth Oehler, a weightlifting strength and conditioning coach, also shared the clip on Twitter, writing "Why you should watch the Olympics with your kids..."
Newsweek has reached out to Emily's mother Tina for comment.