Bittersweet Last Vault From the Oldest Female Gymnast at the Olympics Who Retires Age 46
The oldest female gymnast to compete at an Olympic games has finally announced her retirement, after an illustrious career spanning more than 30 years.
Oksana Chusovitina confirmed she was hanging up her leotard on day two of the Tokyo Games, on Sunday, which was her eighth consecutive Olympic appearance.
The 46-year-old failed to qualify for the vault final after finishing in 14th place. After completing her last Olympic event, she waved to the eerily empty stands with tears in her eyes.
She received a standing ovation from fellow competitors and the judges, who knew they had witnessed the final chapter in a record-breaking career that recently saw her competing against girls less than half her age.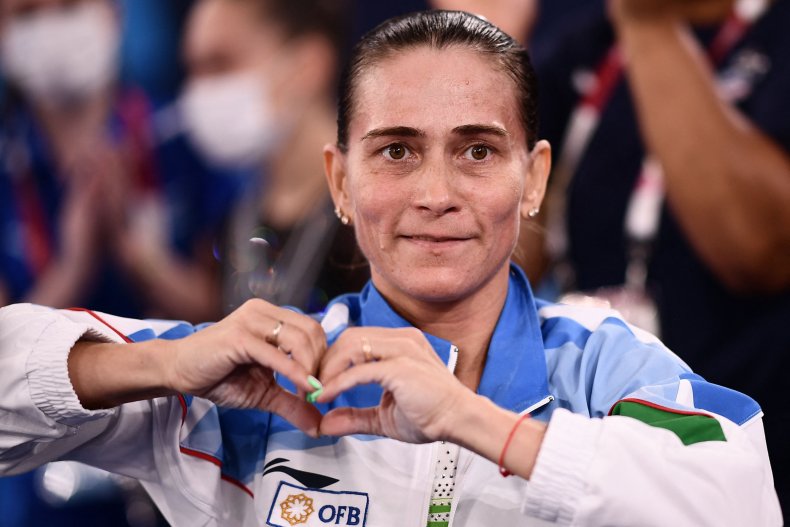 The International Gymnastics Federation (FIG) quoted Chusovitina, saying: "It was really nice. I cried tears of happiness because so many people have supported me for a long time. I didn't look at the results, but I feel very proud and happy. I'm saying goodbye to sports."
She went on to say: "It's kind of mixed feelings. I'm alive, I'm happy, I'm here without any injuries, and I can stand on my own!"
It's not the first time Chusovitina has announced she was retiring from the sport. But this time it's for real, she confirmed. "I'm 46 years old. Nothing is going to change my mind," USA Today quoted her as saying.
Over the decades, Chusovitina represented the Soviet Union (USSR), the Unified Team, the Commonwealth of Independent States (CIS), Germany and Uzbekistan. She's one of only a handful of athletes to represent various national teams at the Olympics.
Chusovitina made her first appearance for the USSR, competing at the 1990 Goodwill Games and World Championships the following year, winning golds.
In 1992 she made her Olympic debut in Barcelona, representing the Unified Team, scooping a gold medal. She has appeared at every single Olympic event since, the only female gymnast to hold that accolade.
Her list of medals and records goes on; with Chusovitina officially the oldest female gymnast to compete at an Olympics, and there are five vault moves named after her. Her trophy cabinet boasts some 32 medals, nine of them gold.
While geopolitical changes saw her switch teams from the USSR to her native Uzbekistan, her son was the reason she competed for Germany. Chusovitina welcomed Alisher in 1999, but a few years later he was diagnosed with leukemia.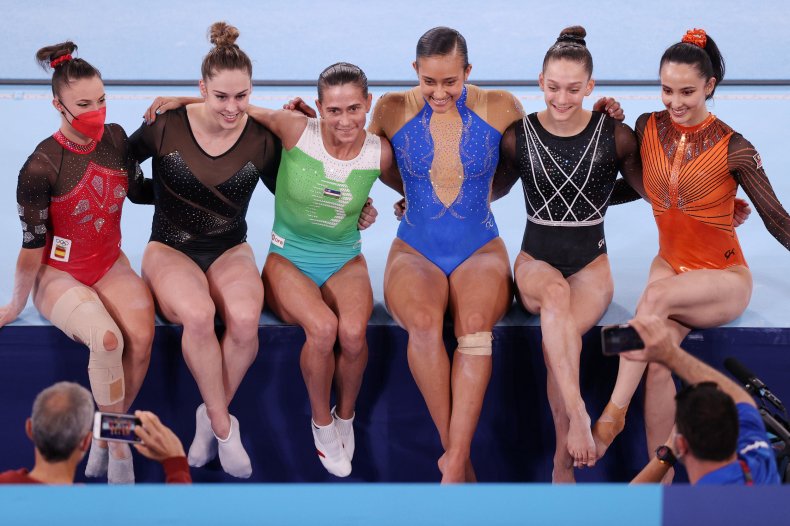 She moved to Germany so he could undergo treatment, and she represented the country as a way to say thank you for helping to fund his medical bills, with her prize money from competing also going toward his recovery.
"If I had to go back in time I would not want to repeat the time when my child was ill. But all of the other moments, I would gladly repeat," the BBC quoted her as saying.
Chusovitina is also among a small number of gymnasts who've returned to international competition after becoming a mother.
At what is her last games, Chusovitina posed for photographs with her fellow gymnasts, most of whom are younger than her son. An icon in the sport, her retirement announcement was met with an outpouring of praise and admiration from her competitors.
U.S. Olympic medallist Aly Raisman, tweeted: "Oksana Chusovitina 1992 Olympics floor. This is Oksana Chusovitina 8th Olympics!! No words to describe how impressive that is. Forever an icon. Wishing Oksana the best of luck! I'm so excited to watch."
While Spanish gymnast Marina Gonzalez, also competing in the Tokyo games on the vault, shared a photo of the pair, tweeting: "Constancy, Courage and above all breaking stereotypes. Admiration Oksana Chusovitina"
And capturing the mood in the stadium, FIG tweeted: "Standing ovation and not a dry eye in the house for the #ArtisticGymnastics legend Oksana Chusovitina as she takes her final @Olympics bow. The 46-year-old today became an 8-time Olympian, competing on Vault for the last time at @Tokyo2020."