Video of Ariarne Titmus' Coach Wildly Celebrating Win Over Katie Ledecky Viewed 1M Times
A clip of Ariarne Titmus' coach enthusiastically celebrating her victory over Katie Ledecky is quickly going viral.
Australian swimming coach Dean Boxall's wild celebration has already been viewed more than 1 million times.
The coach ripped off his mask, pumped the air and hip-thrusted a railing as he exuberantly celebrated the newly-crowned Australian Olympic champion's win, in what has always been an epic rivalry between the two countries.
Titmus took down the highly decorated Katie Ledecky in the 400-meter freestyle final on Monday in Tokyo (Sunday night in the U.S.) in what was one of the most-anticipated swimming races at this year's Olympics.
Titmus overcame Ledecky in the 300-350 leg of the race, and she outpaced her toughest opponent by 0.67 seconds for the final 50 meters to claim the gold medal, prompting her coach's wild outburst.
China's Li Bingjie finished third at 4:01.08.
The energetic celebration has caused Boxall to become an instant meme among Tokyo Olympics viewers as his swimmer swam the best race of her career.
Australian sports broadcaster Josh Butler declared Boxall an "instant icon" tweeting: "Ariarne Titmus' coach's reaction after she won gold in the 400 metres - instantly iconic."
While Australian tennis player Daria Gavrilova questioned why her coach never reacted in such a way.
"If my coach doesn't react like this when I have a big win then i don't want it," she joked.
Meanwhile, Australian journalist Vince Rugari added: "the Dean Boxall moment was almost designed to go viral. i'd never heard of him before but pretty confident he'll now never have to buy himself a beer ever again. how good."
ABC journalist Emilie Gramenz also joked that Boxall's celebration should be added to the "mood board" for the next Australian Olympics in Brisbane 2032.
While NBC's Matt Brickman added: "Just want to watch a video of Australia swim coach Dean Boxall losing his mind, while a somewhat terrified #Olympics staffer tries to calm/redirect him, on a loop forever."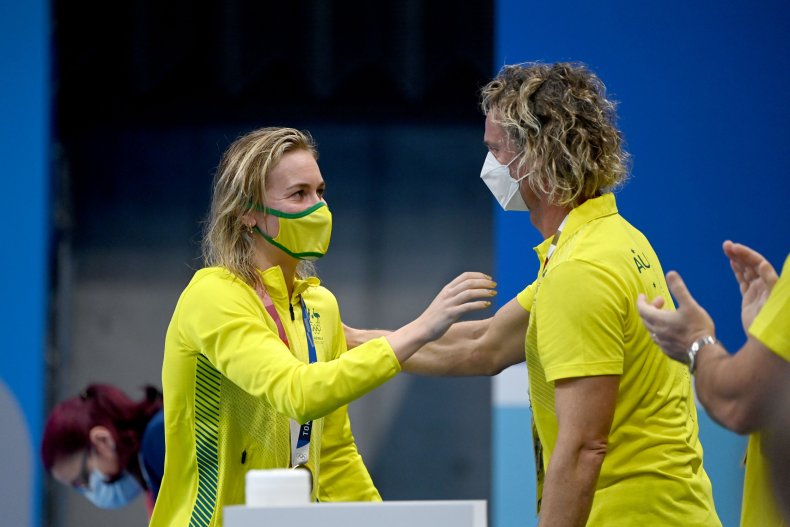 In June, after Titmus won the Australian Team Trials in the 400, she trash-talked Ledecky's world record.
"That world record is outstanding and to be close to that this close to the Olympics, I'm very excited," Titmus said. "[Ledecky] is not going to have it all her own way I guess...I can't control what she does, I can only control myself."
Speaking after Monday's race, Ledecky praised "an awesome swim" by Titmus.