Today, fans of widely acclaimed animated series The Venture Bros. are reeling at the news of the show's cancellation.
As one of Adult Swim's longest-running shows, The Venture Bros. is one of a number of series canceled by the network in recent years.
Today, the creators of The Venture Bros. have shared their disappointment at the news with Christopher McCulloch aka Jackson Publick deeming the cancellation "highly disappointing."
Many fans were also left scratching their heads since Adult Swim themselves have tweeted about wanting to continue making episodes—which indicates that the decision has come from higher up in the Warner Bros. Entertainment company.
As one disgruntled fan on Twitter put it: "You have to appreciate the genius of Adult Swim. Without the cancellations of Aqua Teen Hunger Force, Metalocalypse, Your Pretty Face..., Mike Tyson Mysteries, the #VentureBros, etc., how else could we continue to get repeats of the same 12 episodes of Family Guy every night?"
The Adult Swim cancellations seem somewhat arbitrary when the likes of Rick and Morty gets a huge 70 episode renewal deal (despite a co-creator Dan Harmon facing serious backlash for an old sketch) but The Venture Bros. doesn't even get to finish it's last season, which the writers had already confirmed they were working on.
Asked about the cancellations, Adult Swim told Newsweek: "Having long-term relationships with the creators and talent behind our content is essential. The decision to no longer continue a show is often complex, mutual and at times painful for everyone involved, but doesn't necessarily mean we won't find other ways of extending the life of these stories and characters."
The Most Controversial Adult Swim Cancelations
Venture Bros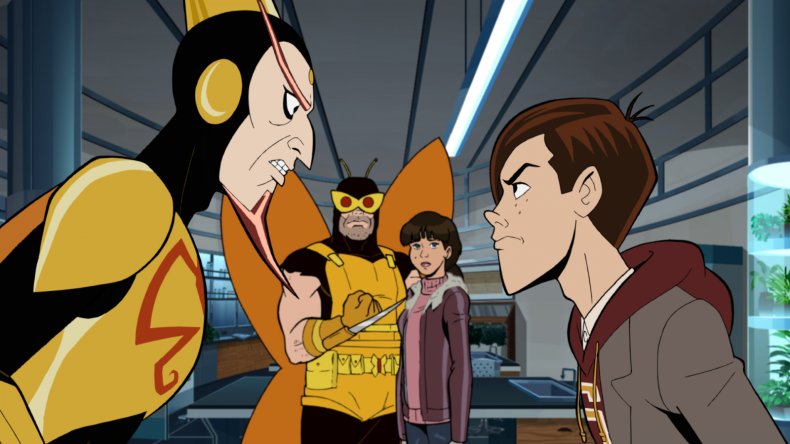 "Unfortunately, it's true: Venture Bros. has been canceled," Jackson Publick, lamented on Twitter. "We got the highly disappointing news a few months ago, while we were writing what would have been Season 8. We thank you, our amazing fans, for 17 years of your kind (and patient) attention. And, as always, we love you."
Voice actor James Urbaniak added: "So, as it must to all, cancellation has come for The Venture Bros. The pilot aired 17 years ago, which means the show was almost old enough to vote. It was one of the great gifts of my life & career. The fans were, quite simply, the best. Thank you, everybody. Go. Team. Venture!"
The cancellation will come as a which to many, considering that the creators had previously revealed they were working on new episodes.
Metalocalypse
The cancellation of Metalocalypse may still be a sore spot for fans since there was drama surrounding it's ending back in 2013.
Since then, its creator Brendon Small, had been trying to get it back on air but things came to a head in 2016 when Small said a petition to get the show back on air was not appreciated by Adult Swim.
Small told Loudwire at the time: "There was no debate, there wasn't even a return phone call—it was a hard 'no.' It was about as hard as you can possibly get, which is kinda strange."
Aqua Teen Hunger Force
Aqua Teen Hunger Force was canceled in 2015, against the wishes of its creators Dave Willis and Matt Maiellaro.
At the time, Willis said that Adult Swim president Mike Lazzo made the decision to end the series because "he was ready to move on from it" in a statement posted to Reddit.
While Maiellaro told Vice: "It's actually quite shocking and a bummer at the same time."
Mike Tyson Mysteries
Mike Tyson Mysteries ran from 2014 and ended unexpectedly early this year.
Writer Larry Dorf confirmed the show's cancellation on The Modern Moron podcast, saying: "Mike Tyson Mysteries is not a show anymore, it's canceled. It was very fun, it was a funny show, but yeah, it's all done."