Homelessness in the United States has risen for the first time since the tail end of the Great Recession as 553,742 people slept rough or in a shelter in a single night earlier this year, with the West Coast facing a particularly acute problem.
The one-night count in January represented the first time since 2010 that homelessness in the U.S. ticked up, by 0.7 percent overall but by much more in individual cities, NPR reported. The statistic came from a government document released by the Department of Housing and Urban Development (HUD) on Wednesday.
The increase came as a surprise as homelessness levels had been falling, having dropped by 13 percent since 2010. Many communities are making progress on eliminating problems such as homeless veterans, who usually push the figures up, Ben Carson, HUD secretary, said.
Related: LGBT youth are much more likely to be homeless, new study shows
The peak in the spontaneous one-night count stems now, however, from a new problem facing big cities—a lack of affordable housing.
"Where we're not making great progress are in places like Los Angeles and New York City," Carson told NPR. "These happen to be places where the rents are going up much faster than the incomes."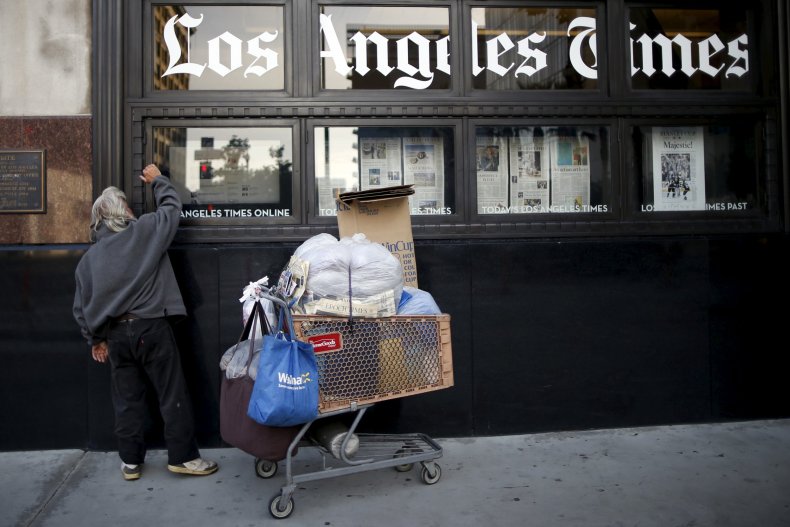 Homelessness statistics for Los Angeles this year depict an increase of nearly 26 percent compared to last year alone. When it comes to homelessness among veterans, the national statistics would show an encouraging drop of 3.2 percent, were it not for Los Angeles, whose own numbers push the national average for homeless veterans to an increase of 1.5 percent.
Major cities contributed to the overall rise, with New York's homelessness increasing by more than 4 percent. It is in these cities where wages have frequently failed to keep up with housing costs. According to The Guardian, poverty rates have returned to pre-recession levels, while median wages remain at around $17 an hour and rents have increased.
As a whole, chronic or long-term homelessness is a growing problem, as 12 percent more people experienced it this year compared with 2016. The one positive finding was that family homelessness was down by 5.4 percent.
Recent figures show there were 58,000 families with children living without a roof over their heads or in shelters earlier this year. The number of unaccompanied homeless youth and children neared 41,000.