After arriving in Washington, D.C. with his wife and one-year-old daughter, Mustafa felt an overwhelming sense of relief.
He had managed to escape Taliban-controlled Afghanistan, just days before the U.S.-led evacuation is set to end on August 31.
Mustafa, who asked to only be identified by his first name, told Newsweek of the hellish struggle to enter Kabul's airport as thousands of Afghans mobbed it in their desperate bid to flee.
He also told of his anger at the chaotic nature of the evacuation, the harsh conditions his family endured on their journey and his fears for the relatives and friends left behind.
The 29-year-old first arrived in the U.S. on a special immigrant visa (SIV) in 2017 after working with U.S. organizations for several years during the war. Spouses and children of SIV recipients can also apply to enter the U.S. as part of the program.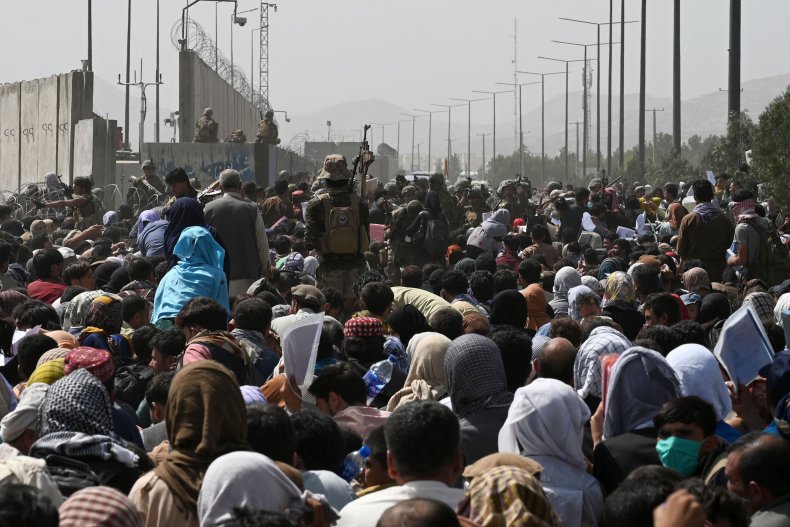 Mustafa said he had wanted to get settled in the San Francisco Bay Area before bringing his wife over. But a process he thought would take a few months dragged on for two years and her application was ultimately denied—something he believes is due to the Donald Trump administration's crackdown on immigration—and he had to apply again.
"I had a very good plan for my life," he said. "But being away from my family, especially my wife, changed everything."
He ended up driving for Uber and Lyft, he said, so he could work flexible hours and return to Afghanistan to see his family regularly.
'I couldn't leave them behind'
Mustafa flew to Kabul for a visit six weeks ago. When the Taliban started storming the country and major cities began to fall, relatives urged him to get out while he could. But he was determined not to leave without his wife and child.
"I was communicating with the U.S. Embassy and also some other organizations and I shared this issue with them, that I'm really worried about my family, especially my wife and my kids," he said. "I couldn't leave them behind."
After the Taliban swept into Kabul, he and his family made plans to get out. But trying to enter Hamid Karzai International Airport was a "nightmare," he said.
Mustafa said he arrived at the airport with his wife, daughter, elderly parents and other family members on several consecutive days, but each time, they failed to get inside because of the massive crowds.
"The soldiers were calling my name," he said. "But if I wanted to get closer to any of those soldiers, to tell them that I'm Mustafa and you are calling my name, I have my green card and I am allowed to get into the airport, they were responding with gunfire.
"I tried many times to get to the front of the line, I was pointing at them that I want to get in but because of the crowds, and because of the lack of the management that they had, and the lack of discipline that they had, I couldn't get into the airport."
'It was hard for me to breathe'
He told of his terror that he and his family would die in the crush of people outside the airport.
"People were pushing each other. As an adult, it was hard for me to breathe so imagine what was going on with those kids," he said. "It was a very tough situation."
On August 18, he made the tough choice to tell his parents to turn around.
"I saw that it was impossible for them to get into the airport," he said. "So I sent them back home and I said, 'I'm sorry, I can't take you myself but I promise I will do something for you after I get to the U.S.'"
That evening, he finally made it inside with his wife and daughter, but the struggle continued inside. "It was very concerning for me when I was looking at my kid having nothing to eat," he said. "She was running out of milk."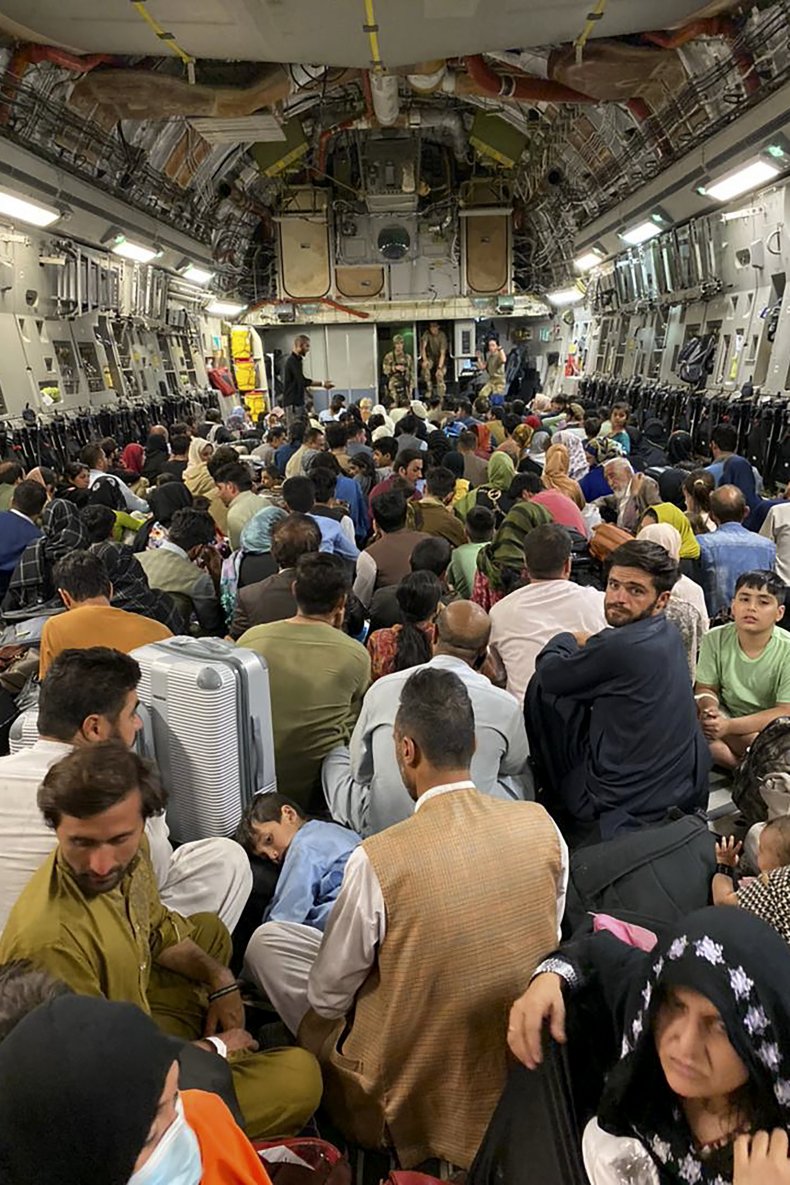 They endured two nights in the airport with little food as they waited for a flight. "Nobody knew when it was going to happen," he said.
On Friday, they flew in a cramped aircraft to Qatar. "It was a military plane with no seats and it was very crowded," he said.
Another grueling wait in stifling heat awaited them. "Women started passing out, kids were getting sick and the only thing that we had over there was water," he said.
Soon, his wife and daughter started feeling unwell. He desperately rushed to a doctor for advice on how to help them. "The doctor came and checked them out and they prescribed me to give them more water," he said.
It was several hours later that they were driven to a facility that was being used to shelter Afghans.
'We were the luckiest people'
His family was among those chosen to get on a flight around 24 hours later, he said. "We were the luckiest people who could get a flight directly to the U.S.," he said.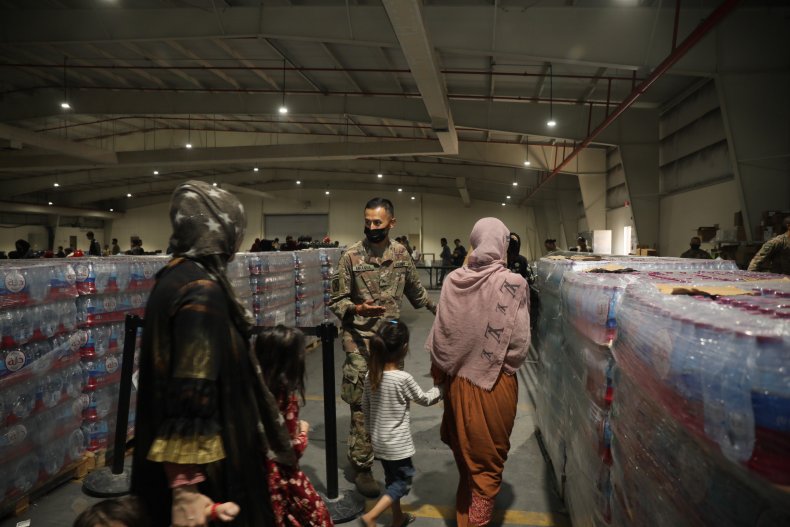 But Mustafa's mind remains on the family members he left behind in Afghanistan and he is angry at how chaotic the evacuation has been.
"They didn't evacuate the right people, they evacuated who came first," he said. "This mismanagement caused lots of problems. Many people lost their lives and many people were left behind."
He is concerned for his father, who worked for the U.K. government during the war and had applied for a visa, but is unlikely to make it out of the country now.
He's also worried for his sister and his three young nieces. "They're so intelligent," he said. "But now they can't go to school, I'm really worried about them."
Mustafa remains unconvinced by the Taliban's pledge to respect women's rights and doesn't believe the group has changed since it last wielded power in the late 1990s.
"I don't see any, any difference between the Taliban then and now. They are trying to act for a while until the world accepts them," he said. "But I'm sure that Taliban will start their activities again, they will punish people who work with the government, they will punish women again. I'm really worried about people of Afghanistan, especially women and girls."
For now, his immediate focus is on taking care of his wife and daughter.
When they finally touched down on U.S. soil on Saturday, he had no desire to get back on a plane. So he hired a car to embark on the almost 3,000-mile journey to California.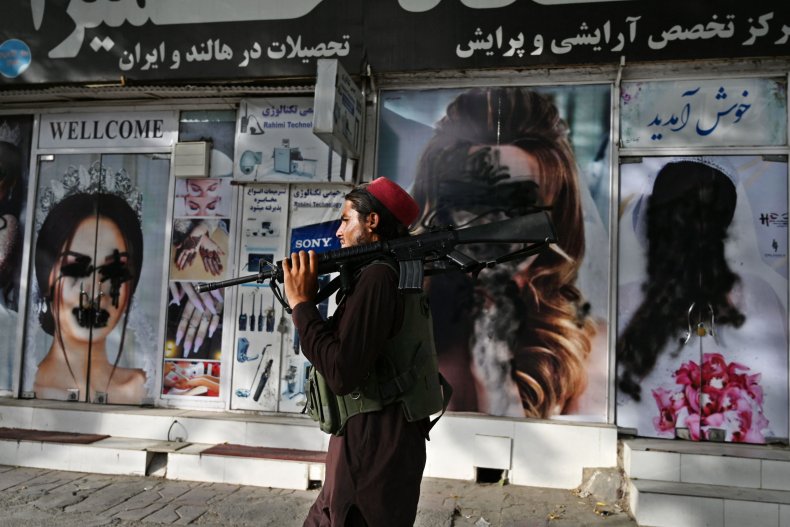 "I wanted to celebrate this day with my family, and then I said, 'I'm not gonna take a flight again.' I rented a car and I drove," he said.
They've made stops in Chicago and Salt Lake City along the way, and he's shown his wife and daughter some of what their new home has to offer.
"I took my daughter to the zoos, to the playgrounds," he told Newsweek while traveling through Nevada.
"Everything is because of her because I really love my daughter. I spent a lot of time away from her, so now I want to do as much as I can for her."