The U.S. State Department unveiled a new plan Monday that will allow groups of private citizens to sponsor Afghan refugees and help them resettle into communities across the country.
The plan, called the Sponsor Circle Program, will allow groups of at least five individuals to apply to become sponsors and help secure Afghans with housing, basic necessities, and assistance with benefits programs and community orientation, the State Department said.
The program marks a major shift in U.S. refugee policy and will serve as an addition to typical resettlement processes overseen by national agencies that work with the federal government and United Nations.
President Joe Biden's administration previously planned to launch a private sponsorship program in 2022, but has since expedited the process to address an influx of tens of thousands of Afghan refugees that have evacuated to the U.S. since August, Axios reported.
"This program showcases the powerful role that individuals can play in coming together to welcome and integrate Afghans into American society, reflecting our spirit of goodwill and generosity," the State Department said in a statement Monday.
The program is a collaboration between the State Department and the Community Sponsorship Hub (CSH), a non-governmental organization that will be in charge of overseeing online applications. Those who wish to become sponsors will be vetted through background checks and will be trained and certified by the CHS before working with refugees.
Once approved, the private sponsor groups, or "sponsor circles" will also be involved in enrolling Afghan children into schools, helping parents and adults find jobs, and assisting families with English-language skills. Additionally, the private citizen groups will be required to fundraise at least $2,275 per refugee.
So far, roughly 68,000 Afghan refugees have evacuated to the U.S. after the withdrawal of U.S. troops and the collapse of the country's government to the Taliban in August, according to the Department of Homeland security. Of those, some 55,000 Afghans are still waiting at U.S. military sites to be resettled into new homes.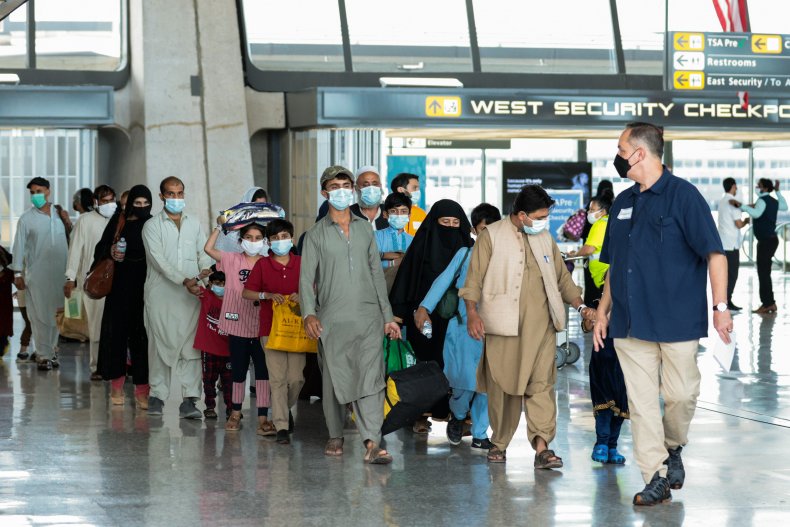 The Biden administration is hoping that the new private sponsorship program will help expand the overall capacity of resettlement efforts. Since August, a wide range of U.S. governors, mayors, and local community leaders have expressed interest in helping Afghan evacuees to develop a new life.
"Americans of all walks of life have expressed strong interest in helping to welcome these individuals. The Sponsor Circle Program for Afghans harnesses this outpouring of support and enables individuals to become directly involved in the welcome and integration of our new neighbors," the State Department said Monday.