How To Help Afghan Refugees: Organizations and Crowdfunding Campaigns To Donate To
Following the removal of U.S. troops from Afghanistan, frantic scenes have emerged showing Afghans trying to leave the country as the Taliban takes control.
The latest figures released by UNHCR show that since the start of 2021 at least 550,000 Afghans have been displaced by the conflict.
President Joe Biden has pledged up to $500 million from the United States Emergency Refugee and Migration Assistance Fund to support refugees fleeing Afghanistan.
There are ways for ordinary Americans to help too, with several organizations providing support for Afghans.
Organizations to Donate To
Afghanaid
Afghanaid is a British humanitarian and development organization working to support deprived families in some of the country's poorest communities.
In response to the rapidly evolving situation in Afghanistan right now, it has re-opened a number of offices in rural areas to deliver emergency support to those who have been uprooted by the conflict.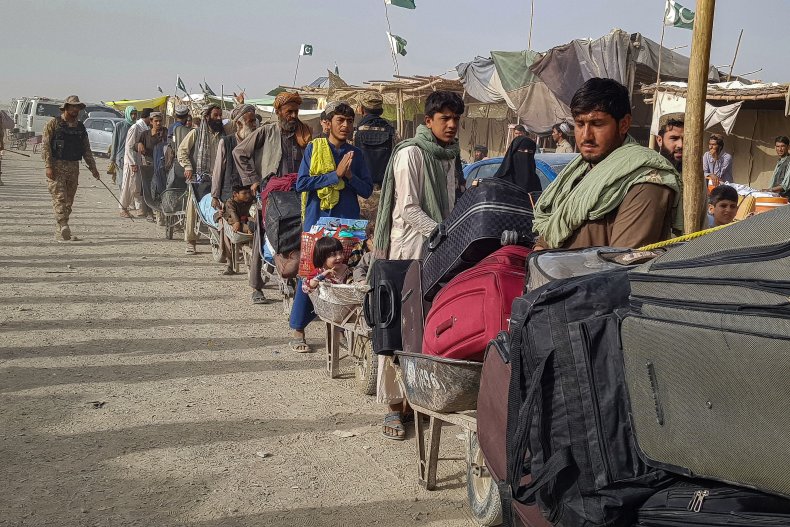 It is working to provide financial support, food parcels and kitchen kits, hygiene kits, and items such as lamps, stoves and gas cylinders.
Islamic Relief USA
Islamic Relief USA (IRUSA) provides relief and operates as a development organization in communities around the world, guided by the teachings of the Quran.
IRUSA has been working with Afghan communities for over 20 years. As the current crisis unfolds it is providing water, hygiene kits, and shelter for displaced families.
Christina Tobias-Nahi, director of communications and public affairs, told Newsweek: "Islamic Relief USA is committing $1 million to Islamic Relief Afghanistan to support internally displaced individuals with food, water storage units, hygiene kits, shelter and other items to assist them in dealing with their displacement and food insecurity.
"In addition, here in the United States, Islamic Relief USA continues to support a growing network of US-based social service community organizations providing refugee support to Afghans and other clients, whether its English language courses, job skills training, health services or mental health support to those who have fled violence."
The organization has also been urging policymakers at the U.S. government, UN and World Bank to support open access for humanitarian actors to deliver life-saving programs and increase the number of refugees allowed into the U.S.
Another program by the charity has been working alongside HIAS to support Afghan refugees in Lesvos, Greece by providing legal aid, psychological and social support.
"The team there was already overwhelmed with the number of asylum claims and the struggles of camp dwellers attempting self-harm," Tobias-Nahi continued. "They expect to be further inundated after these recent developments."
"This is a project being funded by both Jewish and Muslim US-based NGOs and their donors while staffed by Greek orthodox lawyers, and is an amazing testament of how we can come together across faiths to aid those most vulnerable."
International Rescue Committee
According to the International Rescue Committee (IRC), more than 18 million people in Afghanistan require humanitarian aid and the country's complex situation ranks second only to Yemen on its list of crises expected to deteriorate the most in 2021.
"Without immediate action, 2021 will be the deadliest year of conflict for Afghans in over a decade," Bob Kitchen, IRC's vice president of emergencies, said in a statement.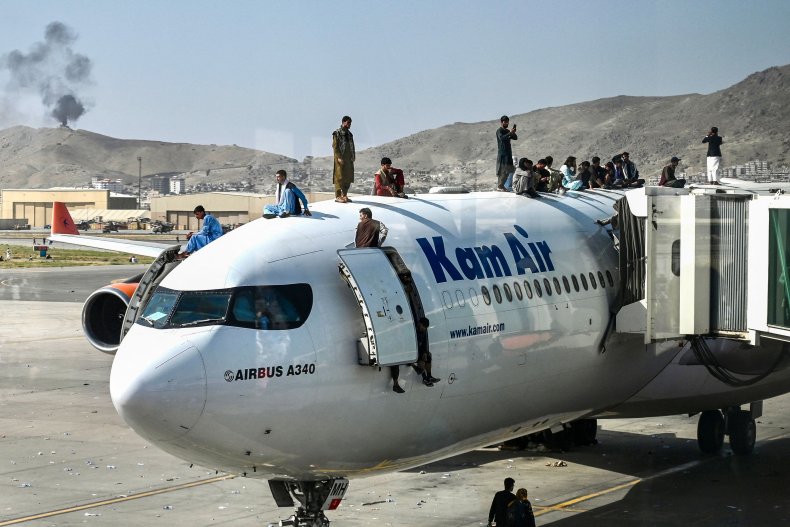 "The severity of the situation brings new urgency to ensure all Afghans in need of aid can be reached—and yet the humanitarian response remains just 38 percent funded.
"The IRC is working to raise $10 million to ensure our teams can continue to deliver lifesaving aid across Afghanistan."
The organization has been operating in Afghanistan since 1988 and as part of its Afghanistan appeal, the IRC intends to support displaced families with shelter, clean water, sanitation and other basic necessities.
It also offers cash assistance to help Afghans find livelihood opportunities and creates spaces for community-based learning.
The IRC is also encouraging Americans to email the White House to campaign for President Joe Biden and the State Department to provide a swift and safe departure for all U.S.-affiliated people in need of protection, and accelerate the visa process for Afghans.
"This situation cannot go ignored," Kitchen added.
"World leaders must show solidarity with the Afghan people and humanitarian organizations who are committed to serving them by scaling up funding and using their diplomatic muscle to ensure aid workers can continue to access communities in need."
USA for UNHCR
USA for UNHCR provides support for refugees from emergency situations months or even years after being displaced from their home countries.
Its appeal to support Afghans seeks to provide emergency shelter, lifesaving aid, food, medicine and clean water for those fleeing.
Enabled Children Initiative
Enabled Children Initiative (ECI) supports Afghan children and young people with disabilities who have either been abandoned by families who don't have the resources to care for them or have been left without a guardian after the death of one or both parents.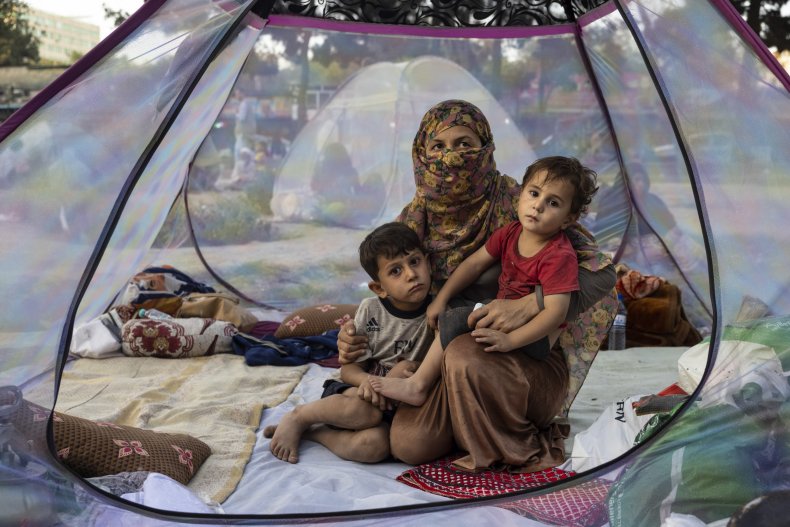 ECI provides residential care and also works with the families of disabled young people to provide educational and income generation support.
It's also in the process of building a community center in Kabul to offer even more support.
Turquoise Mountain
Turquoise Mountain was founded by Prince Charles in 2006 to protect heritage and revive historic areas while providing jobs for local people and supporting families through its health clinic.
Since its establishment, it has been able to build and support over 50 small businesses in Afghanistan, Myanmar and the Middle East, generating over $17 million in sales of traditional crafts.
In response to the current crisis, the charity is currently focused on offering emergency food and other supply distribution, healthcare services for children and families, and support for the individuals and communities it is currently serving.
In a statement posted on its website, CEO Shoshana Stewart said: "I want you to know that Turquoise Mountain remains deeply committed to our work in Afghanistan and we are increasing our level of support for all our communities at this very challenging time.
"They are our collective family, and we want to do everything we can to help."
Afghan Learning Academy
Afghan Learning Academy (ALA) provides educational and humanitarian services in the city of Kandahar.
As the situation in the country develops, it has been providing food, shelter, blankets, tents and other first-aid essentials to newly displaced families.
Crowdfunding Campaigns to Donate to
Urgent Crisis Relief for Afghanistan 2021
This is a crowdfunding campaign organized jointly by Children Without Borders - an organization that aims to stop child labor in Afghanistan—and The Watan Project—a group of Afghan-Americans providing education on Afghanistan's history and culture and fundraising for humanitarian endeavors.
The campaign intends to support displaced families who wouldn't otherwise have the financial means to survive.
Support to Families Displaced by Taliban Violence
This campaign intends to help displaced families who are facing extreme food insecurity and lack access to other basic necessities.
A video posted by the organizer purportedly showed families being provided with cooked meals and monetary support.
The organizer also encouraged donors to contact their Senators and Congressmen to "demand Afghanistan doesn't get left in a state of chaos."
Emergency Aid for Victims of the Taliban Attacks
This campaign is a joint effort by Baba Mazari Foundation (BMF), World Hazara Council, Hazara International and Hazara Committee aiming to raise $100,000 in emergency aid.
An update posted on the GoFundMe page said: "The situation in Afghanistan is extremely worrying and BMF has started distributing aid to the displaced women and children from Malistan in Jaghori, Ghazni."
Solidarity With Afghan Women: Help Rukshana Stay on the Story
Rukshana Media is a journalism group staffed by Afghan women reporting on the crisis.
It was founded by Zahra Joya in November to report the news from a woman's perspective.
Named after a woman who was stoned to death by the Taliban in 2015, Rukshana Media has reported on issues impacting Afghan women across the country.
It is asking for support to pay its staff so that it is able to continue to tell the important stories of Afghan women.
Sanitary Products for Displaced Afghan Women
Aiming to support Afghan women and children, this campaign has promised to provide sanitary products and diapers to displaced women and their babies.
On the campaign's GoFundMe, the organizer wrote: "The needs of those who have had to flee suddenly are acute, increasing demand for shelter, food, water and health services.
"Recently, many families have escaped to Kabul from the provinces that are under attack by the Taliban, leaving all their belongings behind. The women and their families are staying on the streets of Kabul without access to health care and sanitary products."
Afghanistan: A Call for Urgent Help
Distributing funds to Rashid Khan's Foundation, Srow Zar Children, and the Afghan Cricket Association, this campaign seeks to provide shelter, food, clean drinking water, warm clothing and basic hygiene products to displaced people.
It explains funds will be allocated to families based on their family size, any pre-existing medical conditions in the family and whether they are receiving support from other organizations.