Why the Afghanistan Flag Will Feature at the Paralympics Opening Ceremony
Afghanistan's flag will be displayed at the Paralympics opening ceremony on Tuesday, August 24, despite the absence of the country at the games, organisers have said.
International Paralympic Committee (IPC) president Andrew Parsons said on Monday that the flag would be featured at the opening ceremony as a "sign of solidarity."
The Afghan athletes who were scheduled to compete include para-taekwondo athlete Zakia Khudadadi and discus thrower Hossain Rasouli.
On August 16, the Afghanistan Paralympic Committee (APC) said the athletes will not be competing at this year's Paralympics due to the unrest in Afghanistan following the latest Taliban takeover.
Afghanistan-born swimmer Abbas Karimi will take part in the games as part of the Refugee Paralympic Team.
The country's flag—a black, red and green vertical tricolour with the national emblem in white—has become a symbol of defiance for many since the Taliban reclaimed control.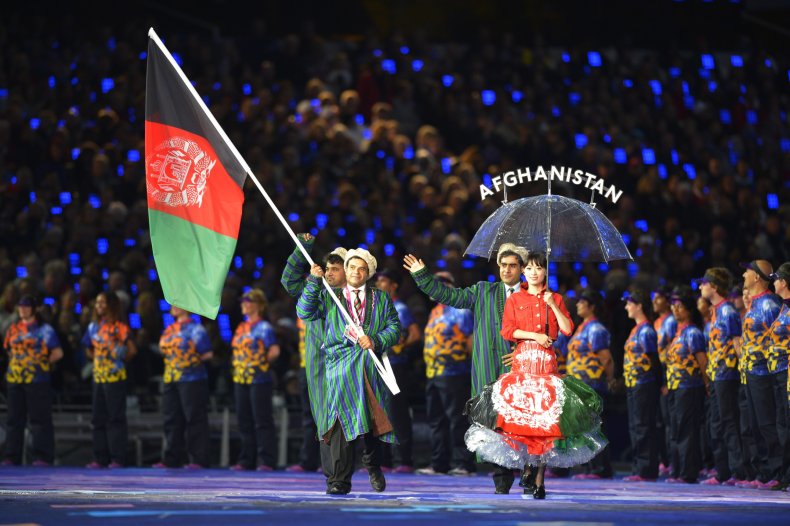 Parsons told reporters on August 23: "We would like to have them [Khudadadi and Rasouli] here, unfortunately it is not possible, but they will be here in spirit.
"It is important to highlight that as it is a message of solidarity and peace that we send to the world," he added.
Parsons said the United Nations High Commissioner for Refugees representative would be the flag bearer at the ceremony.
Afghanistan's 2020 Paralympic Athletes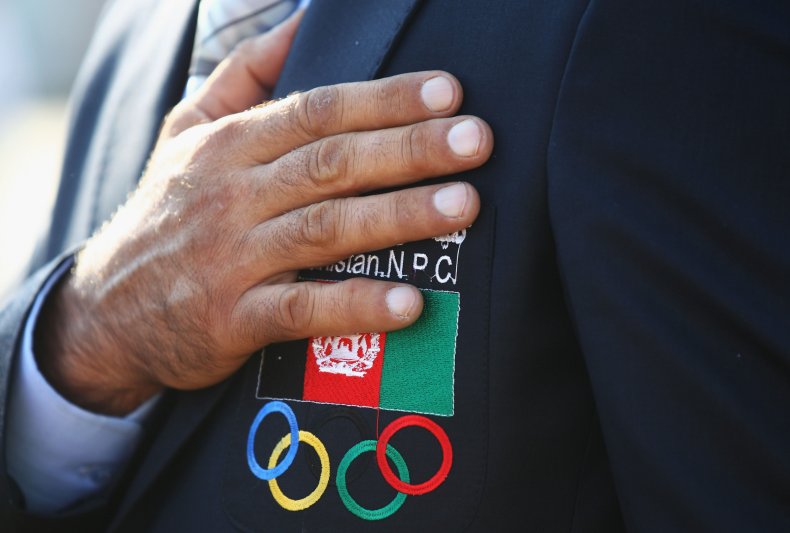 Zakia Khudadadi
The 23-year-old para-taekwondo athlete was slated to be the first-ever female athlete to represent Afghanistan at the Paralympic Games.
Khudadadi, who was born with a disability, catapulted to fame after winning the 1st African 2016 Para-Taekwondo Championships held in Egypt when she was 18 years old.
According to the Paralympics' official website, Khudadadi took up taekwondo after watching her compatriot Rohullah Nikpai bag historic bronze medal wins in taekwondo at the 2008 Beijing Olympics and 2012 London Games.
Khudadadi said: "I clearly recall watching Nikpai notch up medals for Afghanistan. I was inspired by him and decided to take up the sport and thankfully, my family also supported me."
Hossain Rasouli
The 24-year-old discus thrower, who lost his left arm in a mine blast, would have been making his Paralympic debut at Tokyo 2020.
His training routine has been mostly limited to his backyard or on the hills nearby, according to the Paralympics website.
Rasouli told the Paralympics website on August 10 that it was "a dream" to be participating in the Tokyo Games and that he wanted to win a medal for his country.
He said at the time that he was determined " to get in a good position," knowing that "other Para athletes from different countries would have prepared themselves very well."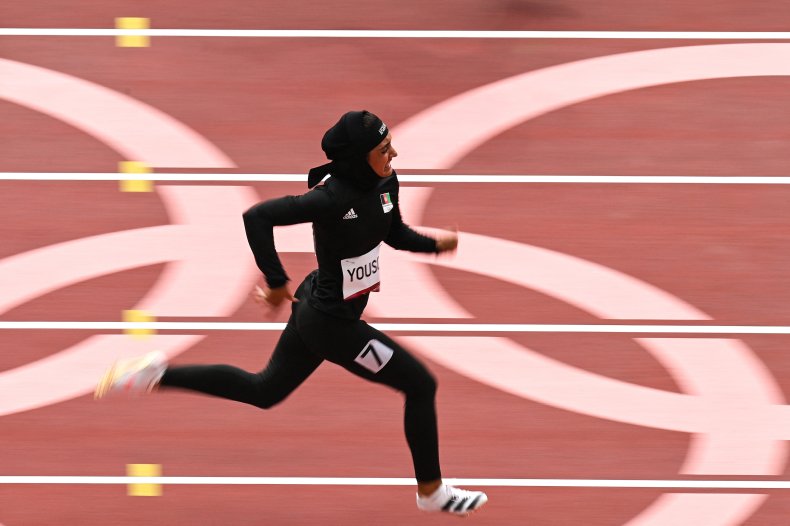 An Afghan Female Athlete's Cry for Help
Khudadadi made a plea in a video message from Kabul, the Afghan capital, on August 17.
"My intention is to participate in the Tokyo 2020 Paralympic Games, please hold my hand and help me," she said in the clip provided to Reuters.
"I urge you all, from the women around the globe, institutions for the protection of women, from all government organizations, to not let the rights of a female citizen of Afghanistan in the Paralympic movement to be taken away so easily," she said.
Speaking in Farsi, which was translated by Reuters, Khudadadi explained she felt "imprisoned," being unable to go outside with confidence to train, shop or check on other people while staying with extended family.
She felt she was an added burden to her relatives who did not have enough food to feed their own children, Khudadadi said in the video.
"I request from you all that I am an Afghan woman and as a representative of Afghan women ask for you to help me.
"The fact that we ourselves have lifted ourselves from this situation, that we have achieved so much, it cannot be taken lightly. I have suffered a lot, I don't want my struggle to be in vain and without any results. Help me," Khudadadi said on August 17.
The graphic below, produced by Statista, shows the all-time top nations in the Paralympics.