U.S. Soldier Killed in Afghanistan Was Highest Enlisted Soldier Supporting Trump Administration's New Adviser Brigade
An American soldier killed by an Afghan ally on Monday was the highest-ranking enlisted soldier of a unit that forms the U.S. Army's newest adviser brigade deployed to Afghanistan, U.S. military officials said. The brigade deployed in February as part of the Trump administration's latest strategy in America's longest-running war.
U.S. Army Command Sergeant Major Timothy A. Bolyard, 42, the highest enlisted soldier for 1st Squadron, 38th Cavalry Regiment, a unit that makes up 3rd Squadron, 1st Security Force Brigade (SFAB) out of Fort Benning, Georgia, was killed on Monday afternoon in eastern Afghanistan in an apparent insider threat attack on American forces.
A Pentagon spokesperson with the Defense Department Press Operations Center told Newsweek on Tuesday afternoon that Bolyard's identity was reportable as of 3 p.m., due to his familly approving media coverage of his dignfied transfer once his body arrives at Dover Air Force base in Delaware.
Bolyard was on his 13th deployment overseas, eight of which were combat deployments. For his service, the command sergeant major was awarded the Bronze Star—the nation's fourth highest military decoration—on six different occasions. Two of Bolyard's Bronze Stars were given with valor, a device that denotes heroism in combat.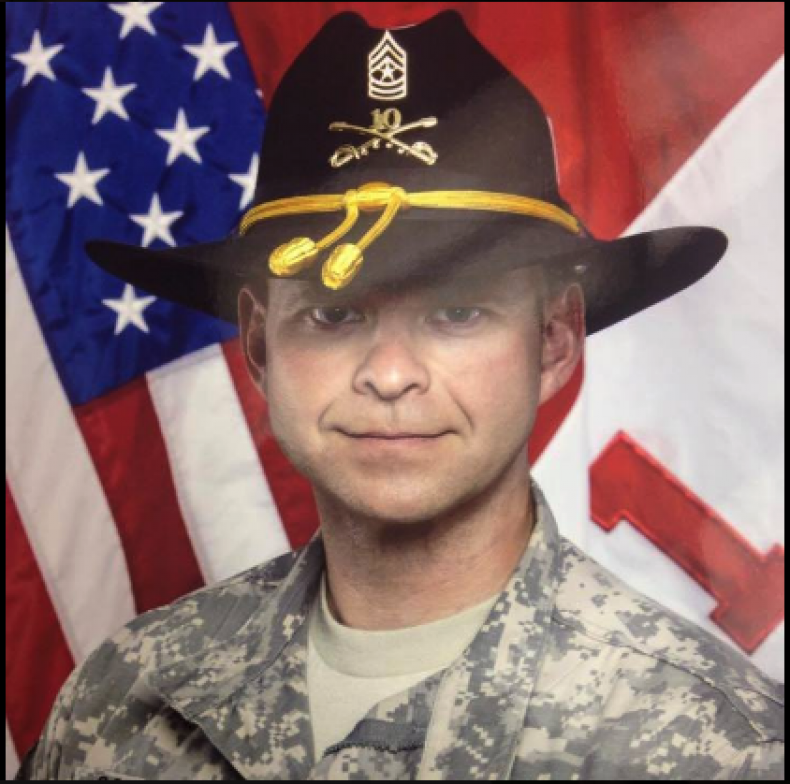 The shooting was carried out by a member of the Afghan National Police around 2 p.m. local time in Afghanistan, per a U.S. military official speaking to Newsweek on condition of anonymity. The Afghan police officer was visiting American forces at the time.
Stars and Stripes reported that the attack occurred at Forward Operating Base Shank, located in Logar province. A Defense Department press release confirmed the province late Tuesday. Stars and Stripes additionally reported that gunfire erupted from a police Humvee, hitting U.S. service members in the back.
The shooting occurred following a key leader meeting between Afghan officals and U.S. military advisors, citing Afghan General Abdul Raziq, commander of Fourth Brigade, 203rd Corps.
The four Afghan police officers were arrested, the general told the military newspaper.
The Afghan shooter was reportedly killed after the attack, a U.S. military official told Newsweek. An additional U.S. service member was wounded but is reported as being in stable condition. The Pentagon said the incident is under investigation.
Born in 1976 in Thornton, West Virginia, Bolyard joined the U.S. Army in 1994 as a cavalry scout, the name assigned to U.S. soldiers that qualify as a 19-Delta, or Armored Reconnaissance Specialist. The married father of two spent most of his 24-year career in units located at Fort Carson, Colorado, and most recently at Fort Stewart and Fort Benning, U.S. Army bases in Georgia.
A fan of both the Chicago Bears and the music of Metallica, Bolyard liked watching television shows such as Duck Dynasty and Fox & Friends, according to his Facebook page. He enjoyed the book The Outpost, by CNN 's Jake Tapper about the heroics of U.S. Army soldiers during the deadly battle at combat outpost Keating in Afghanistan 2009.
On Facebook, public posts of remembrance began to surface. One father posted a prayer request from his son, who formerly served with Bolyard, saying, "Please keep the family of Command Sergeant Tim Bolyard in your prayers. He was my Operations Sergeant Major at Fort Carson when I was the G3 [operations officer]. He was killed in Afghanistan yesterday."
Another came from Melanie Bryan Brown, Bolyard's daughter by marriage. Brown's biological father died when she was young, so she prayed that God would send her mother a husband that would "love me as much as my father did."
God did, said Brown. It was Bolyard.
"[He] was an amazing soldier, a phenomenal father, and an even better husband to my heartbroken mother," Brown wrote in a post on Facebook that later appeared to have been removed from public view. "Since I found out, I have been so angry. I have been so...just angry. Who could do this to such a wonderful person as you? Who could take away ANOTHER husband to my mother, and ANOTHER father to me and not think twice about who it affects?"
She continued: "It warms my heart to know that my father is now accompanied by another man as great as him who helped raise me...I have felt them both heavily in my presence since 12:57 yesterday afternoon...I love you so much, Timothy Bolyard."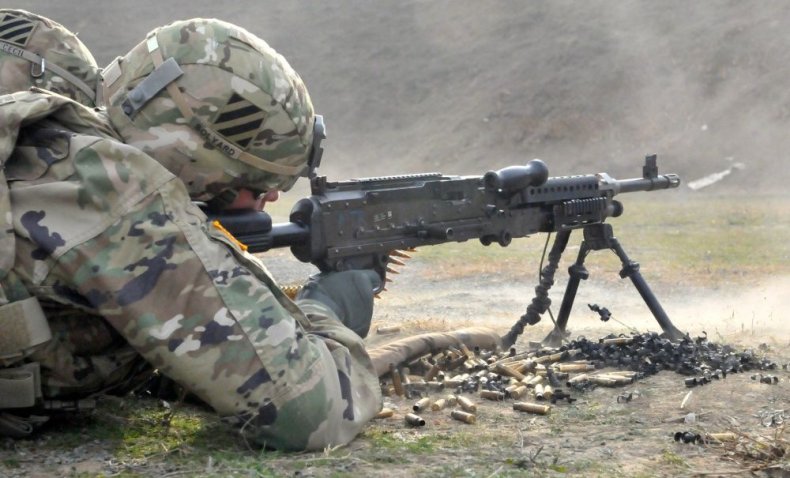 Bolyard is the sixth U.S. service member to be killed this year—the second from a so-called green-on-blue, or insider, attack, according to the U.S.-led NATO's Resolute Support and U.S. Forces—Afghanistan.
In July, Corporal Joseph Maciel of Task Force 1st Battalion, 28th Infantry Regiment out of Fort Benning, Georgia, another unit under the umbrella command of 1st Security Force Brigade was killed at the Tarin Kowt Airfield in southeast Uruzgan province in Afghanistan. Two other U.S. service members were wounded during the attack. Per Defense Department policy, insider threat attacks are only made public if it results in a U.S. service member being killed.
Training Afghan security forces remains one of the most dangerous jobs for American forces as the Afghan government continues to be dependent on U.S. assistance to conduct operations against resurgent Taliban forces and militants from the Islamic State.
There were 47 insider attacks perpetrated on Afghan security forces by individuals within their own ranks from December 1, 2017, through May 31. There were no insider attacks on U.S. service members during the same period, according to a Department of Defense (DOD) report.
Before his death on Monday, Reuters quoted Bolyard last month on the advising issues they were facing in Afghanistan, saying, "Every kandak (battalion) we go to, regardless of where they're located, they all have major sustainment issues."
The U.S. Army first announced the formation of Security Force Assistance Brigades back in February 2017, deploying its newly minted 1st Security Force Assistance Brigade to Afghanistan this past February to take over the training mission. The adviser brigades were formed to ease the burden on U.S. Army Special Forces (Green Berets) who had taken the lead on training Afghan security forces.
The SFAB in Afghanistan is made up of seven different U.S. Army units, ranging from infantry units and an artillery regiment to a support battalion and combat engineers. The 1st Security Force Assistance Brigade is made up of roughly 800 advisers. Most are either an officer or non-commissioned officer, with combat experience in Iraq or Afghanistan.
In total, the U.S. Army plans on forming five Security Force Assistance Brigades, including one in the National Guard. Currently, three adviser brigades are active. The other two are located at Fort Bragg in North Carolina and Fort Hood in Texas.
On Tuesday, another American service member was killed as a result of a noncombat related injury in eastern Afghanistan. U.S. officials declined to identify the service member until 24 hours after the family is notified per Pentagon policy. The cause of death is unknown at this time and the incident is under investigation.
The recent deaths of U.S. service members in Afghanistan came on the heels of U.S. Army Lieutenant General Austin Miller assuming command of the U.S. advisory mission of roughly 14,000 U.S. forces currently assigned to the U.S.-led NATO coalition. Miller took over from General John Nicholson, Afghanistan's longest-serving commander of NATO forces.
Monday's attack came a day after Miller confirmed the death of Abu Sayed Orakzai, the top commander of the Islamic State militant group (ISIS) Khorasan group. Orakzai was reportedly killed alongside 10 other militants by U.S. and Afghan forces in the eastern province of Nangarhar.
Bill Roggio, a former U.S. Army infantryman and senior fellow at the Foundation for Defense of Democracies, a Washington, D.C. think tank, told Newsweek that it's possible that the Taliban coordinated the insider threat attack in response to Miller's appointment, but given the scarcity of attacks, Roggio suggested it was a target of opportunity.
"The Taliban has established an office to encourage and promote such attacks," Roggio said. "It is logical that the Taliban would want to increase the green-on-blue attacks as they are ramping up attacks on Afghan National Security Defense Forces. Anything the Taliban can do to weaken the will of the U.S. commitment to Afghanistan will be beneficial."
Nicholson, the outgoing U.S. military commander told audience members in Kabul attending the change of command ceremony between the two generals Sunday that Afghans should stop killing their fellow citizens and urged the Taliban to enter into a peace treaty with the U.S. and Afghan government. He insisted that the U.S. commitment is not waning.
"Make no mistake: Until you are willing to start talking, we will keep fighting," Nicholson said.
Zabihullah Mujahid, the Taliban's spokesman, responded to the U.S. change of command Sunday by tweeting: "New US commander will face failure similar to all previous US commanders. This land has such valiant Mujahidin & astute people who will never surrender to foreign invaders. Gen. Miller shall be witness to a series of failures and disappointments just like Gen. Nicholson."
President Donald Trump's administration has attempted to establish peace talks between the Afghan government and the Taliban, but dialogue has stalled between the warring factions as the Taliban have little incentive to agree to a peace deal that does not include a complete U.S. withdrawal from the region. A peace deal would also run counter to past statements made over the past 17 years by the Taliban, according to Roggio.
A resurgent Taliban force has recently frustrated U.S. and Afghan government efforts to draw senior Taliban leadership into negotiations. The militant group has continued to show resolve and took temporary control of Ghazni, located some two-hours from Kabul, in mid-August. The area was retaken by Afghan troops backed by U.S. military forces.
"We look forward to moving beyond name-calling to engaging in constructive and inclusive dialogue, which will bring together Afghans and their friends for the solutions all Afghans desire," Resolute Support's official Twitter account said on Sunday responding to Mujahid, the Taliban's spokesman.
Mujahid replied: "We sought constructive dialogue before the start of war however it was you who chose war. Still even if you embrace realities now, accept our independence and adopt mutual respect, we have invited you to constructive talks, so please."
In the coming days, both the U.S. military and Bolyard's family will prepare to honor the command sergeant major as he is brought home from the war-torn country of Afghanistan.
Late Tuesday evening, U.S. Army Brigadier General Scott Jackson, the commander of 1st Security Force Assistance Brigade said in a statement posted to Facebook, "Command Sgt. Maj. Bolyard was an outstanding and beloved leader whose service and sacrifice will never be forgotten. We are heartbroken for his Family and will do everything in our power to help them through this tragedy."
"He will live on in our memories and in the hundreds of Soldiers he led and cared for throughout his exceptional career," Jackson said.