House Foreign Affairs Republicans Prepared for U.S. to Go Back Into Afghanistan
Republican members of the House Foreign Affairs Committee warned that American troops may yet have to return to Afghanistan amid fears that the Taliban will again allow the country to become a haven for international terrorist groups.
Secretary of State Antony Blinken was hauled in front of Congress this week as lawmakers demanded to know how America's longest war ended in such humiliation. But even amid the inquest, lawmakers' minds are turning to reintervention.
For many, the war—one so complicated by vague and ever-expanding goals, Pentagon and White House deceit, and a zealous belief in America's ability to nation-build—is not over.
"I think it's quite likely that we're going to end up somehow militarily involved again," Rep. Steve Chabot (R-OH), who sits on the House Foreign Affairs Committee that quizzed Blinken this week, told Newsweek.
"You're gonna see a gathering of the worst of the worst there, terrorist groups from all over the world. And now they've got our weapons...so that makes them probably even more dangerous now than they were prior to September 11, 2001."
As the Taliban settles into the business of governing, Americans are wondering what two decades of blood—the vast majority of it Afghan—and trillions of dollars actually achieved. The Taliban holds Kabul, Al-Qaeda fighters are reportedly back in Afghanistan, and America's annals of foreign policy blunders have another chapter.
The Taliban and Al-Qaeda will remain hostile to the U.S. Now, Afghanistan is also home to Islamic State Khorasan Province (ISIS-KP), a regional affiliate of Islamic State which for years has been carving out areas of operation while battling the Taliban, the Afghan government, and international forces.
"Biden's top intelligence officials have said Al-Qaeda is likely to reconstitute in Afghanistan and be able to threaten America in one to two years," Rep. Michael McCaul (R-TX), the foreign affairs committee's ranking member, told Newsweek in a statement.
"Biden has allowed Afghanistan to become a safe haven yet again for global jihad, so we need to prepare for all possibilities."
Rep. Lee Zeldin (R-NY), also a member of the committee, told Newsweek that the White House must not hesitate to respond to national security threats. "Any credible, direct threat to the United States or the lives of Americans needs to be forcefully and preemptively addressed," Zeldin said.
"President Biden should draw a red line; however, he cannot repeat the mistakes of the Obama Administration by delivering empty threats, not enforcing red lines and approaching our adversaries from a position of weakness."
That terrorist threat was the driver for the 2001 invasion, and the excuse given for much of America's bloody and sprawling "War on Terror."
Some Republican senators still believe in this casus belli. "We will be going back into Afghanistan as we went back into Iraq and Syria," said Sen. Lindsey Graham (R-SC) earlier this month.
Senate Minority Leader Mitch McConnell (R-KY) said he believed "it was in our own interest to prevent [Afghanistan] from becoming a haven again, and providing a victory for terrorism."
Sen. Ben Sasse (R-NE) said the defeat "will badly hurt American intelligence and give jihadis a safe haven in Afghanistan, again."
Sens. Sasse, Marco Rubio (R-FL), and Roy Blunt (R-MO)—all of the Senate Intelligence Committee—said in a letter to Biden the debacle would "inspire jihadists celebrating the Taliban's victory over the U.S. and motivate future terrorists."
Sen. Rob Portman (R-OH), a senior member of the Senate Foreign Affairs Committee, said the defeat brings "a renewed threat of international terrorism brought on by Al Qaeda and its affiliates. Afghanistan is now more likely to serve as a global launchpad for terrorism."
Republicans, and some Democrats, will demand assertive action from the Biden administration on any perceived threats to the U.S. homeland, its allies, or its regional interests. Chabot is among those sounding the alarm.
"I would anticipate you'll probably see smaller-scale attacks than [9/11], probably on a whole range of our allies in different regions on the globe," he said. "I think you'll see them in Europe, I think you'll see them in the Middle East, I think you may very well see them here on our soil here in the United States."
Taliban leaders have repeatedly assured the West that Al-Qaeda and other terror groups would not be allowed to set up shop in their Islamic Emirate. But the early signs suggest otherwise. Al-Qaeda is believed to retain close ties with the Taliban, and the country's new authorities will likely struggle to suppress ISIS-KP and other militant groups.
The interim Taliban government includes notorious militant leader Sirajuddin Haqqani—leader of the powerful Haqqani network—as interior minister. Haqqani remains on the U.S. sanctions list and his network has been accused of a long list of attacks on international troops and civilians.
"The fact that they've essentially assigned a terrorist as the interior minister gives you a pretty good sign of what we're in store for," Chabot told Newsweek. "I wouldn't believe anything the Taliban says, at this point in time. I think we should judge them by their actions."
Zeldin added: "This government is made up of designated terrorists and it has a history of harboring terror groups in Afghanistan. Sadly, there's a strong possibility we will see that repeat itself."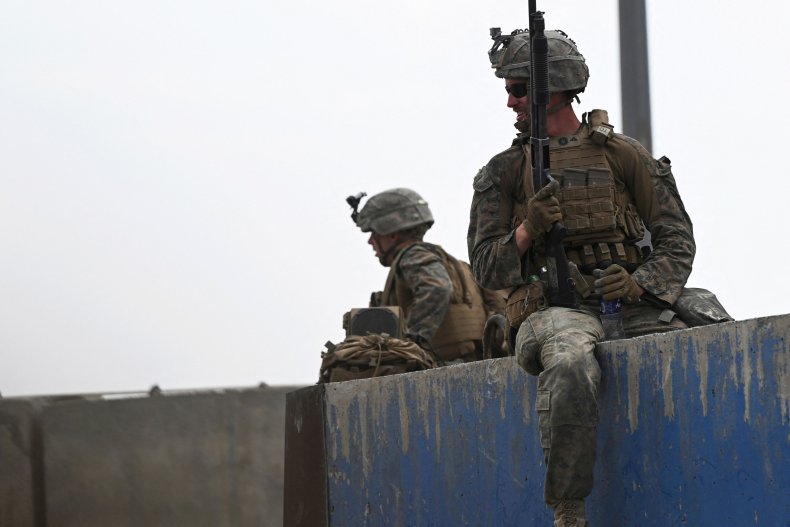 Republicans also see a political window in the Afghanistan chaos. Some have called on Biden, Blinken, and Secretary of Defense Lloyd Austin to resign. For them, the Afghanistan debacle is Biden's child.
"The whole thing was so disorganized and chaotic, and just feckless," Chabot said.
Zeldin told Newsweek: "President Biden has left Afghanistan and the entire region in a state of heightened uncertainty and chaos, and the threat of terrorism is greater than it has been in years."
Democrats, some Republicans, and many foreign policy experts are more reluctant to place the blame squarely at Biden's door.
The 20-year war has many parents, not least former President Donald Trump, who signed a peace deal with the Taliban, released thousands of their members from detention, and let it be known the U.S. would leave with or without an inter-Afghan power-sharing deal.
America's Afghan house of cards was never stable, but some observers blame the Trump administration's negotiations with the Taliban for setting the stage for the government's ultimate collapse.
By the time Taliban fighters swept the country, the group had already agreed secret deals with local governors, tribal leaders, and other regional power brokers, ensuring major centers would fall with little resistance.
American reintervention could come in many forms. Covert operations by special forces teams, standoff strikes with drones or cruise missiles, airstrikes using American bombers, financial and military support for local resistance groups fighting the Taliban.
"How many troops would be exactly involved or under what particular circumstances, of course, it's impossible to know at this time," Chabot said.
"I think they should defend this country and defend our allies by taking military action when necessary," he added of the Biden administration. "And you have to, obviously, determine what's necessary on a case by case basis."
Zeldin said the type of action "depends entirely on the circumstances—I would not support sending our troops into harm's way without necessity, clearly defined objectives and measures of success."
Americans might be hesitant to send their sons and daughters back into harm's way. Thirteen service members were killed by ISIS-KP bombs during the Kabul evacuation, their deaths the most recent of the 2,406 American troops killed in-country since 2001.
Many Americans will want those deaths to be the last.
But the U.S. remains a global power, its sprawling empire demanding American bodies to protect and advance its interests. Even the bipartisan desire to end the "forever wars" won't stop new deployments when deemed necessary by one or both major parties.
"I think the American people certainly understand and appreciate the fact that sometimes it's necessary for a country like the United States to be involved across the globe," Chabot said.
"We don't want to be the world's policeman, but we certainly are a great power and we have responsibilities to protect our own citizens, but also to protect our allies across the globe who work with us.
"The United States is a great power...and on occasion, it's necessary to be involved militarily."