Afghanistan Winter, ISIS-K Threaten to Collapse Taliban's False Peace
Afghanistan's tentative recent peace is at risk of giving way to chaos and renewed fighting as the country enters winter, according to three former government officials who spoke to Newsweek.
One warned of an impending "humanitarian catastrophe" and said it is the "moral obligation" of the international community, in particular the U.S., to help Afghanistan through a crisis they helped create.
The Taliban government in Kabul is facing a range of serious challenges as it prepares for its first winter in control of the war-torn country for two decades.
The militant group must make a rapid transition from guerilla force to government, even while grappling with economic crises, international isolation, and the threat of further terrorist attacks by Islamic State Khorasan Province (ISIS-K).
It must also handle ongoing protests in support of women's rights and against perceived Pakistani influence over the new government, and international outcry over the killing of Hazara ethnic minorities and former government employees.
Taliban leaders have celebrated what they call a new peace for Afghanistan. But the immediate future could hold much strife.
"Peace is not just the silencing of guns; it's much more," Nader Nadery, the former head of the civil service commission and a member of the former Afghan government's peace negotiating team, told Newsweek.
"A preferable situation would have been for all to have had a shared future that preserved their rights and freedoms. The failure to achieve that goal was of all of ours: The U.S., my own government and its leaders, political actors, and Taliban...
"Now because of our failure, more than 30 million people suffer."
The Taliban announced its interim government in September, its makeup quickly dashing any hopes of inclusivity. All top posts were handed to Taliban figures, all 33 cabinet members are male, and all but a few are Pashtuns—the ethnic group that dominates the Taliban.
It launched a PR offensive after its lightning military capture of the country. Some observers suggested that perhaps the Taliban had changed, becoming more moderate and pragmatic after two decades fighting the government and its international allies.
Taliban officials claimed to offer a broad amnesty for former government employees, saying there will be no reprisals and that women would be safe under their new government. But there have been many reports of executions and arrests of government soldiers, employees, and civil society figures.
There have also been reports of women being kidnapped and married off to Taliban fighters, all while the new government introduces new segregation of men and women in schools, universities, and elsewhere. Women have been urged to stay home and respect the Taliban's interpretation of Sharia law.
Rahmatullah Nabil is a former director of Afghanistan's National Directorate of Security, the country's primary intelligence agency. He left the NDS in 2015, and amid the recent Taliban advance was able to leave Kabul. Nabil is among those forecasting civil unrest and further fighting in his home country.
"Afghanistan has changed, but the Taliban as an ideological and traditional movement will not change," Nabil told Newsweek from an undisclosed location in the region.
"Considering their two months of ruling the country and the way they are forming their government, it will be very difficult for them to control Afghanistan in the mid to long term.
"Monopoly of power for a small religious group ignoring different ethnicities and undermining the diverse society of Afghanistan will pave the way for proxy and civil wars. The Taliban cannot rule all over Afghanistan in their current way of governing."
Even before the U.S.-led invasion in 2001, Afghans had weathered decades of civil conflict and a brutal struggle with the Soviet Union. Omar Zakhilwal, a former finance minister and member of the Afghan peace team, told Newsweek that the Afghan people have little appetite for more fighting.
"The current situation is certainly preferable to warfare. War over the past few years took 100 to 200 lives per day and that inflicted a lot of pain on the Afghan nation on a daily basis," Zakhilwal said from Kabul.
"However, the current situation is not a happy state either—there is a lot of uncertainty, economic hardship, fear, and frustration that needs to be responded to.
"I don't expect a war that will have the support of the Afghan population. First, Afghans by and large are tired of war. Second, none of the successive wars in Afghanistan over the past 40-plus years has proven to be a good war—they have only added to the misery of Afghans. Political struggle instead would be the means of pushing for change.
"Durable peace in Afghanistan requires a foundation for stability. That includes—among other things—political inclusivity, practical assurances on basic rights and opportunities, and an Afghanistan that has national and international legitimacy."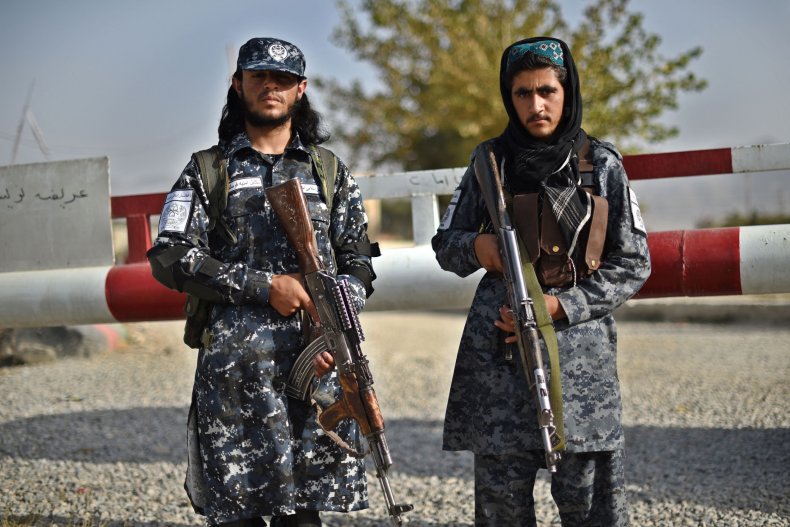 The Taliban has inherited many of the economic, security, and political problems the previous government faced—and failed to solve.
Afghanistan remains a desperately poor country. Last year, the Afghan government said that 90 percent of the population was living below the poverty line—i.e. living on less than $2 per day.
The dislocation of war has left almost 3.5 million people internally displaced, according to the United Nations. Around 500,000 of these are packed into tent cities in Kabul's parks living with no running water or electricity as winter approaches. Winter temperatures can drop as low as 22 degrees Fahrenheit in the capital.
"Winter is coming in a few weeks and there will be a humanitarian catastrophe," Nadery warned.
"The economy has collapsed and services are being halted. The focus must be on how to help the people not be hit by this. Immediate actions are required and this can be done through non-state actors and should be delivered directly to the people."
UN Secretary-General Antonio Guterres said on Monday that Afghanistan desperately needs international aid. "I urge the world to take action and inject liquidity into the Afghan economy to avoid collapse," he said, characterizing the situation as a "race against time" ahead of winter.
International aid is still reaching Afghanistan, but billions in Afghan central bank assets have been frozen following the Taliban takeover. There are also reports of the central bank running down most of its cash reserves in the lead up to the fall of Kabul.
The Taliban is working to release remaining funds and ease sanctions to allow for a much-needed cash injection. The money was one element of U.S.-Taliban discussions held last weekend in Doha, Qatar—the first such meeting since the fall of Kabul in August.
The Taliban cannot succeed alone, Zakhilwal said: "Responding to the looming deeper economic crisis would be over and above the ability of the Taliban to deal with it.
"Afghanistan would need generous international assistance to prevent it from a humanitarian catastrophe in the coming winter.
"Urgent humanitarian assistance is not only a moral obligation of the international community, but it is also its responsibility because the international community—led by the U.S.—played a key role in the situation Afghanistan is in today."
All the while, the Taliban must grapple with the threat of more ISIS-K attacks. On Monday, the Sunni extremist group claimed responsibility for a suicide bomb attack at a Shi'ite mosque in the city of Kunduz that killed dozens of worshippers.
Last month, Taliban spokesman Zabihullah Mujahid claimed there was no ISIS-K presence in Afghanistan.
"The ISIS that exists in Iraq and Syria does not exist here," he said. "Still, some people who may be our own Afghans have adopted the ISIS mentality, which is a phenomenon that the people do not support...The security forces of the Islamic Emirate are ready and will stop them."
The ISIS-K threat is not one that can be easily stamped out. The group has a relatively small footprint in Afghanistan, but in recent years has been able to launch sophisticated attacks against government, Taliban, and international targets, including in the capital Kabul.
The security vacuum following the Taliban's victory is a gift to ISIS-K. "I think after winter ISIS-K will appear stronger in different parts of Afghanistan," Nabil predicted.
The Taliban will also be under intense scrutiny for any signs that Al-Qaeda is establishing itself in Afghanistan again. A UN report published in June said the terrorist group remains "closely aligned" with the Taliban. Many observers, politicians, and military leaders have warned that Al-Qaeda could quickly re-establish a significant Afghan footprint.
The return of Al-Qaeda to Afghanistan could be costly for the Taliban. U.S. politicians have urged a tough line on militant activity in the country. The U.S. retains the ability to strike targets inside Afghanistan if deemed necessary. Already, the Taliban has complained about continued American drone flights over the country.
Zakhilwal is advocating engagement with the Taliban to avoid such a situation.
"I know that the Taliban leaders understand the importance of Afghanistan's relations with the rest of the world and also those of international recognition, and international humanitarian and financial assistance," he said.
"Therefore, the Taliban understand the steep price they and the country would have to pay if Al-Qaeda is allowed to operate on Afghan soil. I, therefore, am not worried about al-Qaeda taking roots in our country."
Not everyone is as trusting. "Multinational terrorist groups are exploring the space to bring insecurity to Afghanistan, the region and beyond," Nadery warned.
Pakistani influence, too, is a serious concern for Afghans. Pakistan and its Inter-Services Intelligence (ISI) agency has traditionally supported the Taliban, helping the group grow in the mid-1990s and backing its swift capture of war-torn Afghanistan.
ISI chief Lieutenant General Faiz Hameed's visit to Kabul in the days after its fall prompted protests, amid fears that a Taliban Afghanistan could become a Pakistani proxy.
"The Afghan people are extremely sensitive to the intervention of the Pakistani military, and the Taliban have given a free hand to Pakistan," Nabil said.
Afghanistan has long suffered being caught between major powers. "Proxy rivalries are not a new concern," Zakhilwal said. "Our hope is that neighboring and regional countries support peace and stability in our country for a change."
Newsweek has asked the Taliban for comment.
This article has been updated to clarify Nader Nadery's former government role.