After 2 Decades, Now is the Time for Citizenship for Dreamers | Opinion
It's true that now is the time to finally deliver citizenship for Dreamers. It's been long overdue for two decades.
Through all the trials, tribulations and breakthroughs, Dreamers have been told that our time was coming. That Congress would soon deliver a permanent fix. Instead of waiting passively for that day, we stood up; we spoke out; we organized. And through each opportunity afforded to us, we have proven that when Dreamers and other immigrants have chances to succeed, we gratefully seize those opportunities.
When Texas and California passed in-state tuition legislation in 2001, thousands of Dreamers went to college, graduated and started their careers. When the Deferred Action for Childhood Arrivals (DACA) program was announced in 2012, nearly 1 million young people eventually applied for the life changing protections and opportunities it afforded. Now it's time we build on those successes and examples and finally provide Dreamers and other immigrants the chance to fully participate in the country they have long called home as citizens.
It's been a long two decades to arrive at this moment: Twenty years ago, in 2001, the first DREAM Act was introduced by a bipartisan duo—Senators Orrin Hatch and Dick Durbin.
Twelve years ago, in 2009, I set out on the Trail of Dreams, a walk from Miami to Washington, D.C., to raise awareness of the plight of Dreamers.
Eleven years ago, in 2010, I watched and cried from the Senate balcony as the DREAM Act received 55 votes in the Senate but failed to become law due to a filibuster.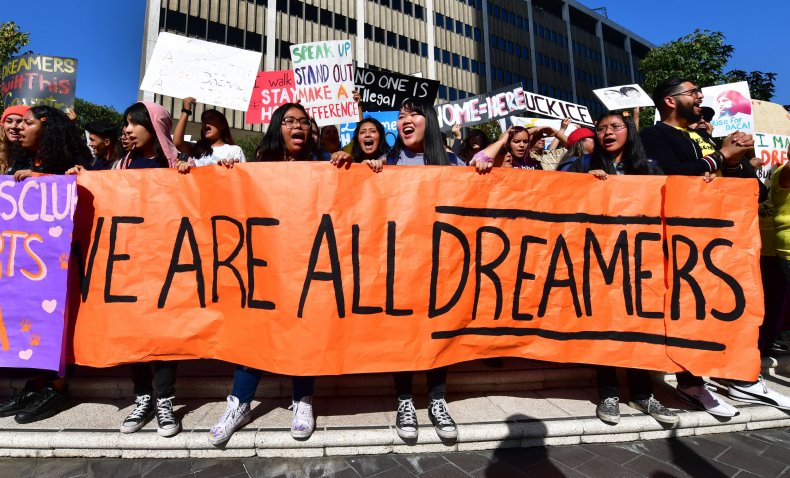 Nine years ago, in 2012, I cheered when former President Barack Obama announced DACA—a life-changing program hard-won by Dreamers' advocacy that provided protections from deportation, work permits and new opportunities for immigrant youth.
Four years ago, in 2017, I feared for my friends, family and our TheDream.US scholars when the Trump administration announced its intentions to end the DACA program.
And last year, in June 2020, I celebrated when the U.S. Supreme Court ruled that the Trump administration's attempt to unwind DACA was unlawful.
But the story doesn't end there, of course. Now, there's again renewed urgency behind a legislative push for citizenship after Texas federal Judge Andrew Hanen's July ruling against the DACA program. Among the many emotions after again watching Dreamers' lives be pulled into limbo is the realization that we need to—finally—deliver on a permanent solution for them and their families.
As I reflect on this latest legislative push, I want to emphasize that what started as a bipartisan legislative effort still has strong bipartisan support across America. Poll after poll finds that approximately 70 percent of Americans, including a majority of Republicans, support programs like DACA and citizenship for long-settled immigrants such as Dreamers. Every year the DREAM Act has been introduced in a bipartisan way.
At TheDream.US, the country's biggest scholarship provider for immigrant youth, we have seen firsthand how expanding opportunities for Dreamers benefits not just individuals and their families, but all of us. Today, you can find Dreamers in classrooms teaching children, in hospitals caring for the sick, as business leaders running companies and employing citizens.
We've also seen how a lack of access to DACA in recent years has particularly affected younger Dreamers. Largely due to their inability to apply into the DACA program during the Trump era, only about one-fourth of our newest class of TheDream.US scholars for this 2021-22 academic year had active DACA status at the time of their application. Their median age of arrival to the U.S. is just 4 years old but they are now, again, barred from accessing DACA after Judge Hanen's ruling. By comparison, 89 percent of the cohort of older TheDream.US scholars who graduated this past academic year had DACA.
Speaking of the older Dreamers—many of the original activists are no longer the young kids who first became the public faces of the movement. Though they came to the country as children some are in their 40s now and were too old to apply to DACA over the past decade.
We call ourselves "Dreamers" for a reason. None of us have ever stopped dreaming. But we need Congress to deliver—on behalf of DACA recipients, younger and older Dreamers lacking DACA protections and millions of other long-settled immigrants. America will be stronger when everyone has opportunities to succeed and fully participate in our shared country. Now, finally, should be the time.
Gaby Pacheco is director of advocacy, communications and development of TheDream.US, the nation's largest college scholarship provider for immigrant youth.
The views expressed in this article are the writer's own.