After 32 Years, Reparations Advocates Are Confident the Bill Will Finally Pass
Legislation that would establish a commission to study reparations and recommend remedies for Black Americans for centuries of slavery is back in the spotlight after a congressional hearing earlier this week.
Advocates are more confident than ever that H.R. 40 will pass the House of Representatives, which they describe as a welcome but long overdue milestone for the bill's 32-year history on Capitol Hill.
"It's a sad, sad commentary on this country that it has taken this long," Nkechi Taifa, a human rights attorney and decades-long reparations advocate, told Newsweek. "Reparations are an issue whose time has come."
Named after the broken 1865 promise to redistribute Confederate land to former slaves—popularized as "40 acres and a mule"—H.R. 40 was first introduced by the late Representative John Conyers in 1989, just one year after Japanese Americans won a formal apology from the U.S. government and reparations for their internment during World War II.
"We were looking around, saying, 'Excuse me, there is precedent for this,'" Taifa said. "If they could do this for the Japanese Americans for the years of internment in concentration camps during World War II, surely, surely, it can be done for Black people in this country for the centuries-long degradation, enslavement and post-slavery discrimination that we have suffered."
Taifa has worked with Conyers and national organizations on the issue and said they were strategic in following the route taken by Japanese Americans. Throughout the 1990s and to the turn of the century, organizations like the National Coalition of Blacks for Reparations in America (N'COBRA) travelled the country mobilizing groups, schools and city councils to back the proposal.
"It was really about public education," Taifa said. "We were saying, 'Look we're not asking you to support reparations, we're asking you to support H.R. 40.'"
But the campaign hit a lull after the September 11, 2001, attacks and during President Barack Obama's presidency, Taifa said. Obama, the first Black president, was not in favor of reparations.
Then, in 2014, came Ta-Nehisi Coates' article for The Atlantic titled "The Case for Reparations." The piece, advocates say, helped revitalize the movement. The next year, the National African American Reparations Commission (NAARC) was formed to fight for reparatory justice.
All the while, Conyers continued to bring H.R. 40 to Congress every single year. The reintroduction of the legislation wasn't simply a routine, activists say, it was a statement.
"The statement is commitment," Ron Daniels, the convener of NAARC, told Newsweek. "It says that he did not give up and the movement did not give up because that's how social movements work. We have to be relentless."
Conyers handed H.R. 40 over to Representative Sheila Jackson Lee when he retired in 2017. Since Conyers first introduction of the bill decades earlier, it had changed from a study proposal to a remedy bill that would allow the commission to make recommendations to Congress regarding any form of compensation and atonement for slavery.
Today, the bill has 173 co-sponsors in the House, and its Senate counterpart (S.40) has 17 co-sponsors. On Wednesday, the House Judiciary subcommittee held its first hearing on the bill since 2019. Now that it has had a hearing, the bill needs to be passed by the committee before it can be debated and voted on by the full House.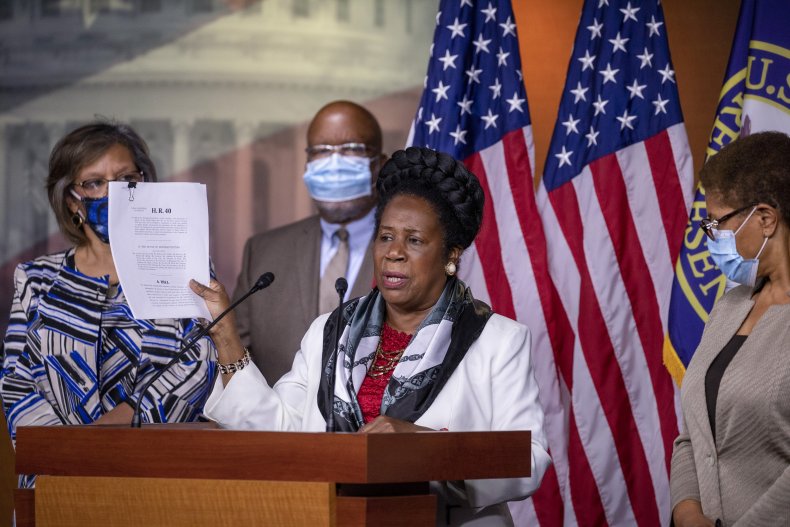 Daniels attributed the record amount of congressional support to the "inflection moment" of 2020, which saw the coronavirus pandemic disproportionately affect racial minorities and a wave of anti-racism protests in the wake of the death of George Floyd, a Black man who died in Minneapolis police custody.
"You saw Black voters march on ballot boxes in South Carolina to rescue Biden's flagging campaign and then return on Election Day to flip Georgia and then return again to send two Democrats to the Senate to achieve the ability for the administration to have a tenuous majority," Daniels said. "All of these factors have been incredibly important for building a crescendo of support for reparations in general."
Mary Frances Berry, a professor of history at the University of Pennsylvania, told Newsweek she believes H.R. 40 is "closer to getting passed, at least in the House, than it ever was before."
Berry added that a study would be "an absolutely rational thing to do and it will be very useful" because it would tell policymakers what kind of remedy there should be, if any, and whether the burden should be on the private sector or the federal government.
Daniels and Taifa are in agreement that H.R. 40 will "absolutely" pass the House. But both were notably less optimistic about its fate in the Senate, where it would need the support of all 50 Democrats and independents, as well as 10 Republicans, to pass.
That's where President Joe Biden comes in, they said.
"Those of us who are fighting for this believe that President Biden, if it cannot go the legislative route, should sign it into law by executive order," Daniels said.
Taifa said that an executive order adopting H.R. 40 would need to be done early on in Biden's presidency so that the commission can "get established and do its work" while Biden is president.
"It's all about healing," Taifa said. "You can't heal unless you have a true reckoning with the past."
On Wednesday at a White House press briefing, press secretary Jen Psaki reiterated that Biden supported the study of reparations. Asked if Biden supports an executive order on the study of reparations, Psaki responded, "It would be up to him. He has executive order authority, he would certainly support a study, and we'll see where Congress moves on that issue."
Psaki also noted the president had issued several executive orders on racial inequality. "We don't need a study to take action right now on systemic racism, so he wants to take actions within his own government in the meantime," she said.
But Daniels stressed the singular importance of H.R. 40. "To have a commission with experts who will be able to examine this history and then to come up with the ways in which finally this government, this nation can reckon with this is an important step towards the notion of a more perfect union."