After Bernie Sanders Endorses Joe Biden, His Campaign Press Secretary Says 'I Don't'
Hours after Vermont Senator Bernie Sanders announced he would endorse former Vice President Joe Biden's presidential campaign, Sanders' former press secretary Briahna Joy Gray said she would not be giving Biden her vote.
Gray has been a vocal critic of Biden's moderate policies and has called allegations of sexual misconduct against Biden "credible."
"With the utmost respect for Bernie Sanders, who is an incredible human being & a genuine inspiration, I don't endorse Joe Biden," Gray tweeted Monday.
"I supported Bernie Sanders because he backed ideas like #MedicareForAll, cancelling ALL student debt, & a wealth tax," Gray continued. "Biden supports none of those."
Newsweek reached out to Biden's campaign for comment.
Sanders' endorsement of Biden came after he announced the suspension of his presidential campaign Wednesday.
"If I believed we had a feasible path to the nomination, I would certainly continue the campaign," Sanders said Wednesday. "But it's just not there."
Sanders attracted younger and working-class voters with his progressive ideas, including a national health insurance program designed to provide coverage to all Americans. Biden's health care plan revolved around an expansion of the Affordable Care Act put in place by the Obama administration, which would expand and provide public insurance to Americans who do not carry private insurance.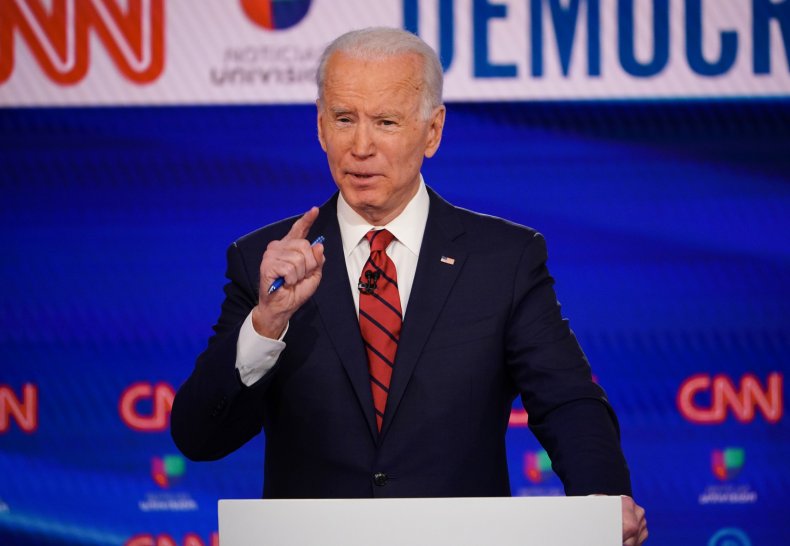 "Today, I am asking all Americans—I'm asking every Democrat, I'm asking every independent, I'm asking a lot of Republicans—to come together in this campaign to support your candidacy, which I endorse," Sanders told Biden Monday in a live-streamed event.
Biden responded to Sanders' endorsement by saying it "means a great deal."
"I think people are going to be surprised that we are apart on some issues but we're awfully close," Biden said. "I'm going to need you, not just to win the campaign, but to govern."
Sanders' role with Biden's campaign has yet to be announced, but Sanders told CBS late night host Stephen Colbert Wednesday that he hoped to work with Biden "to move him in a more progressive direction."
To that end, Biden and Sanders announced Monday the formation of six task forces that were expected to work together on policy issues such as health care, immigration reform and the economy.
"I hope that these task forces will come together utilizing the best minds and people in your campaign and in my campaign to work out real solutions to these very, very important problems," Sanders said.
Biden's campaign may be affected by claims of sexual misconduct leveled against him by one of his former Senate aides, Tara Reade. According to Reade, Biden assaulted her in 1993. Biden's campaign has denied Reade's claims.
"[Biden] firmly believes that women have a right to be heard—and heard respectfully," said Biden's Communications Director Kate Bedingfield in a March statement. "Such claims should also be diligently reviewed by an independent press. What is clear about this claim: It is untrue. This absolutely did not happen."