After Biden Trump Debate Chaos, Debate Commission Adds 'New Tools to Maintain Order'
The Commission on Presidential Debates (CPD) will make changes to debate rules following Tuesday night's chaotic first presidential debate between President Donald Trump and Democratic presidential nominee Joe Biden in Cleveland.
The commission announced on Wednesday it will add "additional structure" to the remaining scheduled debates.
"Last night's debate made clear that additional structure should be added to the format of the remaining debates to ensure a more orderly discussion of the issues," said the CPD in a statement. "The CPD will be carefully considering the changes that it will adopt and will announce those measures shortly."
While thanking debate moderator Chris Wallace for keeping "professionalism and skill" during last night's showdown, the commission also promised that "additional tools to maintain order" will be put in place.
The commission has not yet revealed what these additional tools or strategies will be ahead of the next presidential debate, scheduled for October 15 in Miami, Florida.
"They're only doing this because their guy got pummeled last night," said Trump campaign spokesman Tim Murtaugh in a statement on Wednesday. "President Trump was the dominant force and now Joe Biden is trying to work the refs. They shouldn't be moving the goalposts and changing the rules in the middle of the game."
Throughout the 98-minute debate, Trump was responsible for 71 interruptions, while Biden was responsible for 22, according to the Washington Post's Aaron Blake.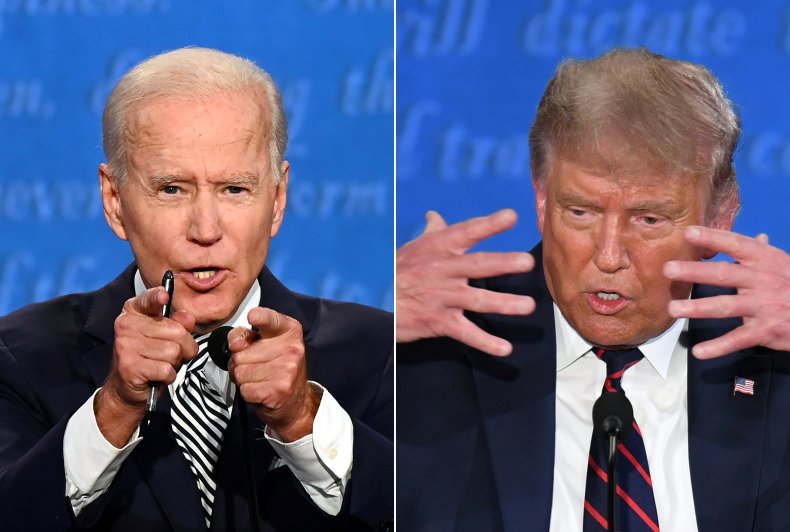 "I think that the country would be better served if we allowed both people to speak with fewer interruptions," Wallace said to Trump at one point during the debate. "I am appealing to you, sir, to do that."
While topical issues surrounding the coronavirus pandemic, health care, race, and law and order were discussed, Tuesday's debate was filled with hostility and interruptions as both men faced-off ahead of the November 3 presidential election.
Biden's remarks against his opponent received widespread attention across social media, including asking Trump, "Will you shut up, man?" and calling him a "clown" on two occasions. Trump's consistent interruptions and off-hand insults—including aggressive comments towards Biden's sons and insults aimed towards the former vice president's intelligence—certainly did not go unnoticed.
Trump also did not publicly condemn white supremacists when asked to by Wallace and told well-known extremist group the Proud Boys to "stand down and stand by."
In response to an Associated Press tweet highlighting the structural changes promised by the CPD, Trump lashed out at both Biden and Wallace.
"Try getting a new Anchor and a smarter Democrat candidate!" the president wrote.
During a press briefing in Alliance, Ohio, Biden called the president's behavior a "national embarrassment" and proposed some measures that the CPD can consider to better handle the upcoming second and third presidential debates.
"I just hope that there's a way in which the debate commission can control the ability of us to answer the question without interruption," the former vice president told reporters. "Say, a question gets asked of Trump, he has the microphone, he has two minutes to answer the question, no one else has a microphone. I don't know what the actual rules are going to be literally, but that's what seems to me to makes some sense."