After Bill Barr Announces Quarantine, Questions Arise About Why Mike Pence Hasn't Since He Attended Same Event
Since Attorney General Bill Barr announced Sunday he will enter quarantine, despite so far testing negative for COVID-19, a number of people have questioned why Vice President Mike Pence is not following suit.
Dr. Dena Grayson, an expert of viral pandemic threats, shared a tweet Sunday night featuring a photo from the White House's September 26 nomination ceremony for judge Amy Coney Barrett, now considered by many a COVID-19 "superspreader" event. Many high-profile attendees hugged and spoke closely to one another without masks, both outside and during indoor receptions. After the event a number of attendees tested positive for the disease, including President Donald Trump, the first lady, and GOP senators.
"If Bill Barr is quaranteening [sic], why aren't Mike Pence and every other attendee of Trump's WH #SupreSpreader event?" Grayson wrote. "Barr initially refused to quarantine but now reversed course. Did he test positive for the #coronavirus and is awaiting a confirmatory test?"
Grayson's photo shows Pence sitting near Utah Senator Mike Lee, Notre Dame President Rev. John Jenkins and North Carolina Senator Thom Tillis, who have all since tested positive for the novel coronavirus.
Grayson's tweet comes shortly after Kerri Kupec, a spokesperson for the Justice Department, confirmed to the Associated Press that Barr will enter self-quarantine out of caution. According to the AP, Barr has been tested for COVID-19 four times since Friday, and all the tests have come back negative.
Just a day prior to Barr's announcement, his spokesperson told The New York Times that he would not quarantine, as he did not test positive.
Like Barr, Pence and the second lady, Karen Pence, also tested negative for the novel coronavirus. Pence's physician, Dr. Jesse Schonau, released a memo Friday stating that the vice president will not quarantine.
"Under the guidelines of the Centers for Disease Control [and Prevention] (CDC), the Vice President is not considered a close contact with any individuals who have tested positive for COVID, including President Donald J. Trump. Vice President Mike Pence does not need to quarantine," the memo stated.
Pence received another negative COVID-19 test Monday morning, but CDC guidelines note that a 14-day quarantine is recommended for anyone who has been exposed to the novel coronavirus because of its long incubation period.
In addition to Grayson, a number of other medical professionals have questioned Pence's decision not to quarantine.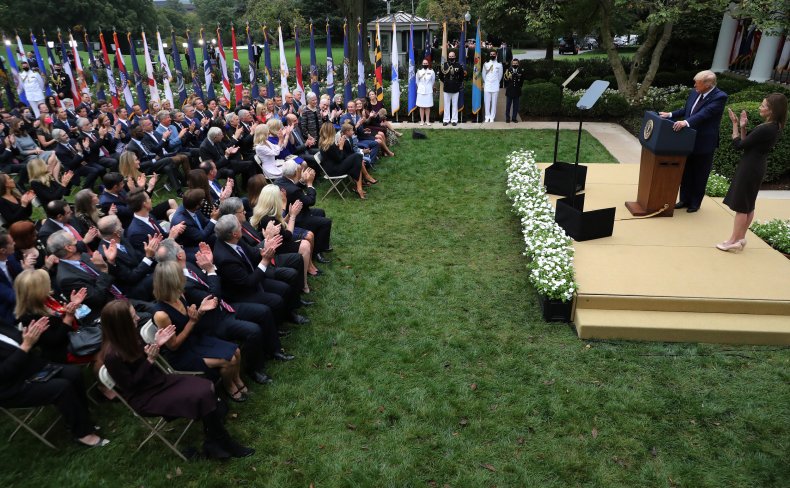 "Can any reputable scientists or physician explain why Pence is able to skip quarantine?" Dara Kass, an emergency medical physician and associate professor of emergency medicine at Columbia University Medical Center, wrote in a tweet on Friday, sharing a similar picture taken at Barrett's nomination ceremony.
A group of doctors and health professionals who are organizing to support Democratic presidential candidate Joe Biden have also responded to the mounting number of cases stemming from the September 26 event.
"As we hear of more people testing positive for coronavirus after Judge Amy Coney Barrett's SCOTUS nomination at the Rose Garden, we worry this was a #superspreader event," Doctors for Biden wrote on their Twitter account, adding in a subsequent tweet that it's "sad to say this was preventable, like so much in this pandemic."
Pence is scheduled to attend Wednesday night's vice-presidential debate, where he will take on California Senator Kamala Harris.
Newsweek was directed to the memo released by Pence's physician after reaching out to the White House for comment.