After Calling on Andrew Cuomo to Resign, Bill De Blasio Says Gov. Should Also Be Charged
After calling on Governor Andrew Cuomo to resign in response to an investigation, which found that the governor sexually harassed 11 women, New York City Mayor Bill de Blasio said Cuomo should also be criminally charged.
"Yeah. If you assault a woman, if you do something against her will, sexually, that's criminal," de Blasio told CBS News' David Begnaud. "And the Albany district attorney is looking at that and I think he should be charged."
On Tuesday morning, New York Attorney General Letitia James released the findings of an inquiry conducted by her office, which concluded that Cuomo harassed 11 women, retaliated against a former employee who came forward with her story, and, in doing so, violated other state and federal laws.
Since the announcement, a number of top Democrats, including President Joe Biden, have called on Cuomo to resign.
De Blasio first called on Cuomo to step down after several women came forward with allegations earlier this year, accusing the governor of sexual misconduct in the workplace.
In a brief statement made Tuesday, de Blasio said the investigation proved "that Andrew Cuomo is not fit to hold office and can no longer serve as Governor."
"He must resign, and if he continues to resist and attack the investigators who did their jobs, he should be impeached immediately," the mayor said.
On Wednesday, de Blasio elaborated on the call for resignation, saying Cuomo should resign for "the good of New York state and our people."
"If he doesn't, the clamor, which is universal at this point—Democrats and Republicans saying 'he's gotta go'—is going to win day," de Blasio said. "If he wants to wait for impeachment, he can, but it's coming soon in our state legislature."
According to the New York State Constitution, the state legislature is tasked with carrying out impeachment proceedings, which would require only a majority vote to impeach for "misconduct or malversation."
In March, New York state Assembly Speaker Carl Heastie launched an impeachment inquiry against Cuomo, but the investigation is ongoing.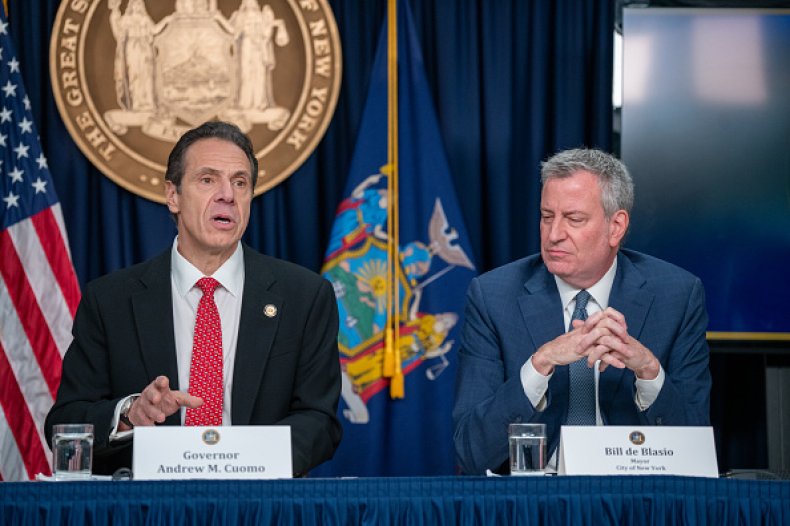 Cuomo, however, has continued to insist that he has done nothing wrong and has denied the allegation in James' report.
"I never touched anyone inappropriately or made inappropriate sexual advances," the governor said in a Tuesday statement. "I am 63 years old. I've lived my entire adult life in public view. That is just not who I am."
De Blasio called Cuomo's defensive response "painful" to watch.
"When you read this report, 11 women systematically wronged, 11 women confronted by a powerful guy who could crush their career and their reputation—and he's the kind of guy that everyone assumes would, if you crossed him," de Blasio said. "He harassed them. He assaulted them in several cases."
"Then he has the audacity to say, 'Oh, I like to hug people.' That's just out of touch with reality, but it's also profoundly disrespectful," the mayor added. "How about saying, 'I did something wrong. I have to atone for my sins. I need to go and deal with my problems.'"
De Blasio and Cuomo have been at odds since the mayor took office in 2014. Their years-long rivalry escalated during the coronavirus pandemic last year as the two disagreed over a unified COVID response, with Cuomo overruling de Blasio again and again.
Earlier this week, de Blasio announced that New York City would become the first U.S. city to require proof of vaccination for at least one dose of a COVID vaccine for a variety of indoor activities. The mandate will go into effect beginning August 16.
Newsweek reached out to Cuomo's office for comment but did not hear back before publication.