After the Fall, Milo Yiannopoulos Is Defiant, Apologetic While Mainstream Media, Politics Reel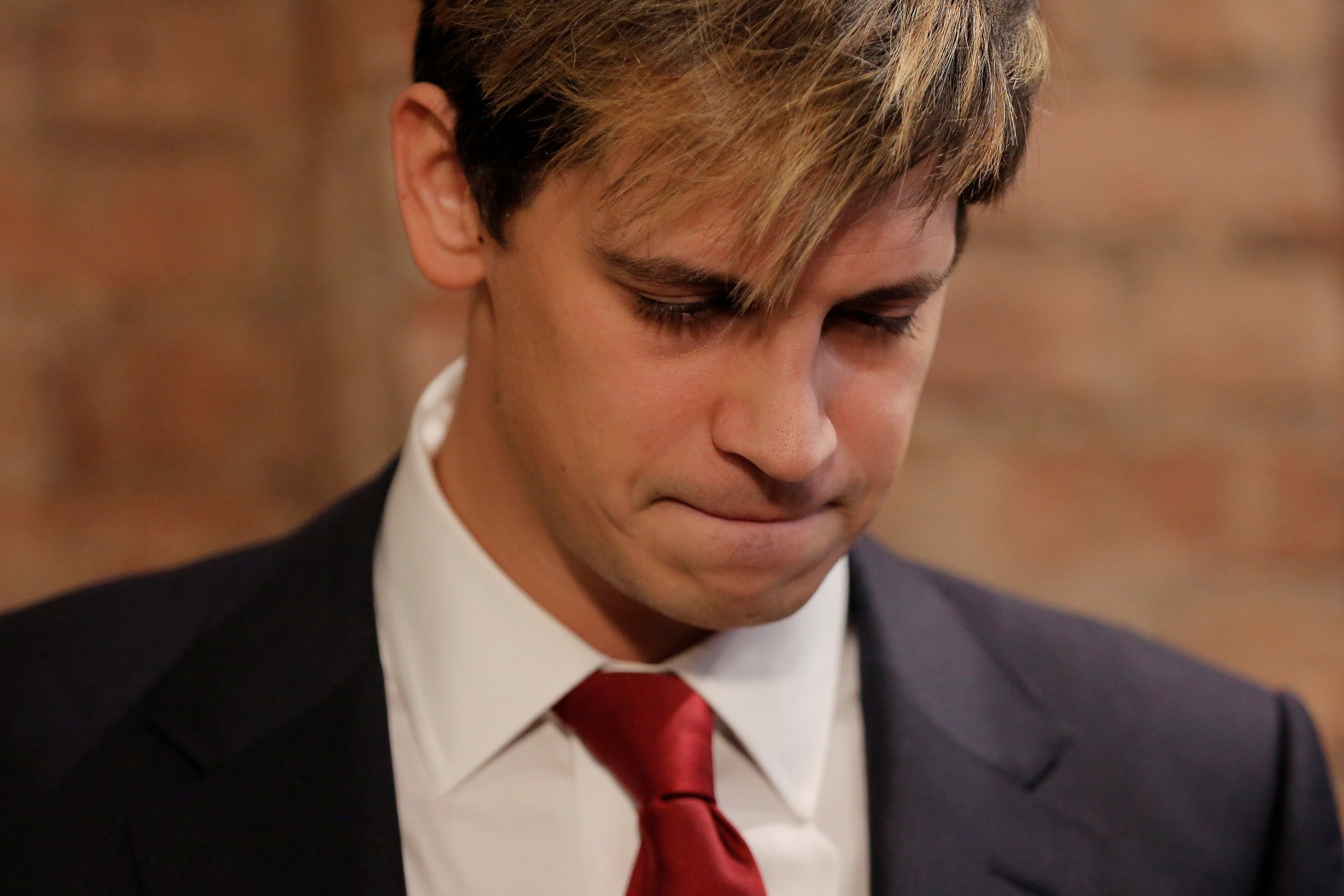 Like just about everything else in our culture, confession is now digital. And so when Milo Yiannopoulos offered a defense of his defense of sex with minors, he first did it on Facebook. The normally well-coiffed and highly styled provocateur/bigot/performance artist looked uncharacteristically unkempt, even wan, on Tuesday when he took to social media to say he was sorry about comments that seemed to endorse sex between adults and underage boys and question age-of-consent laws, perhaps one of the few areas in American life where right and left seem share a moral abhorrence.
Related: Milo Yiannopoulos book deal pulled after child abuse remarks
Matt Schlapp went digital too. On the eve of the Conservative Political Action Conference (CPAC) he runs, the head of the American Conservative Union (ACU) took to MSNBC's Morning Joe to explain why his venerable organization had disinvited the 32-year-old after having taken grief for offering a major speaking role to Yiannopoulos in the first place, even after years of ugly comments about the left, Jews, women, feminists, transgender people and just about every group that doesn't include nationalists such as himself.
"We are OK with having controversy on the stage at CPAC. We don't endorse everything every speaker says," Schlapp told Morning Joe. "But over the weekend, I was made aware of these comments, and it just broke through very important boundaries, and we felt like the CPAC stage was not an appropriate place for this any longer."
There was no real dissent within the ACU about cutting loose Yiannopoulos. Schlapp—a widely liked figure in Washington with a genial Kansas mien, a glamorous Cuban-American wife (Mercedes Schlapp, who is also a force in conservative circles) and a reputation as a sharp politico who was tutored by Karl Rove in the George W. Bush White House—wasn't going to let a conversation about man-on-boy sex dominate CPAC, which is part conference, part Woodstock for conservatives who loathe the original Woodstock. The four-day conservative festival draws thousands to a conference center just south of Washington, D.C., for days of panels, networking and parties.
By the time Yiannopoulos spoke to the press on Tuesday afternoon in New York, he had eschewed drag and was dressed like a banker in suit and tie. But his sober attire made no difference. He had run out of tricks. He apologized for his words but also insisted that he had been misunderstood, that he supported age-of-consent laws and that he had used the term boys loosely in a podcast more than a year ago, the re-emergence of which started the controversy. Milo, as he's widely known, had lost not only center stage at CPAC but his perch as an editor at Breitbart, the conservative publication once run by White House strategist Steve Bannon. Yiannopoulos insisted that the decision to leave Breitbart was his alone, although the publication's editor-in-chief, Alex Marlow, called his remarks "absolutely indefensible."
"It would be wrong if my poor choice of words were to detract from my colleagues' important reporting," Yiannopoulos said. Some might disagree with using the word important about a publication that runs headlines such as 'White People Shouldn't Breed': UK Man Spat at Baby on Street…No Jail Time. Regardless of whose idea it was for Yiannopoulos to leave, it reflects the severity of his words that even the often outré publication couldn't find a way to keep him in the fold.
Whatever happens to Milo now is less important than what happens to institutions that try to touch white nationalism. Simon & Schuster is arguably America's most important publishing house. During its 93-year history, S&S and the divisions it acquired have published the likes of F. Scott Fitzgerald and Ernest Hemingway. But the decision to give a book contract, reportedly in the range of $250,000 (a figure that S&S never confirmed), to Milo set off a flurry. The Chicago Review of Books said it would no longer review Simon & Schuster books, and more than 160 children's books authors and artists condemned the move.
In normal times, having a conservative imprint like Simon & Schuster's Threshold Editions would be both uncontroversial and highly profitable. Founded by Mary Matalin, an adviser to both Bush presidents, Threshold has included Karl Rove, Glenn Beck, Rush Limbaugh and Dick Cheney in its stable. But the Yiannopoulos book had the potential to do damage to the entire Simon & Schuster catalog. And the company is just one division of CBS, a $32 billion media behemoth once known as the Tiffany Network for its high-quality programs and news giants like Walter Cronkite and Edward R. Murrow. CBS may re-merge with Viacom, the media giant it was split off from, but no corporate executive considering a merger wants any controversy like this.
As for CPAC, it too has to walk a line. This is an age of Trumpian nationalism, so it has to decide who is an acceptable speaker. Steve Bannon is a definite yes; white supremacist Richard Spencer is a definite no. But what about the Milo types who seem to flirt with bigotry? That's going to be a perennial question as long as the nation's politics is dominated by such nationalism.
As for Milo himself, he said during his press conference in New York that he was starting a "new independent media outlet" and vowed to remain "offensive" as well as "funny." He promised to do more "education and entertainment" but less "journalism"—whatever that means. Given the state of American politics, there's a market, no matter what controversy lies behind him.