After Fauci Says Rand Paul Profiting Off Pandemic, Paul Raises Funds Calling Him 'Hysterical'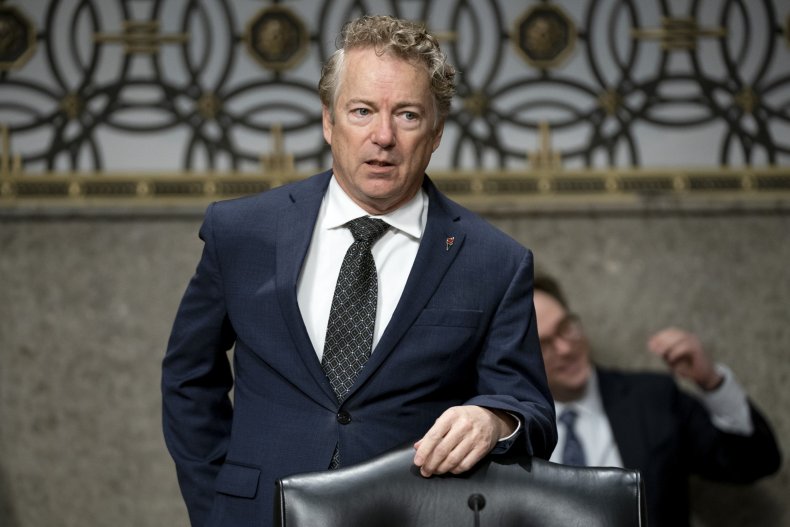 Senator Rand Paul (R-Ky.) sent out a campaign fundraising email calling Dr. Anthony Fauci "hysterical" shortly after Fauci accused Paul of profiting off of the COVID-19 pandemic.
Fauci, the longtime director of the National Institute of Allergy and Infectious Diseases (NIAID) and President Joe Biden's chief medical adviser, squared off against the Kentucky Republican on Tuesday during a Senate hearing. While the pair have had other heated exchanges in the Senate, on Tuesday Fauci pointed out that Paul's campaign has used his image along with calls to "fire Fauci" in fundraising efforts.
A short time after the hearing concluded, a Paul fundraising email was sent to prospective donors with the subject line, "Fauci is hysterical," according to a tweet shared by journalist Ariel Cohen. An image of the email maintained that it was "time to FIRE FAUCI!" and included a link for Paul's supporters to "Chip in if you agree!"
During a COVID-focused Senate Health Committee hearing a short time earlier, Fauci said that Paul was "distorting virtually everything" that he had said about the pandemic after the senator accused him of using his position to "smear" anyone who disagreed with his positions. Fauci argued that Paul was attacking him for "political reasons."
"You personally attack me, and with absolutely not a shred of evidence of anything you say," Fauci told Paul during the hearing. "So, I would like to make something clear to the committee, he's doing this for political reasons ... It distracts from what we're all trying to do here today—get our arms around the epidemic and the pandemic that we are dealing with, not something that is imaginary."
"When he gets out and accuses me of things that are completely untrue, is that all of a sudden that kindles the crazies out there," added Fauci. "I have threats upon my life, harassment of my family and my children with obscene phone calls because people are lying about me."
Fauci went on to say that Paul's statements "make a difference" while suggesting that he had inspired a California man who was arrested last month. Kuachua Xiong, 25, was pulled over during a roadtrip while armed and carrying a "hit list" that included Fauci, Biden and others, police said.
Fauci then pulled out printed pages taken from Paul's website that urged followers to "fire Dr. Fauci," while asking for donations.
"I asked myself, why would Senator [Paul] want to do this?" Fauci said. "Go to [the] Rand Paul website and you see 'fire Dr. Fauci' with a little box that says, 'contribute here.' You can do $5, $10, $20, $100. So, you are making a catastrophic epidemic for your political gain."
Newsweek reached out to NIAID and Paul's office for comment.