'No Safe Space' for Islamist Extremists and 'Preachers of Hate' Vows Theresa May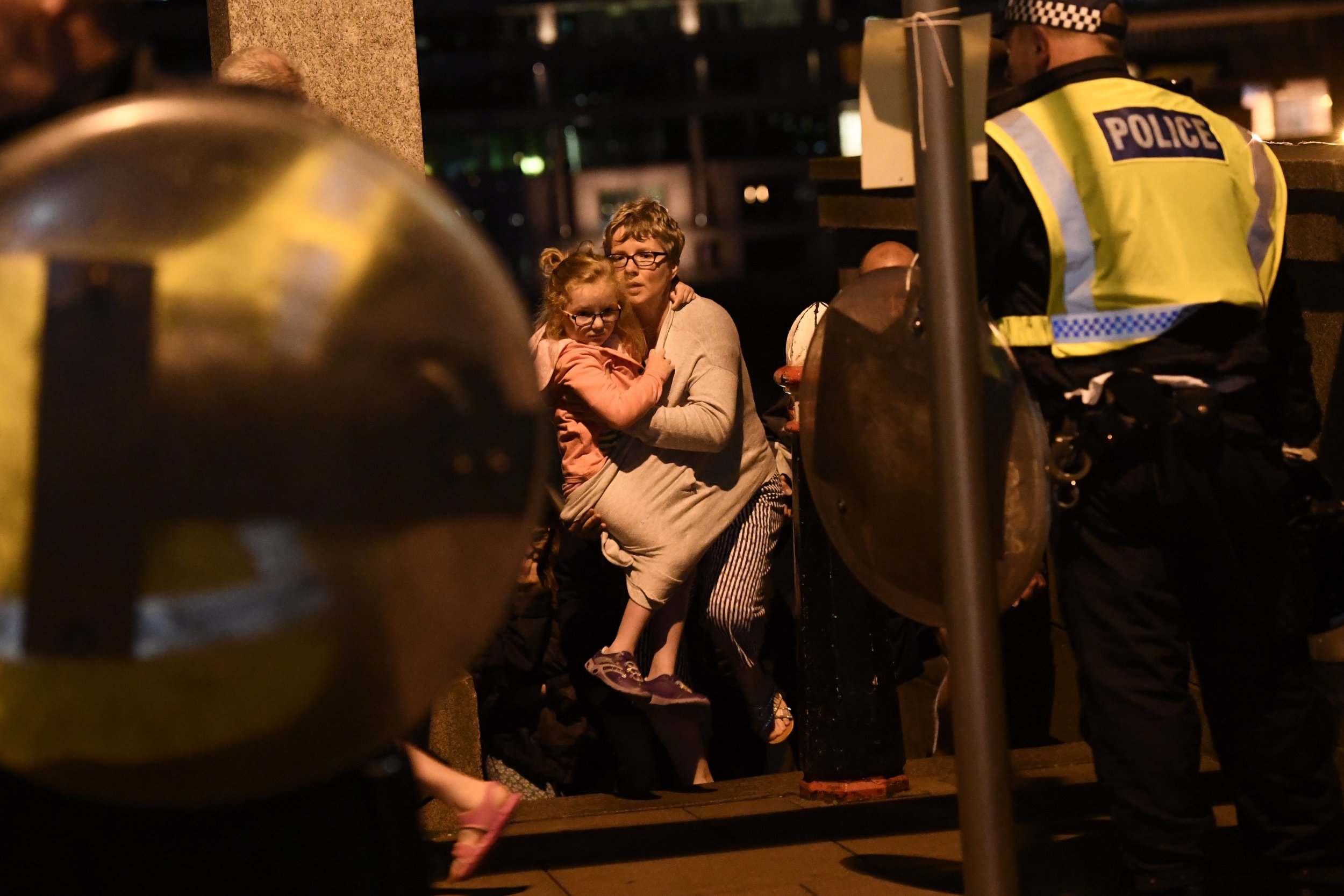 British Prime Minister Theresa May declared "enough is enough" and pledged to defeat the "evil ideology of Islamist extremism" on Sunday in the wake of a horrific vehicle and knife attack by three men in central London that killed seven people and injured dozens.
The men drove a white van across London Bridge, plowing into pedestrians before exiting the vehicle and attacking civilians at random with knives in Borough Market, a popular nightlife spot. Police shot dead all three attackers, who were wearing fake suicide vests, eight minutes after receiving the first emergency calls, they said.
"We cannot and must not pretend that things can continue as they are," May said in a televised statement delivered in front of her Downing Street residence. She called for stronger jail terms for terrorism offenses and a battle for Britain's values against the "preachers of hate."
She also promised a tougher stance on cyber-security, accusing internet companies of provided extremists with a "safe-space" to operate.
The remarks were the strongest rhetoric used by a British Prime Minister after a terror attack since Tony Blair declared in the aftermath of the 2005 bombings in London that "the rules of the game are changing."
The attack is the third on British soil in three months, after the March attack on Westminster bridge and just days after the suicide bomb attack on a Manchester venue that left 22 people dead. The British leader said the plots were not linked but "they are connected in one important sense. They are bound together by the evil ideology of Islamist extremism."
She said the "perpetrators are inspired to attack...by copying one another." No group has claimed responsibility but the Islamic State militant group (ISIS) called for "all-out war" and attacks in Western countries during the Islamic holy month of Ramadan, which began at the end of May.
An audio message ordered supporters to attack "their markets, their roads and their forums." It said the "targeting of civilians is beloved to us and the most effective...may you get great reward in Ramadan." Radical Islamists believe that rewards in the afterlife are greater if attacks are carried out in the holy month.
The attack comes just days before the country heads to the polls in its parliamentary election on Thursday. May confirmed that the election would continue, but her Conservative party and the Labour opposition suspended campaigning on Sunday. Terrorism experts believe the attackers may have been using the election campaign to increase the publicity of their attack.
British security services raised the threat level of the country to 'critical' in reaction to the Manchester attack, believing that the network of 22-year-old attacker Salman Abedi was still at large. It was subsequently reduced to 'severe,' meaning that an attack is still likely.
Police believe they have killed all of the attackers involved in the London assault. But the method used will again raise questions as to whether British security services are fully equipped to stop those motivated to harm with everyday objects, such as cars and knives.
An armed police operation is ongoing in Barking, a suburb in East London, linked to the attack, according to British media reports. It remains unclear if the attackers were known to security services before their assault. They are monitoring some 3,000 suspected domestic extremists, Home Secretary Amber Rudd conceded after the Manchester attack.
Some 850 jihadis have traveled from Britain to fight for radical Islamist groups in Iraq and Syria, almost half of those have returned to the U.K.
Read more: Manchester bomber struck arena's weakest spot—its exit
Key figures of London and Britain's political and Muslim communities continued to react to the attack on Sunday. London Mayor Sadiq Khan condemned the attack as "deliberate and cowardly." Harun Khan, secretary general of the Muslim Council of Britain, said he was "appalled and angered" by the "truly shocking" assault.
The attack, which took place shortly after 10 p.m. Saturday, saw one of the biggest mobilizations of British security forces and emergency services in recent years. Special forces were deployed, landing a helicopter on London Bridge, and dozens of ambulances were pictured streaming through London to reach the scene to treat victims.
The fake suicide vests donned by the attackers represent a new dimension of such attacks in the West. Wearing them likely deterred people from directly tackling them as they carried out their assault, and would have bought them valuable seconds, possibly minutes.
The vehicle and knife assault sparked panic in the immediate area after the van boarded the curb on London Bridge. The attackers then headed into adjoining streets, entering bars and restaurants armed with large knifes. As they carried out their rampage, some civilians tried to stop the attackers by throwing chairs and beer glasses at them.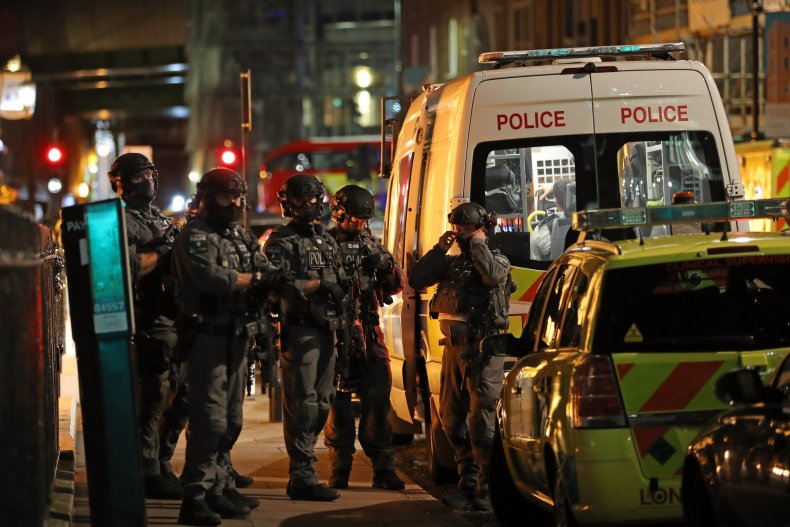 Civilians had to scramble to safety or hide in the places they were enjoying their Saturday night. Tommy Crowe was drinking at the nearby Katzenjammers bar, a popular German drinking hole on Southwark Street, when the attack began.
"[The bar] is underground so nobody had any idea what was happening outside. Then the police stormed in telling everyone to get under the tables," says the 28-year-old. They were held for 10 minutes in the bar, before police "walked people out in groups with our hands behind our heads."
Outside, he saw "police standing over bodies, armed police running around, paramedics treating people with wounds." It was "like something out of a film," he says.
Attacks are increasingly taking place in vulnerable public areas, such as on London Bridge or at the exit of the Manchester Arena, because it has become much more difficult for attackers to strike against hard targets: military, diplomatic or political.