Manchester Attack: Bomber Struck Arena's Weakest Spot—the Exit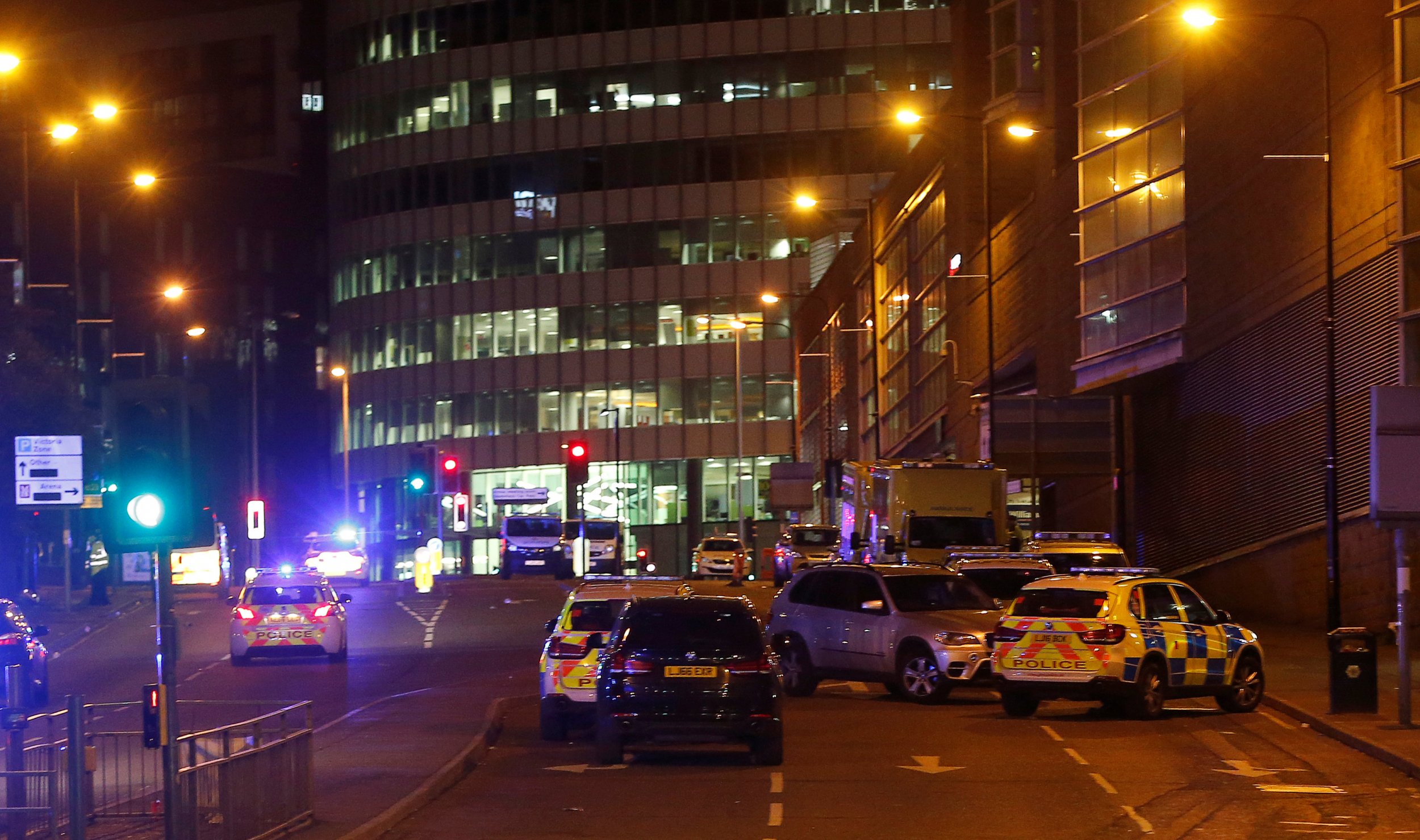 Minutes after American singer Ariana Grande was cheered off the stage at the Manchester Arena on Monday night, fans began to stream out of the exit to make their way home. There, where the arena leads into Manchester Victoria train station, a suicide bomber detonated his explosive device.
The blast killed at least 22 people, injuring 59 more, according to police, in what is being called the deadliest terrorist attack on British soil since 2005. Many of the dead are believed to be children, killed as they headed to meet their parents in the foyer area near the box office.
Initial observers assessed that the blast took place within the arena itself, but questions quickly arose about how the attacker could have entered the building with an explosive device, given that bags were being searched on the way into the venue. Instead, the attacker struck at the arena's most fragile point: its exit.
The arena has a capacity of 21,000, and hundreds, if not thousands, of fans would have been leaving the arena when the killer detonated his bomb just minutes after the end of the concert, around 10:33 p.m. local time.
Security experts say that the targeting of such venues at their weak spot, rather than their protected interiors, is nearly impossible to prevent.
"You can't [stop them], can you?" Richard Barrett, former head of global counterterrorism at Britain's MI6 security service, tells Newsweek by phone.
He says security services have to try to "intercept them before they do something" but to "protect every single public area is a task beyond the capability of any society" that values freedom of assembly.
Attackers have previously targeted spaces with large capacities in Europe, but their strategies have had mixed results. In the Paris attacks of November 2015, three suicide bombers targeted France's national football stadium, the Stade de France, during a friendly match between France and Germany.
But as they tried to enter the stadium itself after kick-off, they were prevented by security guards. The bombers subsequently detonated near the stadium, killing four people.
The damage could have been catastrophic if the jihadis, who had traveled from Belgium, had entered the stadium or waited until hordes of spectators departed, as the bomber did in Manchester. The Islamic State militant group (ISIS) cell that night managed to enter the Bataclan, but that was a much smaller venue with a lower level of security than the Manchester Arena or the Stade de France.
Also in Britain, a court sentenced five men to life in prison in 2007 for an Al-Qaeda-linked bomb plot on the Ministry of Sound nightclub in London. The men talked of blowing "the whole thing up" and said no one could "turn round and say, 'Oh, they were innocent,' those slags dancing around."
British Prime Minister Theresa May said security services now know the identity of the attacker but are not revealing his name. No group has claimed responsibility, and there is no indication of the motive for the attack at present. Britain has previously been targeted by ISIS and the Irish Republican Army, or IRA, in attacks. The terrorist threat level in the country remains at "severe" which means an attack is highly likely.
The aim of such attacks, regardless of the perpetrator, is to create fear that a deadly incident can take place anytime and anywhere.
But the reality is that such attacks are increasingly taking place in vulnerable public areas, such as outside the Manchester Arena, simply because it has become much more difficult for attackers to strike against hard targets: military, diplomatic or political. Targeting nightclubs, or airport departure halls, or the exterior of arenas, is an easier task.
"The targeting is evolving or has evolved from preferred targets being those with obvious military or political significance to those that have a cultural significance," says Jason Burke, an expert on Islamist extremism and author of The New Threat From Islamic Militancy.
"That makes it very, very hard. On Saturday, how many football matches are there in Britain? How many art galleries are there?" he adds. "They are hitting concert halls because it's easy. Even transport, which is inherently vulnerable, is now quite a tricky target."
But of equal concern is the ease with which people who want to cause harm can build devices with everyday objects. A 20-year-old British man was found guilty on May 3 of planting a homemade bomb on London's tube network having constructed the device at home. Police found an article written by Al-Qaeda titled "Make a Bomb in the Kitchen of Your Mom," which showed how to construct a device from typical objects that authorities would not ban.
"You can build bombs very easily. It looks as though relatively straightforward people can build relatively straightforward bombs with pretty nasty effect," says Barrett. "If people want to do it, they can probably do it. So the main task is to find out why they want to do it and to deal with that."
Police have confirmed that the attacker died at the scene of the blast in Manchester. Security services will now turn their attention to the attacker's motivation and how he got hold of the bomb. Experts on extremism have dispelled the widely reported notion of the "lone wolf" attacker, pointing to sophisticated networks that usually aid their actions. "I can think of very few instances in the last 15 or 20 years where one man alone has built a bomb and then used it," says Burke.
The search will continue for the accomplices of the Manchester bomber, as will the search for a solution to depraved attacks against the most vulnerable in the most vulnerable locations in British society.