After Primary Win, Video Resurfaces of Tommy Tuberville Slapping Coach
Video of a 2012 slapping incident involving Alabama GOP senatorial candidate Tommy Tuberville resurfaced Tuesday after Tuberville defeated former U.S. Attorney General Jeff Sessions in the state's runoff election.
Tuberville's Senate bid was his first foray into the political arena, but Tuberville became well-known for his endeavors in college football arenas. Perhaps best known for his ten-year-long stand at Auburn University, Tuberville was the head coach for the Texas Tech Red Raiders in 2012. During a game between Texas Tech and Kansas, Tuberville was shown on video slapping the headset off of graduate assistant coach Kevin Oliver.
Discussing the incident during a 2012 press conference, Tuberville denied intentionally slapping Oliver. "Some of you have reported that I slapped or hit him," Tuberville said. "You're dead wrong. I did not do that."
"Never thought about it in 35 years," Tuberville continued, "never dreamed of hitting anybody, never have." Tuberville said he apologized to Oliver for his actions. In December 2012, Tuberville resigned from his coaching position with the school.
Newsweek reached out to Tuberville's campaign for comment.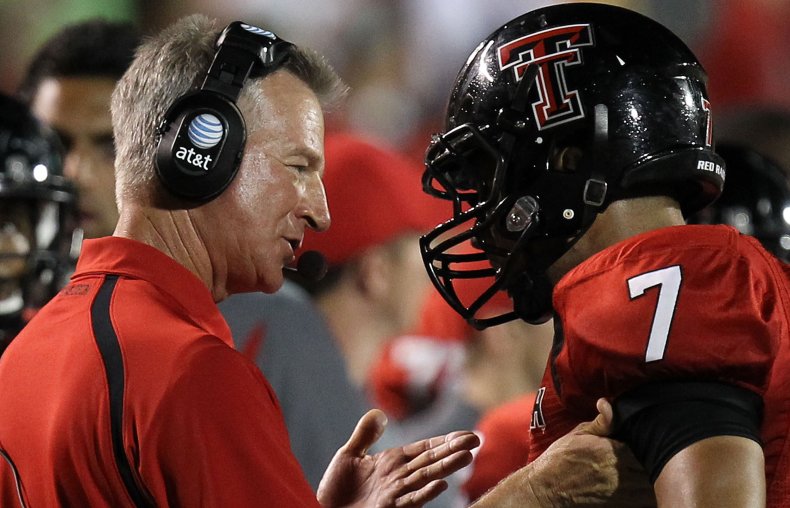 Tuberville was endorsed in his senatorial bid by President Donald Trump. In a Tuesday tweet, Trump said would Tuberville would be a "GREAT Senator for the incredible people of Alabama" Trump then described incumbent Democratic Alabama Governor Doug Jones as a "Super Liberal puppet" for House Speaker Nancy Pelosi and California Representative Adam Schiff.
President Trump fired Jeff Sessions after Sessions recused himself from any hearings connected to a probe into alleged Russian meddling into the 2016 election. Trump's frustration with Sessions appeared to carry over into the Alabama election as Trump criticized Sessions on Twitter.
In May, Trump tweeted that Sessions "should drop out of the race" and pray that Governor Jones "gets beaten badly."
In his Tuesday concession speech, Sessions said Tuberville "ran a really firm, solid race. He was focused on his goal and on winning. He had a plan to do so and he was able to do so. He is our Republican nominee. We must stand behind him in November."
Sessions implied during the speech that he would not run for office again. "It is a great honor for me to have served you," Sessions said. "It's a sense of satisfaction that I complete that service. I do tell you with all sincerity that it is my honor to have been able to serve. I hope this state will continue to be prosperous and grow over the way it has over the last number of years."
In a Tuesday statement, Governor Jones called Tuberville an "unprepared hyper-partisan that will add to the divide in Washington." Jones and Tuberville are expected to face off in Alabama's senatorial election in November.