After R. Kelly's Conviction, Calls to Sexual Assault Hotline Jumped 31 Percent
The number of calls received by a nationwide sexual assault hotline increased the day R&B singer R. Kelly was convicted of sex crimes by a federal jury in New York.
The National Sexual Assault Hotline operated by the Rape, Abuse and Incest National Network (RAINN) received call volumes 31 percent above average on Monday, the day Kelly was convicted, and again on Tuesday, RAINN told Newsweek.
RAINN has previously noted that news events involving the topic of sexual assault tend to result in increased numbers of calls to sexual assault hotlines. The allegations made against former film producer Harvey Weinstein in 2017 resulted in an increased number of calls, as did the allegations made against Brett Kavanaugh the following year ahead of his confirmation to the U.S. Supreme Court, according to RAINN.
"When high profile sexual assault cases are in the news, thousands of survivors and their loved ones contact RAINN's National Sexual Assault Hotline," RAINN said in an October 2019 statement. "For some, this is the first time they are sharing their story. For others, the support specialists on the hotline are the only people in their lives who they know will listen and believe them."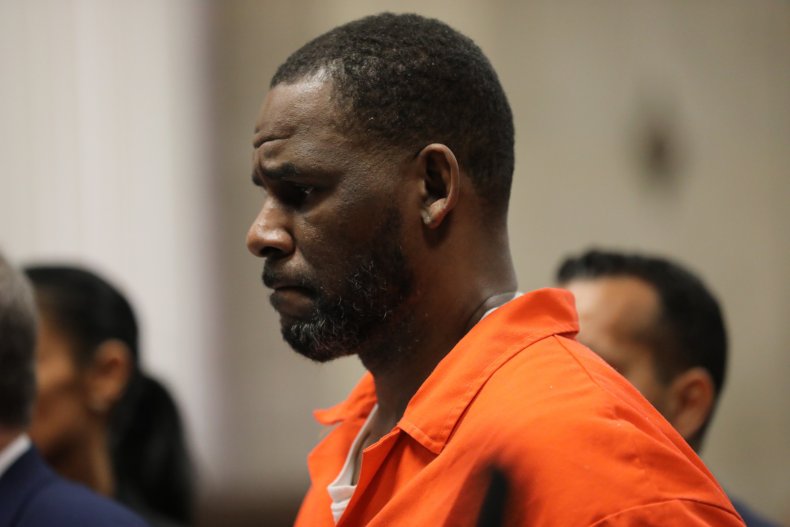 This is not the first time RAINN has identified an increase in calls following news related to Kelly. In early 2020, after Lifetime aired its Surviving R. Kelly Part II: The Reckoning documentary series, RAINN reported a 40 percent increase in calls to its hotline. The program, which included a public service announcement from RAINN and the number for its hotline, served as a follow-up to the initial Surviving R. Kelly documentary series that featured women who shared what they experienced during their time with Kelly.
After the first documentary series aired in early 2019, Kelly was arrested in Illinois and charged with aggravated sexual abuse. Subsequent charges involving sex crimes followed in New York and Minnesota.
Kelly's New York trial began last month in Brooklyn and lasted for about six weeks. It marked the first time he was on trial since 2008 when he was acquitted of child pornography charges in Illinois.
On Monday, the Brooklyn jury found Kelly guilty of racketeering and several Mann Act violations. Kelly is expected to be sentenced next May and still faces other charges in Illinois and Minnesota.
After news of Kelly's conviction broke, RAINN released a statement saying the jury's verdict "sends a loud message" to survivors.
"We hope that today's verdict empowers survivors everywhere to feel that they are not alone," RAINN Press Secretary Erinn Robinson said in a Monday statement.
The network also posted encouragements on social media for people who were engaging with news of Kelly's conviction and finding themselves in need of assistance.