California Governor Gavin Newsom's reelection campaign on Tuesday sent out a fundraising email encouraging supporters to contribute to Terry McAuliffe as the fellow Democrat campaigns to become Virginia's next governor.
Newsom, fresh off a victory in his state's gubernatorial recall election last week, is expected to run for reelection in California next fall. The fundraising email from Newsom's reelection campaign suggested voters share a portion of their contributions to his reelection bid with McAuliffe's campaign in Virginia, where Newsom's campaign said a "critical election" is taking place.
"In our recall, there were Virginians who donated and sent texts to keep California blue. Now we're hoping to return the favor when Terry McAuliffe needs it most," the fundraising email said.
Newsom's campaign said McAuliffe is "locked in a statistical tie" with Glenn Youngkin, the Republican running against him. Newsom's campaign described Youngkin as "ultra-right" and "Trump-loving."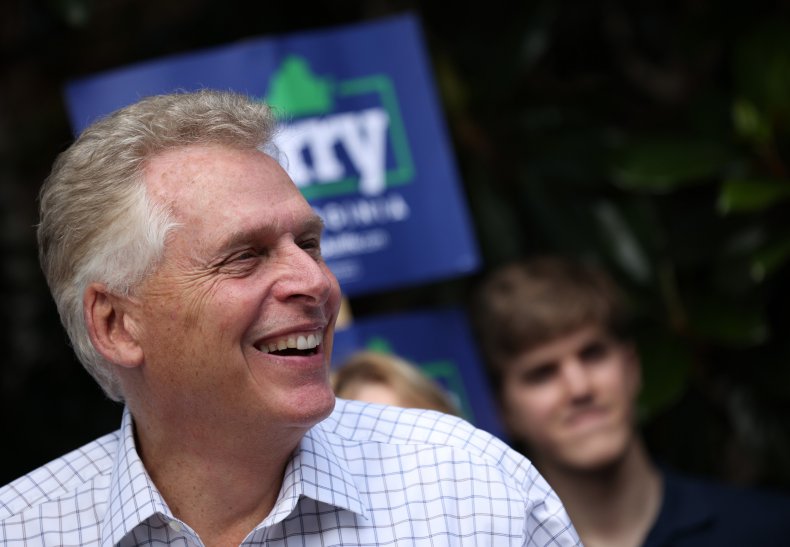 The fundraising email ended with a request for $3 donations, which it suggested could be "split" between McAuliffe's gubernatorial campaign and Newsom's 2022 reelection campaign.
"We would not ask if it were not so important," the fundraising email added.
The email concluded with a "contribute" button that redirected to a webpage where visitors were presented with contribution amounts ranging from $3 to $1,000, with customized donation amounts also available. Above the contribution amounts listed appeared a message that said each donation would be "evenly split" between the two Democrats.
Virginia is one of only two states holding a gubernatorial election this November. California's next gubernatorial election is set to take place in fall 2022, but Newsom's seat was challenged this month after a recall petition qualified for a ballot earlier this year. Newsom would have been removed from office before the official end of his term if more than 50 percent of voters in California decided to recall him. Instead, early results from the September 14 gubernatorial recall election suggested Newsom defeated the recall by a wide margin, with more than 60 percent of ballots cast in favor of keeping him in office.
Meanwhile, McAuliffe is running against Youngkin in Virginia, with each candidate hoping to succeed sitting Democratic Governor Ralph Northam. No governor in Virginia is permitted to serve consecutive terms in office, though gubernatorial elections are open to former governors. McAuliffe is running as a former governor after completing one term in office from 2014 to 2018.
Polls conducted in recent weeks among likely voters in Virginia have suggested McAuliffe is a few points ahead of Youngkin, with polling averages compiled by FiveThirtyEight estimating McAuliffe to have a lead of about 3.5 percent as of Tuesday. Six weeks remain until Virginia voters decide on November 2 who will next lead their state.
Newsweek reached out to McAuliffe's campaign for comment and will update this article with any response.