Gavin Newsom Survives Recall, Crushes Trumpism in California
California Governor Gavin Newsom is the projected winner of what his campaign often referred to as the "Republican recall," delivering a win to Democrats ahead of next year's midterm elections and a blow to the Republicans who were hoping to unseat him.
CNN, Fox News and the Associated Press have all called the election for Newsom, with 67.4 percent voting against the recall with about 61 percent of votes counted, as of 11:54 p.m. ET.
"I said this many, many times on the campaign trail. We may have defeated Trump, but Trumpism is not dead in this country. The Big Lie, the January 6 insurrection, all the voting suppression efforts that are happening all across this country," Newsom said at his Tuesday night victory speech.
Newsom has portrayed the recall as a Republican-driven effort since launching his campaign to battle it earlier this year. His Stop the Republican Recall campaign identified those behind the recall as a "coalition of national Republicans, anti-vaxxers, Q-Anon conspiracy theorists and anti-immigrant Trump supporters," characterizations those behind the recall petition have disputed.
As the recall election drew closer, Newsom's campaign continued drawing comparisons between recall supporters and former President Donald Trump, a strategy that intensified following the campaign launch of conservative radio host Larry Elder. On the eve of the September 14 recall, the most recent statewide polling results suggested Newsom would defeat the recall but identified Elder as the candidate most likely to replace him if the recall was successful—a factor Newsom focused on during his final days of campaigning.
Newsom is only the second governor in the state's history to face a recall election, and he's the first to defeat one. Eighteen years ago, Democrat Gray Davis was first to battle a recall election and was ultimately removed from office. Davis was replaced by Arnold Schwarzenegger, who ran as a Republican and received more votes than any of the other 134 candidates who appeared on that recall ballot.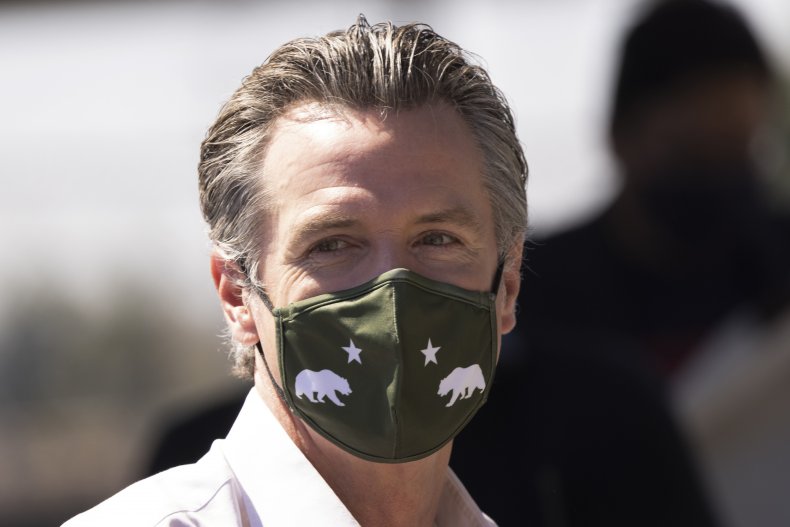 This time around, Newsom faced 46 candidates who qualified for the recall ballot. Though the special election had one clear front-runner—Elder, who ran as a Republican—Democratic political strategists told Newsweek none of Newsom's challengers had the kind of familiarity among voters as Schwarzenegger had, a factor that served as one of several differences between this year's recall and that of 2003.
Despite those differences, polling results released shortly after Newsom's recall election date was set suggested voters were split on the decision of Newsom's removal. The California Democratic Party and several high-profile Democrats from around the country quickly rallied to Newsom's side to motivate voters and encourage turnout, all while reiterating the Newsom campaign's portrayal of the recall effort as one driven by far-right conservatives.
The candidates running for Newsom's seat similarly toured the state and encouraged voter participation. Despite the state's largely Democratic makeup, many recall candidates argued the recall had a chance for success if enough Californians frustrated with Newsom voted "yes" to remove him. Since there was no limit to the number of candidates who could run in the recall, the California Republican Party decided not to endorse any one candidate and instead focused on the first portion of the two-question ballot pertaining to Newsom's removal.
Even without the state party's official endorsement, Elder quickly became the front-runner of the recall candidate field after announcing his campaign in July. He led in most polls conducted through September, often by double digits as he outpaced Newsom's other challengers.
While Elder joined his fellow Republicans in criticizing Newsom's handling of homelessness, crime, wildfire management and more, the coronavirus pandemic and the shutdowns Newsom ordered to prevent the virus' spread have been widely credited with driving support for the recall. Though Elder has said he is vaccinated against COVID-19, he said that, unlike Newsom, he would not impose mask or vaccine mandates for Californians.
Last month, Newsom's campaign targeted Elder for his position on mask and vaccine mandates in an ad that said the outcome of the recall would be "a matter of life and death." The 30-second ad contrasted Newsom's handling of the pandemic with a resurfaced tweet from Elder vowing to revoke any mask and vaccine mandates in place if Elder were to become governor. It also featured a photo of Elder standing beside Trump as each man flashed a thumbs-up for the camera.
During a campaign event in mid-August, Newsom told voters Elder was "to the right" of Trump, and his campaign has frequently distributed fundraising and voter participation emails outlining what it described as a "terrifying" scenario in which Elder limits pandemic restrictions, rolls back climate change regulations, appoints conservative judges and more after becoming governor.
Out-of-state Democrats have also raised concerns about what it would mean to have Newsom replaced by a Republican. In one ad released by Newsom's campaign in late August, Vermont Senator Bernie Sanders described the recall as a "Republican power grab." Massachusetts Senator Elizabeth Warren said in a statement on her website that "the same Republican, pro-Trump forces who lost the White House are trying to recall Gavin and install a Trump protege in the Governor's office."
Vice President Kamala Harris joined them in speaking out against the recall and addressing its potential to have a far-reaching impact during a Newsom campaign event she attended in California on September 8.
"Republicans think if they can win in California, they can push policies everywhere to attack women's rights, reproductive rights, voting rights, and workers' rights," Harris said in a tweet following her rally appearance. "We will show them they're not going to get this done. Not here. Never."
This is a developing story and will be updated as more information becomes available.