Gavin Newsom Blames Proud Boys, QAnon for Recall Campaign As Deadline for Signatures Approaches
California Governor Gavin Newsom accused right-wing militia groups like the Proud Boys and the Three Percenters of initiating the recall campaign that appears set to trigger a recall election later this year.
During a Tuesday appearance on The View, host Joy Behar asked the California Democrat about the petition's organizers, who have denied links to QAnon and other conspiracy groups. Newsom, whose recently launched anti-recall website directly implicates his Republican rivals by referring to the petition as "the Republican recall," suggested those sorts of groups were directly involved with the campaign.
"The chief proponent of this recall petition supports putting microchips into migrants, into immigrants," Newsom said. "The other proponents—the top 10 proponents, the people that are behind this—are members of the Three Percenters, the right-wing militia group, the Proud Boys, support of the insurrection, are folks that quite literally, enthusiastically, support QAnon conspiracies. And so that's the origin here."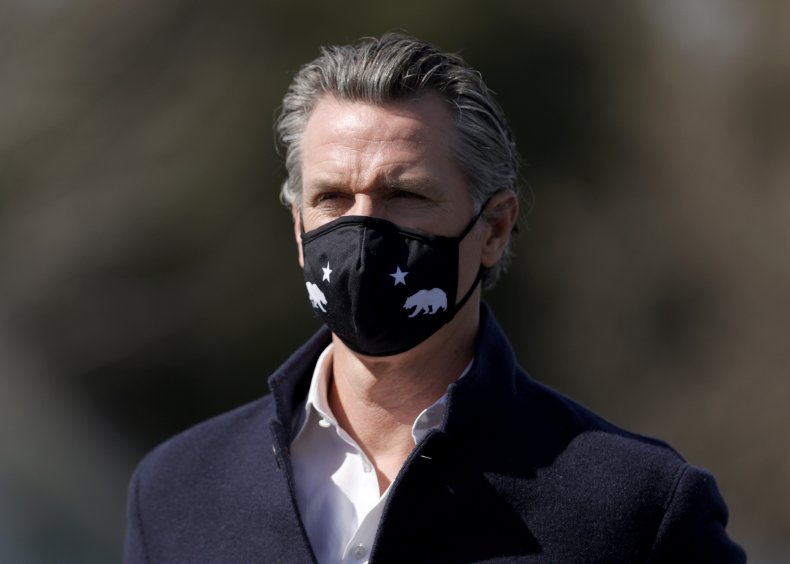 According to Newsom's anti-recall website, the recall campaign is led by "a partisan, Republican coalition of national Republicans, anti-vaxxers, QAnon conspiracy theorists and anti-immigrant Trump supporters."
Newsom's website also cites a January Los Angeles Times report that tied the campaign to the Proud Boys and QAnon. Recall organizers denied those connections following the paper's original report, which the campaign referred to as a "political hit job." The recall campaign said at the time that their petition had the support of "Californians from all walks of life."
Dave Gilliard, a Republican strategist who is contributing to Recall Gavin Newsom, previously denied that the campaign is fueled entirely by Republicans. Gilliard told Newsweek last month that about a quarter of the California residents who signed the petition by late February were registered as independents.
Recall campaign spokesperson Randy Economy told Newsweek on Tuesday that he found Newsom's appearance on The View to be "just sad."
"For him to use The View as his launching point to his political survival tour is farcical, it was comical and it was just sad," Economy said. "It just goes to show you how he's living in a very delusional state, as far as his political mindset is concerned."
Recall Gavin Newsom is likely to trigger a recall election later this year after campaign organizers announced they collected more than 2 million signatures ahead of the campaign's March 17 deadline. State officials must verify at least 1,495,709 signatures in order for the campaign to officially trigger a recall election.
Newsom said earlier this week that he plans to fight the recall effort, which President Joe Biden and other top Democrats have started rallying against.
"I won't be distracted by this partisan, Republican recall—but I will fight it. There is too much at stake," Newsom tweeted on Monday. "Getting Californians vaccinated, our economy safely reopened, and our kids back in school are simply too important to risk."
Newsom reiterated his intent to campaign against the recall effort on Tuesday. The governor said he was "of course" worried about the campaign and said he is "taking it seriously."
"I have to do my job every single day, but I'm going to fight this thing, because I'm going to fight for California values and the things I hold dear," he said.
In addition to suggesting that far-right conspiracy groups are behind the recall effort, Newsom's new website identifies top congressional Democrats—including senators Bernie Sanders of Vermont, Elizabeth Warren of Massachusetts and Cory Booker of New Jersey—as allies in the recall fight.
In a Monday tweet, Warren described the recall effort as a "naked partisan grab" and encouraged followers to "have Gavin's back."
Biden also "clearly opposes" the recall campaign targeting Newsom, White House press secretary Jen Psaki said last month.
"In addition to sharing a commitment to a range of issues with ‪@GavinNewsom from addressing the climate crisis to getting the pandemic under control, ‪@POTUS clearly opposes any effort to recall ‪@GavinNewsom," Psaki tweeted on February 9.
This story has been updated with additional information, background and comments from Recall Gavin Newsom spokesperson Randy Economy.