California Governor Gavin Newsom is likely to face a recall election later this year, and if this recall election is anything like California's last, there will be plenty of candidates vying to replace him.
More than 100 candidates campaigned to replace former California Governor Gray Davis, a Democrat who was recalled in 2003. Republican Arnold Schwarzenegger received the greatest number of votes in that recall, which allowed him to take over as the leader of the state.
Former San Diego Mayor Kevin Faulconer and businessman John Cox, who has run for governor before, have thus far emerged as the Republican frontrunners who plan to challenge Newsom if a recall election is scheduled. For Faulconer, Cox and any other Republican who seeks to oust Newsom, two Republican strategists recently told Newsweek the key to success will be to keep voters focused on criticisms of Newsom's record and convince Californians that they can do his job better.
Dave Gilliard, a Republican strategist who is working on Recall Gavin Newsom, said the campaign collected more than 1.7 million signatures by Monday and was confident the campaign would reach its 1.8 million signature goal by its March 17 deadline. County officials throughout California must validate a total of 1,495,709 signatures—the equivalent of 12 percent of the votes cast when Newsom was elected in 2018—in at least five counties in order for the recall effort to move forward. Gilliard said the campaign thus far has a validity rate of about 84 percent, with independents representing about 25 percent of the signatures gathered.
Garry South, a Democratic strategist who advised Davis during his first gubernatorial win in 1998 and his re-election in 2002, told Newsweek last week that he thinks it is unlikely Newsom will be recalled. South pointed to Newsom's large margin of victory in the 2018 election as one reason he finds the governor's removal difficult to fathom. Another reason is the pandemic, a point of struggle that all governors are currently facing. By the time a recall election occurs — experts believe it would take place in late summer or early fall — many more Californians will have received COVID-19 vaccinations and restrictions will likely have lifted significantly, which South said will put voters in a much different situation than they are in now.
But pandemic-inspired lockdowns aren't the only reasons Recall Gavin Newsom lists for ousting the governor, and Gilliard said voters who want him out are likely to stay motivated.
"There's been a lot of talk that it's just a bunch of Republicans who are fighting this. It's not," Gilliard told Newsweek. Gilliard, who formed the recall campaign that led to Davis' removal, said he believes voter turnout will be strongest among those who have a "political axe to grind" against Newsom — and that could be enough to remove him from office.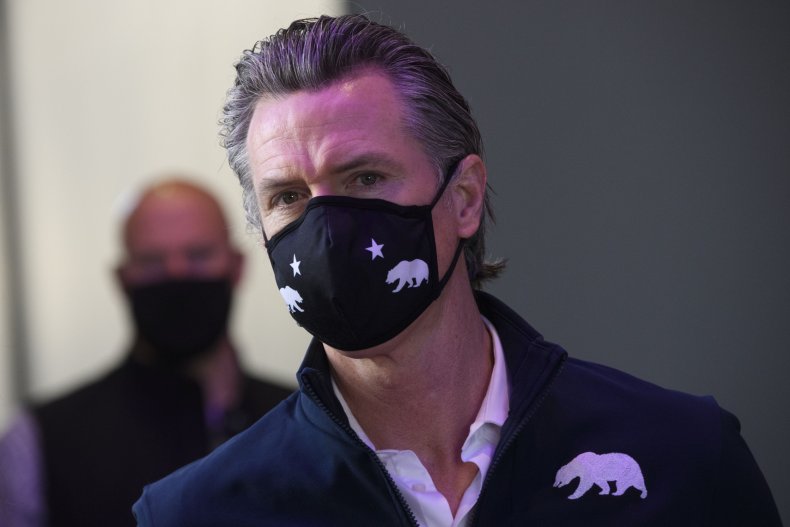 "Getting people to come out and save Gavin Newsom is going to be a much bigger challenge than getting people to come out and vote him out," he said.
Focusing on voters' "political axe to grind" is one of the main goals Gilliard said Republican challengers should have. "I think that one of the Democratic strategies is going to be to try to make this a repeat of the presidential election, paint the Republicans as just proxies for [former President Donald] Trump and try to motivate their voters by injecting Trump into this," Gilliard said. "The Republicans, what they need to do is keep this completely on Gavin Newsom and his job performance."
But Matt Terrill, a political consultant who advised the Republican Party of Florida in 2016 and has also worked on political campaigns for Florida Sen. Marco Rubio and former Republican National Committee Chairman Reince Priebus, wasn't as quick to count out the weight Trump's name still carries among some conservatives.
"There's no question that people would argue that former President Donald Trump's brand on the heels of January 6 is taking a hit among many political donors, many folks in Washington, many voters," Terrill told Newsweek. Even so, "Many people would argue former President Trump is in very strong standing in the Republican Party" and is likely to remain a strong force within the GOP in the years ahead, he added.
"You're going to have to have cross-party political appeal, particularly as a Republican, in order to get across the finish line with a victory," Terrill said.
The last several years of increasing political polarization also leaves voters craving politicians who seem authentic, Terrill said. On that note, he said there could be room to score points on Newsom, who received extensive criticism for attending a dinner party at a restaurant last fall that violated statewide recommendations for Californians to prevent further spread of COVID-19 by avoiding social gatherings.
"Your rhetoric's got to match your record. I think one of the things you're likely to see pulled up here, I suspect, is pointing to Governor Newsom not allowing his record to match his rhetoric," Terrill said. "Authenticity right now is on the ballot and is on people's minds."
Gilliard said he also thinks challengers should make Newsom's record a focal point of their campaigns leading up to a recall election. "Newsom, I think, has given the voters a lot of opportunities to see that he hasn't been able to manage this at all," Gilliard said. He listed Newsom's attendance at the dinner party last fall, his ongoing negotiations with teachers unions about how to safely reopen schools as the pandemic continues and the slew of issues with the state's Employment Development Department, which ranges from backlogs in applications from unemployed Californians to fraud.
"What they're going to need to do is convince voters that they can manage the state—which some people think is unmanageable—better than Gavin Newsom can," Gilliard said.
Though the frustrations driving the petition seem likely to result in a recall election, removing the governor from office would still be a difficult task. Only two governors have been recalled in U.S. history, with Davis serving as the most recent example. According to state data, there have been 55 attempts to remove a sitting California governor since 1913, only one of which qualified for an election.
With no recall election yet on the calendar, it's too soon to tell what one would look like in 2021. But it would likely draw extensive competition.
"I suspect it's going to be wide open with lots of people—lots of people from both sides throwing their hat in the ring," Gilliard said.