Gavin Newsom may soon become the first California governor to face a recall election in 18 years, but Democratic strategists familiar with the state's last gubernatorial recall election say it is unlikely he will be voted out of office before his term ends.
Though several states allow voters to recall elected officials, only two state governors have ever been removed from office in this fashion. The most recent governor to face this fate was Gray Davis, the former Democratic governor in California whom voters ousted in 2003.
The recall campaign targeting Newsom has drawn comparisons to Davis' recall, but Garry South, the strategist who advised Davis through his successful election in 1998 and reelection in 2002, says the scenarios are entirely different.
It was just months into Davis' second term that a recall campaign summoned enough support to trigger a recall election, and Davis later lost his position to Republican Arnold Schwarzenegger in the fall of 2003.
Eighteen years later, Newsom is likely to face a recall of his own after Recall Gavin Newsom announced it had collected more than 1.5 million signatures, surpassing the minimum 1,495,709 signatures—equal to 12 percent of the votes cast in the state election Newsom won—needed to qualify for a ballot.
Randy Economy, a spokesman for Recall Gavin Newsom, recently told Newsweek the campaign plans to continue gathering signatures through its March 17 deadline to make sure it still meets that threshold after the signatures are verified.
County officials throughout California will have until April 29 to verify the signatures, according to CalMatters. Those who signed the petition will then have a window of time to withdraw their signatures, if they so choose, before the final tally is sent to California Secretary of State Shirley Weber, which will then trigger reviews by her office and by the state's top finance officials. Depending on how long each procedural step takes, experts predict a recall election would take place in the late summer or fall.
South told Newsweek if all of the state's requirements for a recall are met and an election is scheduled, he does not believe it will be successful in ousting Newsom. It is a belief he shares with Davis, who recently told Newsweek he thinks Newsom will be reelected in 2022.
"I think they're actually quite high," South said of Newsom's chances of success. "I went through the Davis recall in 2003, so I've seen this movie before."
There are several contextual differences between Davis' recall in 2003 and the recall effort Newsom is facing, South said. One notable difference is that the state has a greater percentage of registered Democrats now than it did in the early 2000s—a jump from 43.68 percent in September 2003 to 46.13 percent in October 2020, according to state data. Meanwhile, the percentage of registered Republicans has declined from 33.99 percent in 2003 to 24.19 percent last fall.
"The state is just a lot more Democratic today than it was in 2003," South said.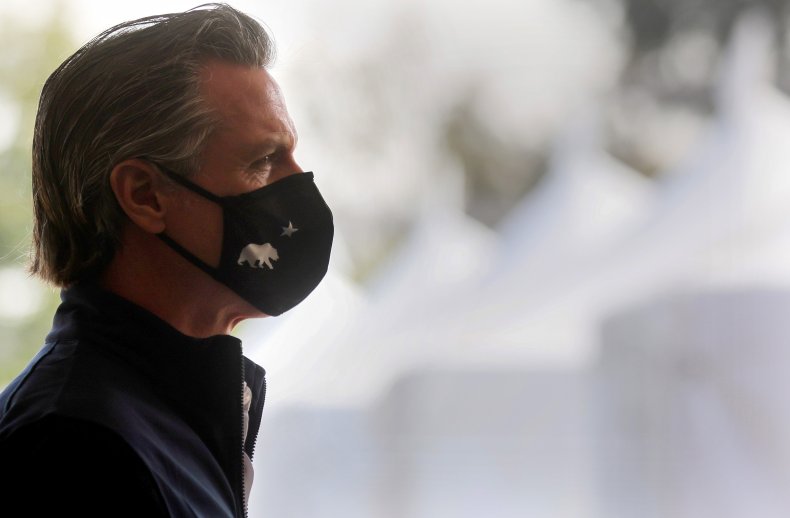 Newsom also won by a greater margin when he was elected in 2018 than Davis did in his bid for reelection in 2002, South said. While Davis secured his second term with about 47.3 percent of the statewide vote, Newsom won with about 61.9 percent of the votes cast. Newsom has also maintained a stronger voter-approval rating, despite recent dips in popularity, than Davis did during his final year in office, South said.
Having a Democrat in the White House is another variable that could play in Newsom's favor, South said. While Davis entered his brief second term with a Republican president in office, President Joe Biden has already indicated support for Newsom amid the recall effort.
"In addition to sharing a commitment to a range of issues with @GavinNewsom from addressing the climate crisis to getting the pandemic under control, @POTUS clearly opposes any effort to recall @GavinNewsom," White House press secretary Jen Psaki tweeted on February 9.
"Newsom, with the election of Biden, has a very friendly president in the White House—and, by the way, a vice president who's from California, from his own state," South said. "On all of those counts, Newsom is just in far better shape to fight this off than Davis was in 2003."
While the recall campaign lists several issues unrelated to Newsom's response to the coronavirus pandemic as reasons to remove him from office—including his policy positions on the Second Amendment, immigration and health insurance—Economy told Newsweek in late 2020 that the state's struggle with COVID-19 fueled the recall effort. According to South, that's another reason why a recall campaign is unlikely to be successful.
"The pandemic has certainly affected Newsom's ratings, but it's not unique to California—it's affecting all 50 states," South said. In contrast, Davis struggled with an energy crisis ahead of his recall election that was strictly a California issue, South said. As more Californians are vaccinated and the state is able to lift some of its pandemic restrictions, attitudes may shift back in Newsom's favor by the time a recall election is put on the calendar, he added.
"Depending on how the whole timing sequence works out here, we're going to be in a very different world," South said.
Though Newsom may be in a better position heading into a potential recall election than Davis was 18 years ago, Newsom has made mistakes, South said. Aside from his infamous attendance at a dinner last fall—which critics have called hypocritical because Newsom has encouraged Californians to avoid public gatherings—blunders in the state's COVID-19 vaccine distribution could be another trouble area for him if they continue, though South said some of the early hiccups appear to be smoothing out.
Another potential liability South identified for Newsom is the school reopening debate. As Biden pushes for schools to find safe ways to reopen for in-person instruction, Newsom and teachers unions throughout the state have yet to agree on how to do so.
"The school closure issue is an important one," South said. "It's one that will cost him some votes, if they don't figure it out and do it properly."
As Psaki's tweet of support for Newsom indicated, many Democrats are defending the governor as the recall campaign against him gains steam, but there is no guarantee that a recall election would be devoid of Democratic challengers. This is the possibility Newsom should watch out for, according to Steven Maviglio, a Democratic strategist who once worked as Davis' communications director.
"I think the most important thing for Governor Newsom to do right now is to keep a Democrat out of this," Maviglio told KGO-TV on Wednesday. But Maviglio said running against Newsom would be a "steep uphill battle" for a Democratic challenger.
"Any Democrat who gets into this race will be a pariah in the party forever," he told the station.
Since one of the country's two successful governor recalls happened in California within the past two decades, South said lots of comparisons have been drawn between Newsom and Davis. But he believes there are far more differences in their situations than there are similarities.
"Their starting points for a recall are far, far different," South said. "Newsom goes into this much stronger than Davis was in 2003."