Gray Davis, Recalled California Governor, Believes Gavin Newsom Will Win Re-Election in 2022
A recall effort is mounting against California Governor Gavin Newsom amid criticism of his handling of the coronavirus pandemic—with petitioners having until March 17 to gather the 300,000 additional signatures to meet the 1.5 million threshold to trigger a contest.
But despite such outcry, Newsom still has a 58 percent approval rating, according to the most recent polling. Meanwhile, vaccine distribution could renew hope in Californians after a devastating year. Thus, high favorability and a looming turning point in the pandemic bodes well for Newsom, according to former California Governor Gray Davis, who was recalled in 2003.
"There will come a point—March, April, May—where the lightbulb goes on in everyone's mind and they realize this is going to end, this is going to be behind us, and we can finally get back to not exactly normal but pretty close to normal," Davis told Newsweek. "That hasn't happened yet and he still has decent favorability ratings, and with good news happening in [2021] I would bet on him than anyone else."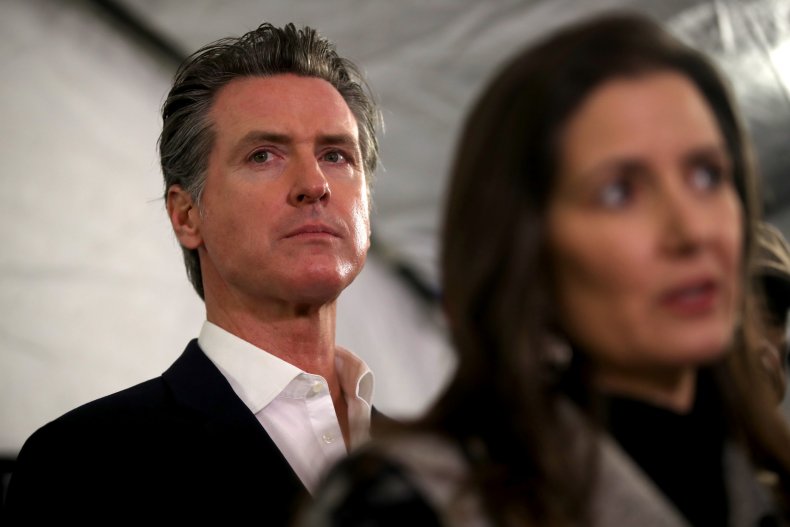 A year into Newsom's first term, the first case of the new coronavirus was identified in the U.S.; California became one of the first states to shut down in an effort to slow the spread. Since then, there have been 3.2 million cases and 39,000 deaths, while hospitals have been overwhelmed and the economy continues to struggle with more than 1.7 million people remained unemployed in December—according to the state's Employment Development Department.
Newsom has "more crises on his plate" than any governor since World War II, Davis said, and he's done "as good a job as he could possibly do given the hand he's been dealt."
The former governor acknowledged that Newsom's made mistakes, including attending a dinner at French Laundry, a restaurant in Yountville, against COVID restrictions. But, overall, Davis gives Newsom high marks.
Petitioners calling for Newsom's removal are targeting the governor for his handling of the pandemic along with a lack of transparency with data used for reopening plans and a muddled vaccine rollout. The epicenter of America's coronavirus surge this winter, California has only administered about half of the doses that were distributed, ranking near the bottom on a per capita basis.
A revamping of the systems designed to speed up vaccinations will simplify eligibility and streamline the process by using Blue Shield to oversee distribution instead of leaving it up to counties and hospital systems.
Vaccinations are where Newsom needs to be focusing his energy, Davis said, because it breeds hope and optimism that the end is in sight, even for those who have been critical of his decision to shut down.
"Having no good news to communicate in 2020 and having great news to communicate in 2021, with the realistic expectation that this pandemic will be behind us late summer, early fall, I think people will still have trust and respect for the job he did," the former governor said of Newsom.
A recall could put Newsom in a precarious position because nearly anyone can throw their hat into the ring, potentially splitting his supporters. In 2003, when Davis was recalled, 135 candidates were on the ballot. Hollywood star Arnold Schwarzenegger won the election, with a million fewer votes than Davis received in 1998.
Unlike his recall, when he couldn't explain the problem with the energy crisis because voters weren't seeing increases in their bill, Davis said it's "obvious" what's going on with the pandemic.
If the recall effort, which experts consider to be a longshot, is unsuccessful, Newsom's fate will be decided in November 2022. By then, the country will likely be in a different position than it is now, and Davis predicts the public attitude would be greatly improved.
"Governor Newsom seems to be charmed in the sense that the old rule used to be was governors get too much credit in good times and too much blame in bad times but with 58 percent approval ratings he's managed to weather the bad times," Davis said.