Recall Gavin Newsom Campaign Hits Back at California Governor's $100M Claim
The Recall Gavin Newsom campaign has hit out at the California governor after one of his political advisers claimed Republicans backing the campaign would "waste" $100 million of taxpayer's money on a special election.
Dan Newman, a political adviser reportedly speaking on behalf of the governor's office, told The Wall Street Journal on Monday that petitioners calling for Gov. Newsom's recall threatened to blow taxpayers' money on a "redo" election with a matter of "months" left until a regular scheduled election.
The next gubernatorial election in California is scheduled for late 2022, a little under 22 months from today. At the time of writing, the Recall Gavin Newsom campaign has gathered most of the signatures it needs for its petition to trigger a contest.
Speaking to The Journal about the campaign, Newman said: "Trump supporters want California taxpayers to waste $100 million on a special election redo, mere months before a regularly scheduled election."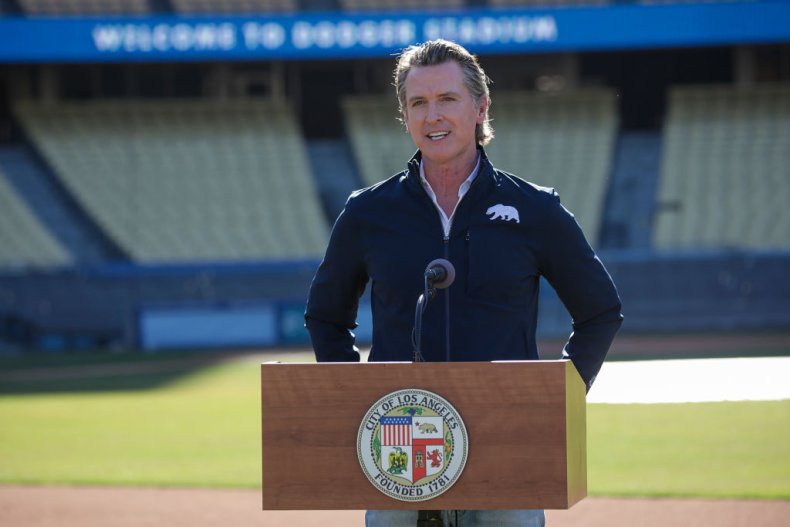 Reacting to the remarks on social media, the Recall Gavin 2020 campaign pointed to a brewing unemployment fraud scandal. "If it costs 100 million tax dollars to #RecallGavin2020, we could have recalled Gavin Newsom 300 times with the money lost to [Employment Development Department] corruption and unemployment scams!"
"If it wasn't bad enough EDD gave away 2 BILLION, the state auditor now claims the total is 10 BILLION on the lite side and up to 31 BILLION," the recall petitioners tweeted earlier in the day. "Didn't she warn Gavin Newsom the EDD was ripe for corruption and scandal? Good job GAVIN!"
The California state auditor released a report on Thursday that said the California Employment Development Department (EDD) paid around $10.4 billion in fraudulent claims as a result of failures to boost detection efforts.
The Associated Press reported that almost $20 billion in further claims made last year were also being investigated for fraud after being flagged as suspicious. The sum would account for a little under a fifth of all unemployment claims paid.
"In March 2020, EDD had no comprehensive plan for how it would respond if California experienced a recession and UI claims increased correspondingly," the state auditor wrote. "The 2020 claim surge was unprecedented and would have presented significant challenges no matter how prepared EDD was, but it failed to act comprehensively to prepare for downturns and to address known deficiencies."
Newsweek has contacted the office of Governor Newsom for comment.
The Recall Gavin Newsom campaign claims to have gathered more than 1.2 million signatures toward a valid signature target of a little under 1.5 million. Petitioners have to hand the signatures in by March 10.
Although they are near their signature target with roughly a month and a half left to gather names, the organizers will likely have to gather more signatures than the minimum to account for any that are thrown out in the verification process.