Members of the far-right Proud Boys group, the Three Percenters militia movement, and someone who has described Black Lives Matter activists as "vile, violent...the black version of the KKK" are among the activists linked to the effort to recall California Governor Gavin Newsom.
The Proud Boys, founded in 2016, are a right-wing extremist group who were involved in the deadly insurrection at the U.S. Capitol building on January 6. The group, which glorifies violence and believes men and Western culture are under attack, has been banned from several social networks, and is listed as a hate group by the Southern Poverty Law Center.
The Three Percenters are an American and Canadian far-right, anti-government militia movement. The "three percent" refers to the belief that only three percent of the American colonists fought against the British during the American Revolution in the 1700s. Founded in 2008, the paramilitary organisation sees itself as a group of dedicated "patriots" protecting Americans from government tyranny.
The campaign to recall Newsom began in July last year. Supporters of the recall have until March 17 to collect the 1,495,709 signatures required for a recall election. The campaign is picking up steam, with more than 1.2 million people signing a petition to demand Newsom's recall.
Recall supporters have criticized Newsom for his handling of the coronavirus pandemic, tax increases, abolishing capital punishment, rising crime and lack of affordable housing. The official became the focus of public outrage when he was caught dining with friends at an upmarket restaurant in November—seated closely together and without masks—after telling Californians to avoid social gatherings and stay home to avoid risk of spreading the coronavirus.
Aaron Bate, an El Dorado County recall organizer, is a member of the Three Percenters. Bate is noted in a Three Percenter newsletter with fellow member Daniel Seoane as fundraising for the recall movement. Antifa Sacramento has also accused Bate of organizing with the American Guard, a neo-Nazi group. Newsweek has contacted Bate for comment.
Jeffery Perrine, a recently-elected member of the Sacramento County Republican Party's Central Committee, who is a member of the Proud Boys, has said he had been "intimately involved in the Recall movement". The Sacramento County Republican Party on Monday called for his resignation due to his ties with the far-right group. Social media videos show Perrine in Portland shouting that "illegal immigrants should have their heads smashed into the concrete."
Perrine told Newsweek that his words were taken out of context by leftwing activists.
"The clip is completely out of context. Its not what it seems. I can however see how it was taken and spun to look like I was only talking about illegals in a disparaging way. When that is not what I was there really even talking about. I touched on many subjects that day. That one just so happens to be the one the left snagged, and trimmed, to make me look as bad as possible," he said.
"I understand my mistake, and have grown significantly since that clip."
Stephen Frank, who is on the board of the California Revival PAC group, has been seen speaking at recall rallies and he held a virtual townhall on the recall of the California governor in June last year. The PAC group's website shares the Recall Gavin Newsom petition on its home page and it donated $60,000 towards the campaign in the fall.
Frank has previously described Black Lives Matter activists as "vile, violent...the black version of the KKK" on the California Political Review, the conservative website he is a senior editor of. Frank has also often referred to Black public figures he disagrees with as a member of "The Klan in Tan," using the phrase on Michelle Obama and former Attorney General Eric Holder on the same website. The phrase is considered hate speech. A St. Louis police officer was investigated by his own department in 2017 for having used the phrase in reference to Black Lives Matter activists.
Commenting on the remarks, Frank told Newsweek that he opposed all racism "black or white".
"The term "The Klan in Tan" is a term that was used by Dr. Walter Williams," he said. Williams was a Black conservative economist who died in December. Frank's claim that he first used the term is unproven.
"Riots around the nation, violence against innocent people, the belief that people not of color are racist, these are vile and violent actions and values. It is not civil discourse, it is use of brutal strength to get political goals," he added.
Daniel Seoane is an author on the recall campaign's website and also a member of the Three Percenters. He is listed as one of the proponents of the fifth recall effort submitted on February 21, 2020. The Three Percenters newsletter reported in January 2020 on Seoane and Aaron Bate's efforts to get recall petitions signed. In a social media video, he can be seen wearing a Three Percenter patch (the Roman numeral three with stars encircling it) while refusing to answer students who asked him what group he's with.
An investigation by the L.A.Times found that vaccine skeptics had also worked with the Recall movement. Two local leaders in the anti-vaccination movement, Denise Aguilar and Tara Thornton with the Freedom Angels, organized and participated in several demonstrations at the state Capitol that supported the ousting of Newsom. Speakers also denounced vaccines and health orders, the paper said.
Although many recall supporters identify as Republican, there are past Democrat donors who have rallied behind the effort. For example, Chamath Palihapitiya, a former Facebook executive and a major Democratic donor, on Twitter revealed he supported the campaign and told CNBC he thought that Newsom "has done a terrible job."
"First step is we need to recall Gavin Newsom," Palihapitiya added.
On the other side of the political aisle, Former House Speaker Newt Gingrich has endorsed the movement, as well as the California Republican Party. Half a dozen GOP party leaders in the state also support it.
Orrin Heatlie, a leading proponent of the recall movement, told Newsweek he believed that people in California care more about what Newsom has done and how they've been impacted than who the people behind the movement are.
"I want to emphasize the fact that we are aware there are people in this movement from the entire political spectrum and from all walks of life," said Heatlie, a recently retired Yolo County Sergeant.
"These include liberal and environmental groups angry about Newsom's lack of leadership regarding climate change, and that he signed off oil fracking permits, to the anti-vaxxer crowd, the anti-maskers, open schools, open California, 'let them play' groups and pro-Trump and pro-Bernie Sanders individuals."
Heatlie, who worked with Bate on an early petition drive for the recall movement, said it is policy of the campaign to keep posts on their Facebook network focused on the recall.
"We do not take a position or promote matters unrelated to the recall. Postings about COVID, global or national politics, are not allowed. Do some get by? Yes, and we take appropriate action when brought to our attention," he said. He added that the campaign has removed many members and administrators that have failed to adhere to its messaging standards.
He said people who support the recall movement attend different rallies and gatherings on their own accord to collect signatures, but the recall campaign does not promote the events themselves, other than to announce that people may be able to gather signatures. Heatlie added that just because a person or group may endorse the recall, doesn't mean the campaign's management supports them.
"We have no control over who promotes the recall by their own volition. This is a non-partisan all-inclusive movement. We promote unity and harmony across the board! This is a peaceful movement and we denounce any person or group who engage in acts of violence, threats or vandalism on any level," he said.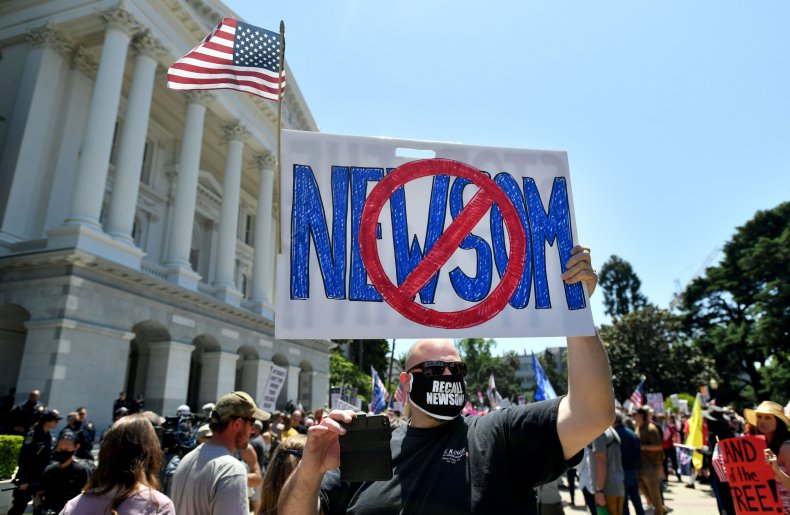 In June last year, Newsom said that the recall will cost state taxpayers $81 million. If the recall campaign manages to get 1,495,709 signatures, a special election will take place this year, where multiple candidates will be able to run for California governor.
California Democratic Party chair Rusty Hicks has called the recall campaign a "coup" and said it was associated with "right-wing conspiracy theorists."
Since 1911, Californians have attempted to recall their governor 55 times, but were successful only in 2003 against Gray Davis. Republican Arnold Schwarzenegger was elected to replace Davis as governor in a special election.