What Makes Newsom's Recall Election Different From Davis' 2003 Ouster
There are "pretty stark" differences between the current gubernatorial recall election California Governor Gavin Newsom is facing and the recall that removed former Governor Gray Davis in 2003, according to Democratic political strategist Garry South.
Newsom and Davis, both Democrats, are the only California governors who have had to defend their seats through a recall election since the state adopted its recall process in 1911. While voters elected to remove Davis from office nearly 18 years ago, South said he believes the September 14 recall election "is going to be a blowout win for Newsom."
South advised Davis during his first gubernatorial election in 1998 and again when Davis ran for re-election in 2002. South said California's political makeup, support for each governor going into their respective recalls, the politicians in control during the two White House eras and the candidates running in each special election are all contributing factors for why he predicts Newsom's recall will have a much different outcome than Davis'.
To start, "Newsom went into this in a far, far stronger position than Davis did in 2003," South said during a phone conversation last Friday with Newsweek. He pointed to Newsom's job approval ratings, the margin by which Newsom became governor in 2018 and the state's voter registration statistics as examples for why he said Newsom is starting with advantages Davis didn't have.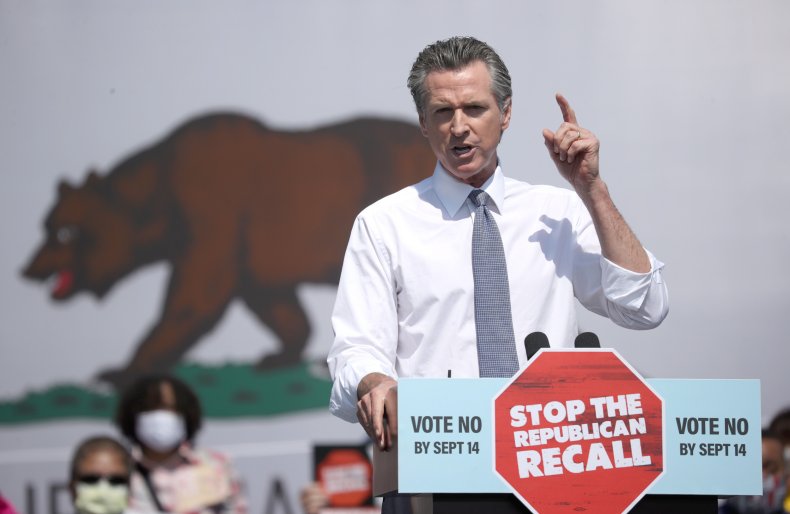 Davis' job approval ratings were below 30 percent in polls conducted ahead of the 2003 recall election. In contrast, one recent IPSOS poll found Newsom had a 57 percent job approval rating among registered voters by the end of August.
"Davis went into that 2003 recall just in an almost fatally weak position, and Newsom's standing among voters, even though he's taken a little bit of a hit, is not in dangerous territory at all," South said.
Meanwhile, Davis won his first gubernatorial election with nearly 58 percent of the vote but won re-election four years later by nearly 10 percent less. In his first run for governor, Newsom won with 61.9 percent of all votes cast.
California also has a larger percentage of registered Democrats and fewer registered Republicans now than it did in 2003, South said. While state records show 44.1 percent of voters in August 2003 were registered Democrats and 35.3 percent were registered Republicans, voter records updated in July show 46.5 percent of California's voters were registered Democrats and 24.1 percent were registered Republicans.
Over the last two months, Republican Larry Elder has emerged in the field of 46 recall candidates as the frontrunner, with many polls finding him leading all other candidates by double-digits. Elder, a conservative radio host with a nationally syndicated program, quickly jumped to the front of the field after announcing his campaign in July. But South said one candidate who entered the Davis recall as a Republican in August 2003 had an even stronger position from which to launch his campaign.
"There's no commanding figure like Arnold in this race," South said, referring to Arnold Schwarzenegger. "California voters felt that they knew him."
At the time of the 2003 recall, Schwarzenegger was a movie star and former bodybuilder whose film Terminator 3: Rise of the Machines debuted in theaters shortly before he began running for Davis' seat.
While 46 candidates appear on the recall ballot targeting Newsom, 135 were on the recall ballot in 2003. Even so, Schwarzenegger received 48.6 percent of the votes cast and succeeded Davis upon the Democrat's ouster.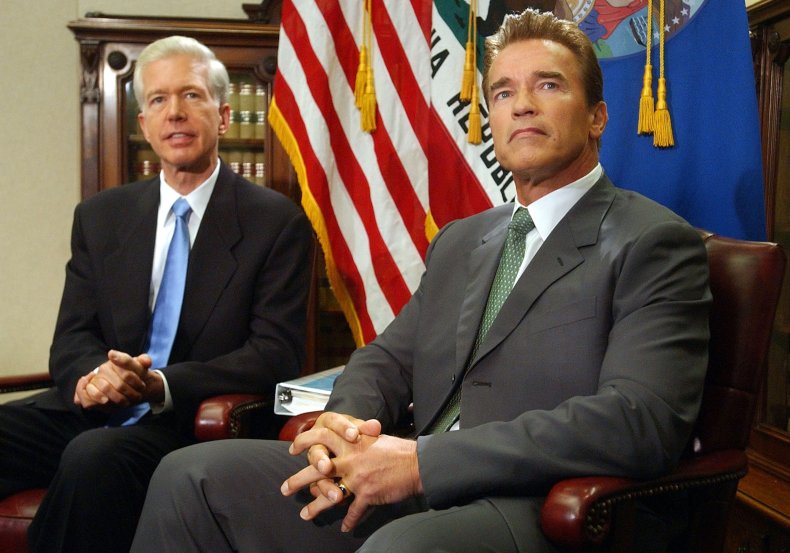 "Larry Elder has percolated up to the top of the replacement candidate field, but in most polls, he's only getting 25 to 27 percent of the vote," South said. "There's no one who even comes close to the kind of status and standing that Arnold Schwarzenegger brought into that 2003 recall."
Aside from Schwarzenegger, 2003's 135-candidate field also included Davis' own lieutenant governor, Cruz Bustamante, who was running as a Democrat. The presence of another high-profile Democrat in the 2003 recall confused some voters and complicated the Davis campaign's message about who was driving the recall effort. But this isn't a problem Newsom is facing, South said. Aside from nine recall candidates who identify as Democrats on the ballot, the state's Democratic Party has not acknowledged other Democratic candidates and has instead encouraged voters to back only Newsom.
"That's been a huge boon for Newsom. He's been able to basically say, 'No on the recall and forget the second ballot line,'" South said. "It's just clarified his ability to turn this into a Democrat versus Republican race—which, in California, the Democrat is always going to win."
The messaging from Newsom's campaign hasn't just received support from the California Democratic Party—Democrats in Congress have also voiced support for Newsom over the last few months. Senators Elizabeth Warren of Massachusetts, Bernie Sanders of Vermont and Amy Klobuchar of Minnesota have each encouraged Californians to support Newsom by attending rallies and recording videos over the last few months, as has Representative Alexandria Ocasio-Cortez of New York.
South said Newsom also has a "friendly White House" at the time of his recall election, something Davis did not have in 2003 under former President George W. Bush's Republican administration. Vice President Kamala Harris visited California last week to attend a Newsom campaign rally, and President Joe Biden is also expected to attend a Newsom campaign event in Southern California on Monday.
"That's pretty heavy cavalry to call in when you're facing a recall in heavily Democratic California," South said.
Finally, the issues driving the recall effort targeting Newsom are different from those Davis faced in 2003. Eighteen years ago, one of the main issues facing Davis' campaign was the state's energy crisis, which resulted in rolling blackouts. While those behind the Recall Gavin Newsom petition have listed several of the governor's policy positions as reasons to remove Newsom from office, the Democrat's handling of the coronavirus pandemic has been widely credited with fueling support for the recall—an issue that South said earlier this year is not unique to California.
If a majority of California voters decide to remove Newsom from office, he would become only the third U.S. governor to be removed through a recall election. Though Davis is the only California governor who has been recalled, South told Newsweek that Newsom's recall reminds him more of the recall election former Wisconsin Governor Scott Walker faced in 2012, though South noted Wisconsin's recall process is different from the one in California. Walker ultimately retained his seat by beating that recall and later went on to win re-election—a scenario South said he believes is likely to happen with Newsom.
"That's what's going to happen here," South predicted. "Newsom is going to beat this thing into the ground, come Tuesday, and he's going to be sitting pretty for a substantial re-election victory in 2022."
Voters are in the process of deciding whether they want to keep Newsom in office for the remainder of his term or remove him early. If a majority of voters cast their ballots in favor of removing Newsom, he will be replaced by whichever recall candidate receives the greatest number of votes.