Gavin Newsom Approval Rating is 28 Percent Higher Than Gray Davis Prior to His Recall: Poll
While the recall effort against California Governor Gavin Newsom has continued to pick up steam, a recent poll found his approval rating 28 percent higher than the approval rating received by former Governor Gray Davis, prior to his own recall.
The poll, which was conducted by the nonpartisan Public Policy Institute of California (PPIC), found 52 percent of likely voters in California saying they approve of the job Newsom is doing as governor, while 43 percent said they disapproved and five percent said they didn't know.
In comparison, a PPIC poll conducted in February 2003 found Davis receiving an approval rating 28 percent lower than Newsom's, prior to his recall in October 2003. According to the 2003 poll, 24 percent of likely voters in the state said they approved of the job Davis was doing as governor, while 72 percent said they disapproved and four percent said they didn't know.
While speaking with Newsweek, Mark Baldassare, president, CEO and survey director at PPIC said that "Governor Davis had an approval rating of 24 percent among California likely voters at the beginning of the year in which he was recalled and his approval rating never went above 26 percent that year. Then he was ultimately recalled, 55 percent voted to recall him."
Baldassare also noted that Newsom's 52 percent approval rating "is pretty much in line with where it was before the pandemic started. A year ago his approval rating was 49 percent and his approval rating has hovered around 50 percent during the time he's been governor."
According to Baldassare, Newsom's approval rating prior to the pandemic was also similar to the rating received by Davis in the year before his recall, as 46 to 49 percent approved of his job as governor in January 2002.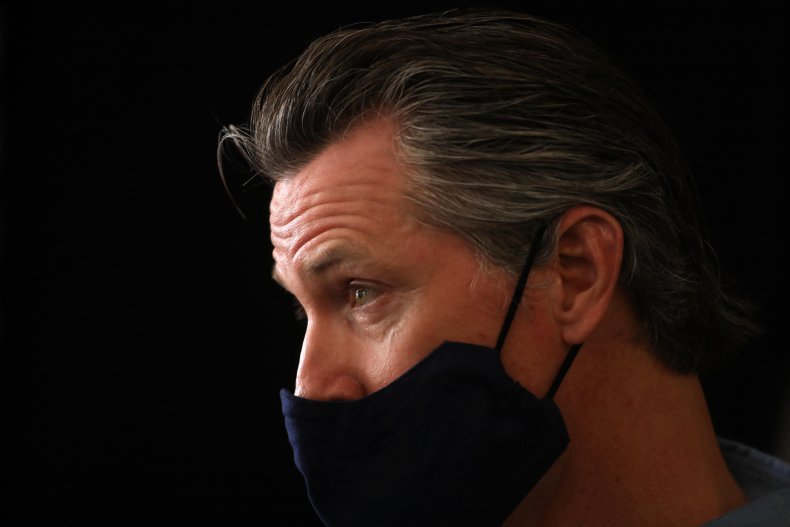 The PPIC poll surveyed 1,703 California residents from January 21 to January 31 and reported a margin of error of plus or minus 3.3. percentage points.
Another recent poll, conducted by the UC Berkeley Institute of Governmental Studies, found Newsom's approval rating slightly lower than the PPIC poll, but 18 percent higher than Davis's February 2003 approval rating. According to this poll, 46 percent of Californians said they approved of Newsom as governor, while 48 percent said the opposite.
This poll surveyed 10,357 California residents from January 23 to January 29 and reported a margin of error of plus or minus 2 percentage points.
The polls' findings come as the recall effort against Newsom continues to gain more support, amid ongoing criticism of how the governor handled the novel coronavirus pandemic.
The petition to remove Newsom from office has gained over 1.3 million signatures. California is one of 19 states that allows for the recall of elected officials and according to the California Secretary of State's website, the petition still needs to have at least 1,495,709 signatures by March 17 to force a recall election.
Despite Newsom facing pressure similar to Davis, the former governor previously told Newsweek that he believes Newsom will win re-election in 2022.
"[Newsom] still has decent favorability ratings, and with good news happening in [2021] I would bet on him than anyone else," Davis previously told Newsweek.
Newsweek reached out to Newsom for comment but did not receive a response in time for publication.