After Roger Stone Sentenced to 40 Months in Prison for Lying to Congress, NYC Public Defender Says Her Client Is Serving 3-6 Years for 'Stealing a Jacket'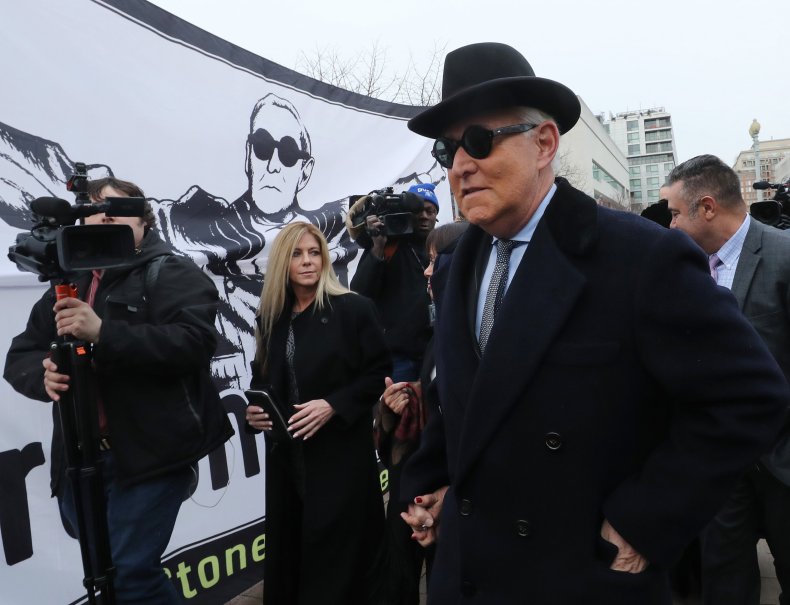 Eliza Orlins, a NYC public defender and reality TV star, pointed out on Twitter Thursday that a man she represented received a similar—or longer—sentence for stealing a jacket than Trump ally Roger Stone received Thursday.
"Roger Stone was just sentenced to 3 years and 4 months in prison," she wrote. "A man I represented is currently serving a sentence of 3-6 years in prison for stealing a jacket."
Her tweet came right after a judge sentenced Stone to 40 months in prison after being convicted for witness tampering and obstructing investigations of Russian interference in the 2016 election.
President Donald Trump weighed in on the previous sentencing recommendation of 7 to 9 years, tweeting "This is a horrible and very unfair situation. The real crimes were on the other side, as nothing happens to them. Cannot allow this miscarriage of justice!"
However, Orlins, who works for the Legal Aid Society, and has represented low-income New Yorkers, appeared to disagree in her tweet.
Newsweek reached out to Orlins for information on the client she tweeted about. "Unfortunately due to confidentiality concerns, I'm not able to reveal any details about the case or my former client," Orlins stated.
Orlins has appeared on the reality TV series Amazing Race and Survivor and last year, she wrote "Your Local District Attorney also has a Family Separation Policy," an article for DemCast, a left-leaning nonprofit. In the article, she asks readers to keep in mind those who are sitting in jail without having been convicted of a crime because they are "too poor to buy their freedom."
Orlins also backed Senator Elizabeth Warren's ideas to reform the criminal justice system. "As a public defender in Manhattan for the past decade, I have had a firsthand look at its systemic dysfunction for years and its disproportionate impact on Black and brown communities," she wrote in an article for Blavity. "With Warren's plan, we would reduce expenditures and live in a fairer, safer and more just world."
"Warren understands that public defenders are overworked, underpaid and drowning in our caseloads. In her plan, she says, 'if we expect fair adversarial trials, we need to balance resources on both sides of each case in every jurisdiction'."
The Legal Aid Society, which has been in place since 1876, represented 230,000 clients in the last year "in trial, appellate, and post-conviction matters and have pushed for critical reforms that end injustice and discrimination based on race, gender, and poverty," according to their website.
02/25/20, 4:58 p.m.: This story has been updated with a statement from Eliza Orlins.