Federal Judge Slams Roger Stone Prosecutors While Giving Him 40-Month Sentence, Says 'Nothing About This Case Was a Joke'
A federal judge in Washington, D.C., tore into Department of Justice attorneys Thursday over the recent events that have embroiled the trial of Roger Stone, a longtime Republican operative and former Trump campaign adviser, in controversy.
Stone, who was convicted in November on all seven felony charges against him for lying to Congress, witness tampering and obstructing a congressional investigation involving his contacts with WikiLeaks amid Russian election interference in 2016, was sentenced by Judge Amy Berman Jackson to 40 months in prison, or a little more than three years.
He was also handed a $20,000 fine, two years probation and 250 community service hours.
"If it goes unpunished, it will not be a victory for one party of another. Everyone loses," Jackson told a visibly emotionless Stone. "For that reason the dismay and disgust at the defendant's belligerence should transcend party."
"Nothing about this case was a joke. It wasn't funny. It wasn't a stunt and it wasn't a prank."
The sentencing was far less than the seven to nine years originally recommended by DOJ, and it comes amid Stone's case rocking the department last week when the president inserted himself publicly with the post of a tweet criticizing the sentence proposal, the judge and even the prosecutors.
The subsequent effect was a request for "far less" prison time from DOJ, though it lacked specifics. In a direct rebuke, the four career prosecutors on the case quickly removed themselves, and one of them left government service entirely.
Jackson indirectly rebuked the decision by DOJ, which involved Attorney General William Barr, to undercut their own attorneys.
"For those of you who are new to this or woke up last week and became persuaded that the guidelines were too harsh," she said, the recommendation is "advisory and not mandatory." Jackson went on to say that she has "the authority and the duty" to make an appropriate sentence as she sees fit.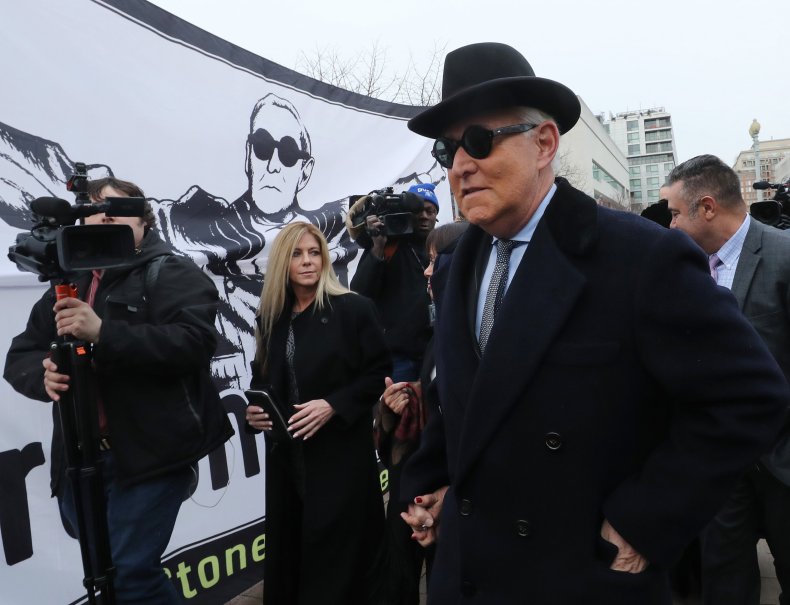 "Defense attorneys and many judges have been making that point for a long time," she continued. "But we don't usually succeed in getting the government to agree."
Jackson also expressed concern that the new team of prosecutors lacked knowledge of the case, considering they joined just days before it came to a close after more than a year.
"I fear that you know less of the case, saw less of the testimony and the exhibits than just about anyone else in this courtroom," she said.
Despite the political drama swirling around DOJ and the president, Jackson said her sentence was not swayed.
The lecture was followed by prosecutor John Crabb offering a multi-pronged apology and explanation. He said the original team wrote the first sentencing memo and that he was part of the approval process. Ultimately, Crabb explained there was a "miscommunication" as to what Barr's expectations were. Given the opportunity by Jackson to elaborate, he declined, citing personal deliberations he did not wish to make public.
"I want to state and emphasis the original sentencing memorandum was done in good faith," Crabb said. "Sentencing is not an exact science, and reasonable minds can differ."
He appeared to back a harsher sentence for Stone, one that would be more in line with the department's original proposal rather than its followup recommendation.
"The court should impose a substantial period of incarceration," Crabb added, but failed to offer specifics. "This prosecution was and this prosecution is righteous."
Despite receiving his sentence, Stone, known as a "dirty trickster," will not be immediately carted off to prison.
Anti-Trump social media posts by the jury forewoman have fueled allegations by Stone's defense team of juror misconduct and spawned a motion for a new trial. Jackson will determine whether his request should be granted, in which case Stone's sentence would be null and void.
But Jackson, in her usual no holds barred fashion, had no shortage of ridicule for Stone and the defense of his actions throughout the trial's proceedings, which she characterized as a "so what?" argument.
"The defense can say, 'so what.' But I'll say this," Jackson said. "Congress cared. The United States Department of Justice and U.S. Attorneys Office cared. The jurors who served with integrity under diff circumstance cares. The American people cared. And I cared."
In the wake of several controversial pardons and commutations earlier this week, Stone's sentencing raises the specter of whether Trump will save his former campaign adviser from ever going to prison. Republicans have warned him against taking such action ahead of the election, but his refusal to rule out the possibility persisted in the wake of Stone's sentencing.
"I want the process to play out. I think that's the best thing to do because I'd love to see Roger exonerated," Trump told reporters. "I personally think he was treated very unfairly. They talk about witness tampering but the man that he was tampering didn't seem to have much of a problem with it."
Jackson framed Stone's crimes as fueled by the motivation to protect Trump, something that would make a presidential pardon land on politically shaky ground.
"He was not prosecuted for standing up for the president," Jackson said. "He was prosecuted for covering up for the president."
Many Democrats have already said Trump asserting himself into such legal matters constitutes the highest level of corruption. They've rehashed demands for Barr to resign, something more than 2,000 former DOJ officials have also called for.
"It should go without saying, but to pardon Stone when his crimes were committed to protect Trump would be a breathtaking act of corruption," House Intelligence Committee Chairman Adam Schiff (D-Calif.) wrote on Twitter.