'It's About God': After-School Satanic Club Voted Down by School Board
A Pennsylvania parent's attempt to establish an "After-School Satan Club" was shot down in resounding fashion Tuesday evening.
The discussion was part of the April 19 Northern York County School Board of Education agenda. Samantha Groome, a parent of a Northern York Elementary School student in Dillsburg, was the individual who pushed for the club to be enacted on a probationary basis.
The school board, by an 8-1 margin, voted down the idea. The lone vote in support came on behalf of Thomas Welch. In 2019, the Satanic Temple was recognized as a religion in the U.S. and received tax-exempt status.
School Board President Ken Sechrist told Newsweek that he sent a letter to Groome explaining the board's reasoning for rejecting her request.
"In short we start clubs when there is a student interest in a particular subject not covered in our curriculum," Sechrist said. "In this instance the requesting parent, when given the opportunity to provide evidence of any student interest, provided none."
Clubs offered by the school district mirror those at other districts, including history, yearbook, Spanish, model UN, National Honor Society, sign language and many others.
Sechrist said over 400 community members showed up to the board meeting Tuesday evening, most to speak out against the club.
"The large majority appeared to be against the club," he said. "Due to possible legal action by the Satanic Temple we must be guarded in all communication at the advice of our solicitor and common sense."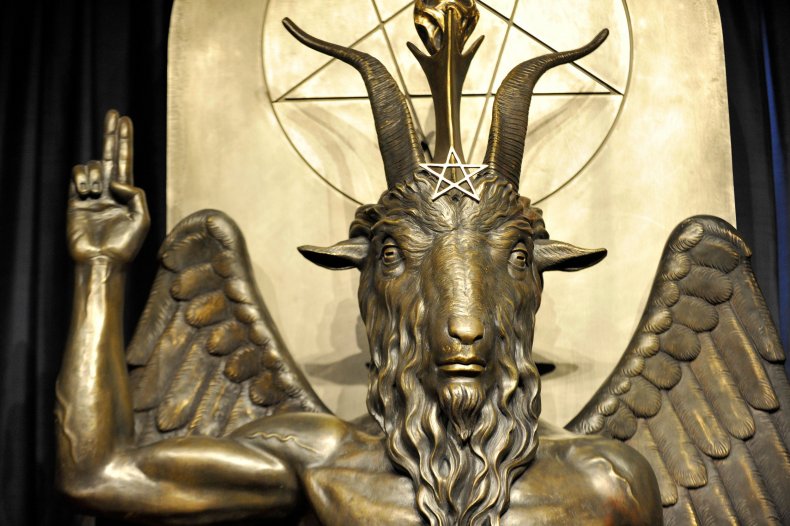 Lucien Greaves, co-founder and spokesperson of the Satanic Temple, told FOX 32 that if the school board denied the use of a public facility for Satan Clubs, the situation may lead "into costly litigation that the community is going to have to pay for."
The After-School Satan Club, as described by The Satanic Temple on its website, "promotes self-directed education by supporting the intellectual and creative interests of students."
FOX 32 reported that four such clubs currently exist in the United States, aimed to push back against Christian "Good News Clubs" in schools that have been established by an organization called the Child Evangelism Fellowship.
The Satanic Temple has called the Good News Club "insidious;" instead, encouraging children to appreciate the world's natural wonders rather than fear "everlasting other-worldly horrors." It offers the Satan Club as "a contrasting balance to student's extracurricular activities," notably in schools that already have implemented Evangelical-based clubs.
"Proselytization is not our goal, and we're not interested in converting children to Satanism," the organization says. "After-School Satan Clubs will focus on free inquiry and rationalism, the scientific basis for which we know what we know about the world around us."
But the plethora of those in attendance Tuesday didn't buy the organization's rhetoric.
Jodie Osborne, of Wellsville, spoke against the Satan Club by invoking scripture in her speech.
"I'm sad all we are talking about is Satan," Osborne said, according to a report by Penn Live. "It's not about Satan, it's about God. Wrongs will be righted, and if we don't start standing now, we're going to lose our nation."
One man identified as Paul Miller reportedly went so far as to urge Satan Club supporters to leave town, telling them, "There's no room for you here." He pledged to "do something about it" if the board voted for the club's establishment.
When a man named William Dacheux of Dillsburg spoke and encouraged parents not to shelter their children from differing worldviews, an audience member reportedly held a crucifix above their head.
"I am a religious person myself; however, I've often found myself at the teeth-end of Christian love," said a Northern York County High School junior who did not provide his name. "I find they can be quite intolerant at times. They can push people away easily."
Following the vote, Greaves told Penn Live that the school board's decision "is indicative of a school board that has no idea what its limits are and its function is."
Newsweek reached out to Greaves for comment.
Even though there are After School Satan Clubs in existence, the ones that do exist were also met with resistance. Parents protested in January outside the Jane Addams Elementary school in Moline, Illinois, due to the opening of an After-School Satan Club.
Satanic displays have resulted in varied opinions in many cities nationwide. In December, the Satanic Temple of Illinois set up a holiday display of Baphomet in the state capitol rotunda in Springfield for the third year in a row. There was a protest by Catholic groups.
Newsweek reached out for comment to Northern York Elementary School Principal Joyce Cal, who FOX 32 reported initially rejected the establishment of the Satan Club.
Newsweek also reached out to District Superintendent Steven Kirkpatrick and Welch, the lone 'yes' vote.