After Trump Meeting, Michigan Lawmakers Stand Firm on Election Outcome
After a meeting with President Donald Trump on Friday, two high-ranking Michigan GOP lawmakers said they would not appoint Republican-friendly electors in an attempt to flip the state for Trump.
Despite a widely projected win for Democrat President-elect Joe Biden, Trump has refused to concede and claimed repeatedly that he, not Biden, actually won the election. After mounting several legal challenges to state elections, some observers feared that Trump would attempt to change the rules of the Electoral College by asking state legislators to choose electors who would cast their votes against Biden.
Those worries were amplified when Trump invited Michigan Republican House Speaker Lee Chatfield and Michigan Republican Majority Leader Mike Shirkey to a Friday meeting at the White House. The meeting between Trump and the Michigan Republicans was not listed on the president's schedule of daily events.
In a joint statement released after the meeting, Shirkey and Chatfield indicated that no electoral changes would be made.
"We have not yet been made aware of any information that would change the outcome of the election in Michigan and as legislative leaders," the statement read, "we will follow the law and follow the normal process regarding Michigan's electors, just as we have said throughout this election."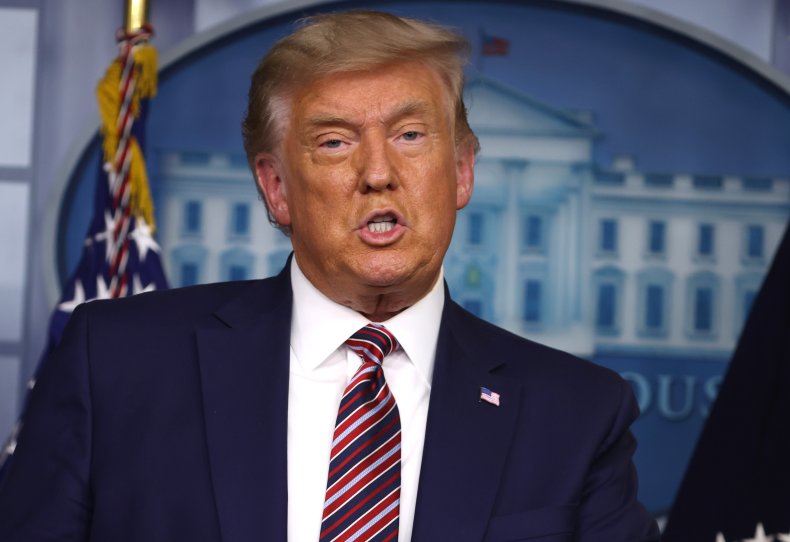 "The candidates who win the most votes win elections and Michigan's electoral votes," the statement added. "These are simple truths that should provide confidence in our elections."
Newsweek reached out to the Michigan Democratic Party for comment.
On Thursday, anonymous sources disclosed to Reuters that Trump was expected to ask state legislators to change the rules concerning the appointment of electors. Traditionally, electors are chosen by governors and secretaries of state. Trump's legal team indicated that Trump was hoping to shift that responsibility from state government leaders to local Republican-friendly leadership.
According to the Associated Press, Biden won Michigan with 50.6 percent of the vote to Trump's 47.8 percent. Michigan holds 16 electoral votes.
In Wayne County, Michigan's largest county, two Republicans on the Board of Canvassers went back and forth on agreeing to certify the county's election results. First, they voted against certification, resulting in a deadlock with the board's two Democrats. After hearing public comments, the Republicans recanted and voted for the election certification. On Thursday, they attempted to rescind their votes. However, the deadline for ballot certification in Wayne County expired on Wednesday.
Trump's legal team had filed suit to prevent certification in Wayne County. The lawsuit was predicated on the fact that the Board of Canvassers had elected not to certify the votes, which turned out to be inaccurate. On Thursday, the campaign dropped the lawsuit.