On the heels of President Donald Trump's remarks intimating he might fire Dr. Anthony Fauci if re-elected to another term, new polling data indicates most battleground state voters support the leading health expert's response to the coronavirus crisis.
A CNBC/Change Research survey, released Monday, found that 66 percent of voters across six swing states approve of Fauci's approach, while 34 percent disapprove. The poll showed a much smaller portion of those voters, 46 percent, approve of Trump's response to the virus, while more than half said they disapprove.
Additional polling statistics showed that 41 percent of swing state voters believe the pandemic is among the most serious issues the U.S. is confronting right now. Those voters reside in Arizona, Florida, Michigan, North Carolina, Pennsylvania and Wisconsin, states that Trump and Democratic nominee Joe Biden are seeking hard to win on Tuesday.
Nationally, CNBC/Change Research's recent polling results pointed to an even larger divide in the support for Fauci's virus response versus the president's, with 72 percent of likely voters saying they approve of the health official's efforts to combat the outbreak and 41 percent saying the same of Trump.
Fauci has served as director of the National Institute of Allergy and Infectious Diseases (NIAID) since 1984. As a principal member of the White House's coronavirus task force, he helped guide the nation's response to the pandemic from its earliest stages. But Trump has periodically attempted to undermine Fauci's expertise and discredit his advice, usually when the doctor highlights inaccuracies in the president's statements about the coronavirus or offers a contrasting opinion.
Recently, Trump suggested Fauci's position might be at risk if he wins the upcoming election.
"Fire Fauci!" the president's supporters chanted during a Sunday rally in Opa-locka, Florida, promoting his re-election campaign. "Don't tell anybody, but let me wait 'til a little after the election," Trump replied, adding, "I appreciate the advice."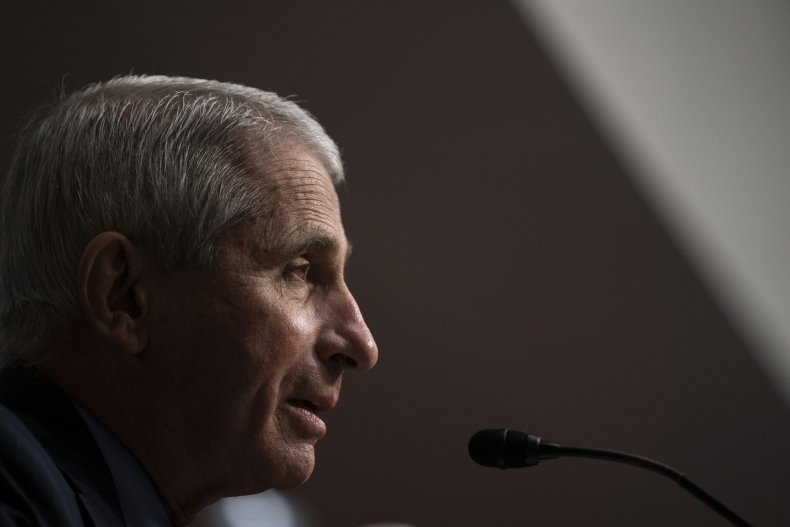 His remarks about Fauci closely followed the NIAID director's Washington Post interview, in which he commended Joe Biden. Fauci told the newspaper that the Democratic nominee "is taking [the pandemic] seriously, from a public health perspective," whereas Trump is "looking at it from a different perspective."
Fauci and the president often clash on issues related to the virus, as Trump places heavy focus on reopening and restoring the country to "normal" amid ongoing increases in cases. During his interview with the Post, Fauci addressed the surge in cases, hospitalizations and deaths reported across the U.S. over the past month, warning of more serious consequences to come this winter. Meanwhile, Trump repeatedly insists the country is "rounding the corner" in terms of getting past the health crisis.
Newsweek reached out to the White House for comment but did not receive a reply in time for publication.