White House Undermines Fauci, Whose Trust Rating More Than Doubles Trump's
Dr. Anthony Fauci has reportedly been sidelined by the White House after delivering frank assessments of the U.S. COVID-19 response, but polling data shows most Americans trust the infectious disease expert more than President Donald Trump when it comes to COVID-19.
The Washington Post reported on Saturday night that Dr. Fauci had not spoken to the president since the first week of June, quoting a source familiar with the president's calendar.
It also reported that the National Institute of Allergy and Infectious Diseases director had seen some of his planned TV appearances quashed amid public criticism from the president.
An unnamed White House official told the Post that "several" administration officials were "concerned about the number of times Dr. Fauci has been wrong on things."
"Our bigger issue with Fauci is stop critiquing the task force…and try to fix it," another anonymous senior administration official said.
Speaking to Fox News last week, Trump was openly critical of the leading infectious disease expert on the White House coronavirus task force.
"Dr. Fauci is a nice man, but he's made a lot of mistakes," the president told Sean Hannity on Thursday night.
Polling from Yahoo! News and YouGov shows the NIAID director is far more trusted than the president on the issue of the novel coronavirus pandemic.
According to the survey conducted at the end of last month, 53 percent of polled U.S. adults trusted Dr. Fauci more than Trump when it came to the pandemic.
By comparison, less than half that number (21 percent) said they put more faith in the president's approach to COVID-19. A further 26 percent said they put equal trust in Trump and Fauci.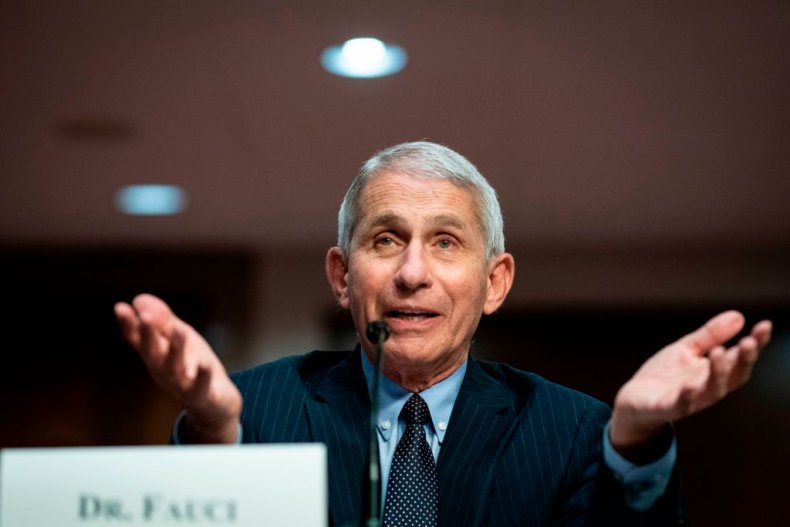 When the survey results were broken down along party lines, Fauci was found to have a similar lead among independent voters, and a huge 82-point trust lead with Democratic voters.
The president was more trusted among Republicans, with 44 percent of GOP voters saying they trusted Trump more on COVID-19 than the NIAID director.
YouGov pollsters surveyed more than 1,500 U.S. adults between June 24 and June 25 for the coronavirus trust poll.
Issuing a warning against taking comfort in a low COVID-19 mortality rate last week, Dr. Fauci said: "There's so many other things that are very dangerous and very bad about this virus. Don't get yourself into false complacency."
Speaking on the Wall Street Journal's podcast "The Journal" last week, the infectious disease expert also said states experiencing significant coronavirus spikes should "seriously looking at shutting down" to curb the spread of the disease.
Newsweek has contacted the White House and NIAID for comment. This article will be updated with any responses.