Fauci Warns of 'False Complacency' as Trump Admin Pushes Schools to Reopen
Dr. Anthony Fauci has warned against "false complacency" over the COVID-19 pandemic amid a Trump administration push for schools to reopen.
Fauci, director of the National Institute of Allergies and Infectious Diseases (NIAID), warned people not to focus on a falling mortality rate linked to coronavirus-which President Donald Trump has touted of late.
The infectious disease expert said it was "a false narrative to take comfort in a lower rate of death," before adding: "There's so many other things that are very dangerous and very bad about this virus.
"Don't get yourself into false complacency."
These comments, made in a live stream press conference with Sen. Doug Jones (D-AL), come amid a push from Trump and his administration to get schools to reopen, as states continue to lift restrictions which were imposed to stem the spread of the novel coronavirus.
The president spoke of plans to press for schools to return at a White House discussion on the matter.
He said: "We're very much going to put pressure on governors and everybody else to open the schools. We want our schools open in the fall."
Education Secretary Betsy DeVos has also pushed for education to commence, stating there is "no excuse for schools not to reopen again."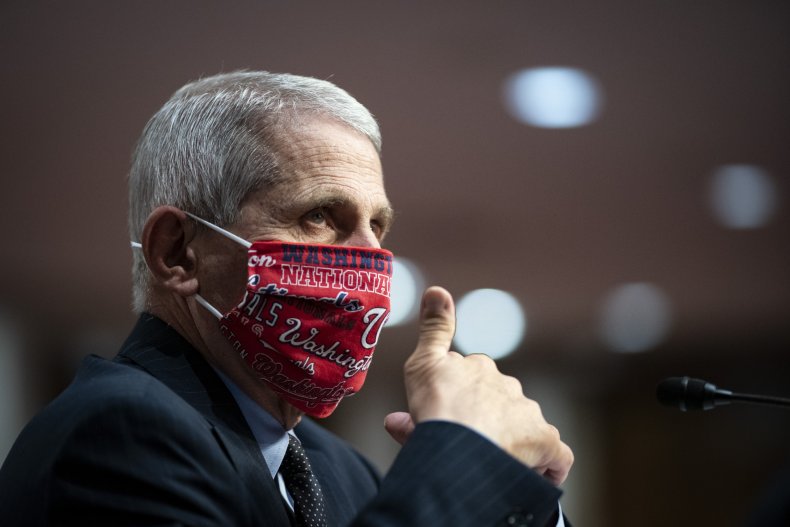 "This is more an issue of adults who are more interested in their own issues than they are about serving their students, it's very clear that kids have got to go back to school," she told Tucker Carlson Tonight on Fox News.
She also rejected the notion of schools which have suggested going back in a part-time capacity.
"It's clear that our nations schools must fully reopen and fully operate this school year. Anything short of that robs students, not to mention taxpayers, of their future," DeVos said in a conference call, according to the Associated Press.
Fauci and Trump previously clashed over the reopening of schools, while the infectious disease expert pushed for a cautious reopening strategy. The NIAID director said that a vaccine will not be ready in time for schools reopening in August, though said he did not mean they should not resume in fall, just that this decision should be based on the situation in each given area.
The latest push back to the president from Fauci comes amid suggestions his role is being sidelined, with his media presence having diminished along claims he is being blocked from appearances.
Newsweek has contacted the White House, the Department of Education and the NIAID for comment.
The push on schools reopening comes as coronavirus cases continue to rise across the United States.
Several states have issued guidance requiring face masks be worn as COVID-19 cases increase.
Florida has been one of the worst-hit states by a major uptick in cases, with calls for more nurses to meet the demand for care.
The death toll linked to coronavirus in the U.S. has surpassed 130,000, according to Johns Hopkins University figures.
More than 2.9 million people across the nation have been infected since the start of the outbreak and around 936,000 are recorded as having recovered.
The below graphic from Statista shows the comparative curves of cases in several U.S. states, with New York having suffered the highest number of cases.