President Donald Trump has called a remark made by infectious disease expert Dr. Anthony S. Fauci at Tuesday's U.S. Senate coronavirus hearing "unacceptable." At the hearing, Fauci said it's unrealistic for parents and students to expect to return to schools in August without an effective COVID-19 treatment or vaccine to help keep them safe.
During the hearing, Republican and Democratic lawmakers asked Fauci and other federal health officials about the country's readiness to reopen after nearly two months of statewide shutdowns. The shutdowns have taken place to try and slow the spread of the coronavirus.
"The idea of having treatments available or a vaccine to facilitate age reentry of students into the fall term would be something that would be a bit of a bridge too far," Fauci said.
"If this was a situation where we had a vaccine, that would really be the end of that issue in a positive way," Fauci continued. "[But] ... even at the top speed we're going, we don't see a vaccine playing in the ability of individuals going back to school this term."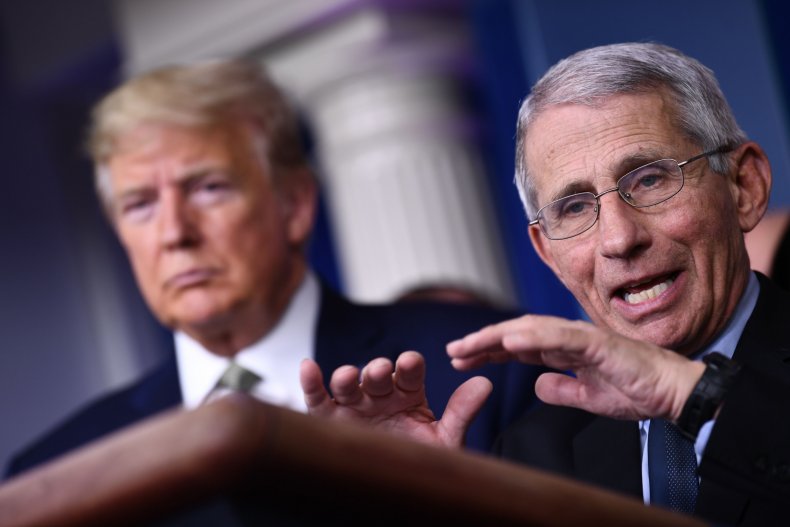 Fauci added that the broad-spectrum antiviral medication remdesivir has shown a modest degree of efficacy in hospitalized patients. But he said the drug is not yet and may never be ready for use either as a preventative or treatment for COVID-19.
"I was surprised by his answer, actually because to me it's not an acceptable answer, especially when it comes to schools," Trump responded when asked about Fauci's comment in a Wednesday afternoon press conference.
"The only thing that would be acceptable," Trump continued, "is professors, teachers et cetera over a certain age. I think they ought to take it easy for another few weeks. Five weeks, four weeks. Who knows whatever it may be."
As of May 13, only 71 people between ages 1 and 25 have died of coronavirus, according to the U.S. Centers for Disease Control and Prevention. However, age groups above 45 have accrued death tolls in the several thousands and higher.
During the hearing, Republican Kentucky Senator Rand Paul pushed back on Fauci's prediction.
"I think the one-size-fits-all, that we're going to have a national strategy and nobody is going to go to school, is kind of ridiculous," Paul said in response to Fauci. "We really ought to be [reopening schools] school district by school district, and the power needs to be dispersed because people make wrong predictions."
Fauci said that while fewer children have died due to the illness compared to the elderly, he said, "We don't know everything about this virus," noting "a very strange inflammatory syndrome" among the new cases of coronavirus among children.
Newsweek reached out to the White House for comment. This story will be updated with any response.