A top Iranian commander has said that his country is considering "13 revenge scenarios" to retaliate to the killing of Quds Forces leader Qassem Soleimani in a U.S. drone strike last Friday.
President Donald Trump ordered the attack to take out the Iranian military leader, which was carried out as Soleimani's vehicle drove from the Baghdad airport after he arrived in Iraq. Soleimani was one of Iran's most prominent officials and leaders in Tehran quickly vowed to retaliate against the American strike.
On Tuesday, the secretary of Iran's Supreme National Security Council, Ali Shamkhani, revealed further details about his nation's plans for responding to the U.S. attack.
"The Americans should know that until now 13 revenge scenarios have been discussed in the council and even if there is consensus on the weakest scenario carrying it out can be a historic nightmare for the Americans," he said, Iran's Fars news agency reported.
Meanwhile, the Iranian parliament approved a measure that officially designated the Pentagon as a "terrorist organization," according to Iran's Islamic Republic News Agency (IRNA). Previously the Iranian government had already designated U.S. Central Command (CENTCOM), which oversees military operations in the Middle East and West Asia, as a terrorist organization, but not the entire U.S. Department of Defense.
Iran's Foreign Minister Javad Zarif gave a speech on Tuesday as well, warning that the U.S. would be forced out of the region due to its actions.
"The path chosen by the U.S. for itself and the region is characterized by insecurity, war and bloodshed. But, Iran, as the unified voice arising from the heart of every child of this ancient and proud land, heralds peace and quiet for the region," he said, the Tehran Times reported.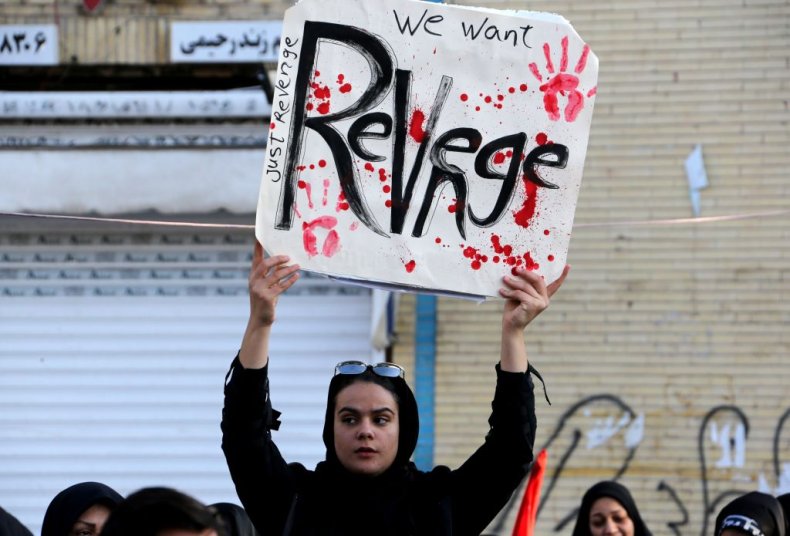 "The U.S. will receive the definitive resolute response to its brazen, criminal act in a place and at a time it hurts most," he asserted.
A spokesperson for CENTCOM said the current priority is protecting Coalition forces.
"Our first priority is protecting all Coalition personnel committed to the defeat of Daesh [an Arab acronym for ISIS]," they said in the statement, adding that the U.S. military is "fully committed to protecting the Iraqi bases that host Coalition troops."
The spokesperson has not yet responded to Newsweek's request for comment about Iran's warnings.
Trump has threatened further attacks against Iran if the Persian Gulf nation retaliates to Soleimani's killing. In a Saturday tweet, the president said his administration had compiled a list of 52 Iranian sites that would be targeted.
"The United States just spent Two Trillion Dollars on Military Equipment. We are the biggest and by far the BEST in the World!" he then tweeted on Sunday. "If Iran attacks an American Base, or any American, we will be sending some of that brand new beautiful equipment their way...and without hesitation!"