Obama's Former Middle East Adviser Says 'Americans Are Less Safe' After Trump's Strike Killing Iran's Soleimani
Robert Malley, who advised President Barack Obama on Middle East policy, warned that President Donald Trump's decision to carry out a military strike that killed Iranian military commander Qassem Soleimani has made Americans "less safe."
The U.S. carried out the strike targeting Soleimani, who led Iran's elite Quds Forces, as his vehicle drove from the Baghdad airport after he arrived in Iraq on Friday. The controversial decision has drawn substantial criticism from Democrats, while Iranian leaders have vowed to retaliate.
Secretary of State Mike Pompeo stated in an interview with CNN on Friday, following the strike, that "the world is a much safer place" and that "Americans in the region are much safer today after the demise of Qassem Soleimani." During an interview with CNN on Monday, however, Malley, who served as a special assistant to Obama and White House coordinator for the Middle East, North Africa and the Gulf Region, strongly disagreed with that assessment.
"Of course Americans are less safe today than they were before Qassem Soleimani was killed," he said. "In fact, less safe today than before the Trump administration took office," the Obama era official argued.
"A series of decisions from walking away from the [Iran] nuclear deal, to imposing maximum sanctions and now killing Qassem Soleimani, all of those have made the lives of Americans, certainly in the region, more at risk than they were before," Malley said, criticizing Trump's Iran policy.
Speaking to CNN on Sunday, General Hossein Dehghan, a top military adviser to Iran's Supreme Leader Ayatollah Khamenei, asserted that his nation would retaliate, but the targets would be against America's armed forces.
"The response for sure will be military and against military sites," Dehghan said.
"It was America that has started the war. Therefore, they should accept appropriate reactions to their actions," he added.
Iran's Foreign Minister Javad Zarif argued in a Monday tweet that the U.S. committed a "terrorist assasination" with the strike. He argued that Trump's decision had unleashed "global anti-US fury and a worldwide rancor—on a scale not seen in recent memory."
"End of malign U.S. presence in West Asia has begun," Zarif asserted.
Trump threatened on Saturday that his administration had compiled a list of 52 targets that included sites important to "Iranian culture" that would be hit with strikes if Iran retaliated.
"The United States just spent Two Trillion Dollars on Military Equipment. We are the biggest and by far the BEST in the World!," he added in a Sunday tweet. "If Iran attacks an American Base, or any American, we will be sending some of that brand new beautiful equipment their way...and without hesitation!"
Newsweek has reached out to the White House and the State Department for comment on Trump's Iran policy moving forward.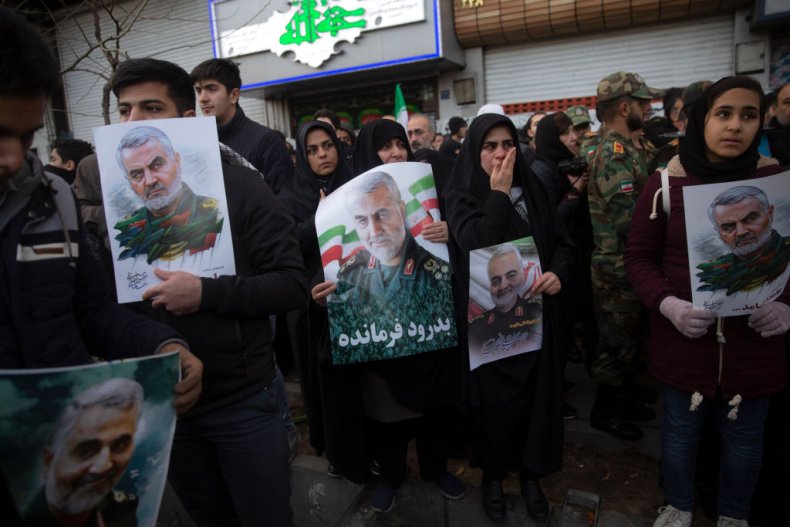 Democrats in Congress have blasted the president's decision, as well as his threat to target cultural sites in Iran. Several Democratic lawmakers have said such a move would constitute a "war crime" under international law.
Trump made the decision without consulting leaders in Congress or the Iraqi government, despite carrying out the strike in their country. In response, Iraq's parliament voted to ask the U.S. military to leave, but Trump has threatened to slap stronger sanctions on the U.S. ally than those currently levied against Iran if that decision moves forward.
Tensions have been high between Tehran and Washington for decades, but the situation briefly improved under the administration of Barack Obama with the signing of the Joint Comprehensive Plan of Action (JCPOA), known commonly as the Iran nuclear deal. That treaty, which was signed by the European Union, France, Germany, the United Kingdom, Russia and China, in addition to the U.S., offered Iran sanctions relief and international investment in exchange for curbing its nuclear program.
Consistent reports from The International Atomic Energy Agency (IAEA), the United Nations nuclear watchdog, found that Iran was in compliance with the treaty, but Trump, who had criticized the agreement since its inception, withdrew from the JCPOA in May 2019. He then reimplemented financial sanctions against Iran, drawing condemnation from the deals other signatories. Despite Trump's decision, Iran remained in compliance with the pact until May 2019, when it began steadily stepping back from its commitments.
Following the killing of Soleimani, Iran announced that it would disregard the deal's requirements and end all limits on its nuclear program. However, it left open the possibility of returning to the treaty if all signatories, which would include the U.S., agreed to return to compliance.